Bryanna Clark Grogan's Vegan Feast Kitchen/ 21st Century Table: The kitchen journal of a vegan food writer.. I'm on Facebook and Twitter (see links in sidebar at right).
Tuesday, October 4, 2011
MORE FOOD PICS OF RECENT MEALS & DESSERTS; RECIPE FOR QUICK CREAMY WHITE BEANS WITH TARRAGON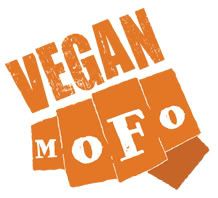 Back home from our little trip to Vancouver (I'll post food pictures from Vancouver tomorrow)! We had a wonderful time with family, but it's good to be home! My MoFo post for today (just squeaking in!) is going to consist of a few more food pics of meals and snacks we've eaten lately (with some recipe links, and a quick and easy bean recipe that's a little different!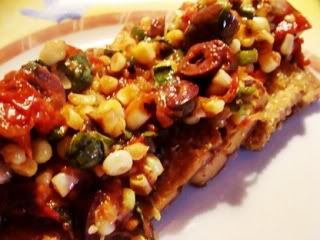 Crispy Marinated Tofu ("Breast of Tofu") with Italian Corn-Tomato-Olive Relish from my new book "World Vegan Feast". This is one of my favorite summer meals-- so colorful and easy, absolutely delicious, and good hot or at room temperature.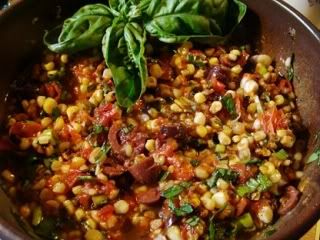 Italian Corn-Tomato-Olive Relish from my new book "World Vegan Feast". It's good on bruschetta, crostini and anything else you can think of!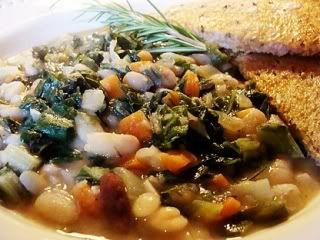 Garlicky white bean soup with kale and carrots.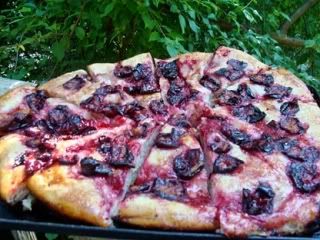 My Potato Focaccia from my new book "World Vegan Feast" topped with juicy little wild plums and coarse organic sugar.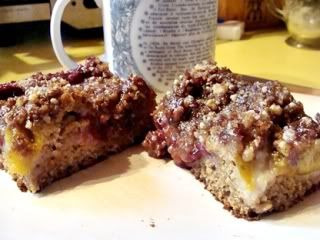 Plum and walnut streusal coffee cake-- it's whole wheat but very tender. Follow this recipe, substituting chopped plum for apple and walnuts for almonds.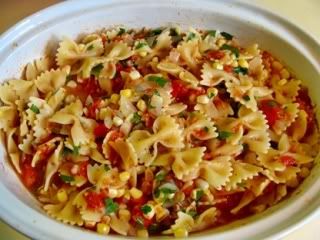 Nava Atlas' fantastic Pennsylvania Dutch Corn Noodles with Tomatoes. Recipe here. I've been making this every summer with fresh homegrown tomatoes and local corn for over 20 years. It's from her book "American Harvest". (This time I had to make it with farfalle/butterfly pasta because I didn't have any eggless ribbon noodles or tagliatelle.)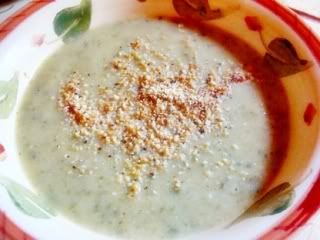 Roasted Zucchini Bisque (bad photo-- sorry!) Recipe and better pics here. this uses up 2 1/2 lbs of zucchini in one fell swoop, is very low-fat, and really special.
Just an ordinary green salad, but I had to show off my new salad bowl!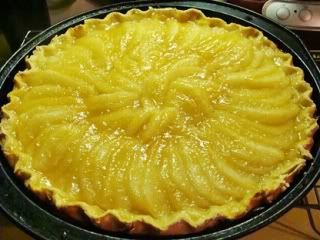 Italian Pear Tart from my new book "World Vegan Feast".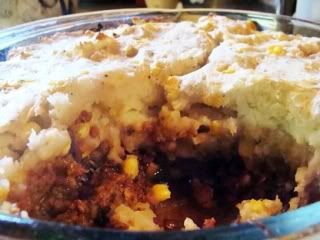 Pâté Chinois--Quebec-Style Vegan Shepherd's Pie with corn (This literally translates to "Chinese Pie", which sounds pretty odd, but the story behind the dish-- which may be apocryphal-- is that it was prepared by the Chinese railway workers in Quebec, and was adopted by the locals. Who knows-- it's good!) My recipe for it is in my book "The Fiber for Life Cookbook".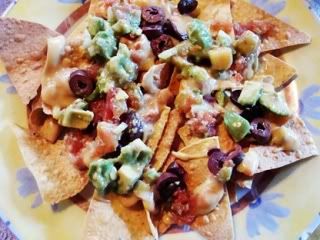 Nachos with
"Vegan "Queso" (commercial spicy "cheese" sauce), olives and homemade chunky guacamole.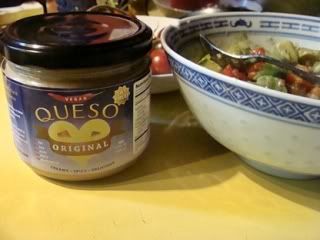 A jar of "Vegan "Queso" (spicy "cheese" sauce) that I received in my VidaVeganCon swag bag, with my homemade chunky guacamole. The Queso is good, and spicy, too, but I make something similar with my "Melty Chedda' Sauce" from my book "20 Minutes to Dinner". (There's a version of this sauce in my new book "World Vegan Feast" called "Melty Suisse Cheese".)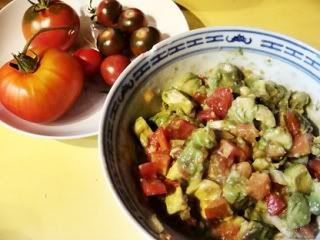 Chunky guacamole with some of our home-grown tomatoes.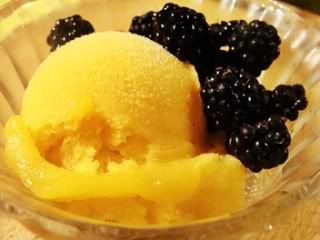 Sparkling peach sorbet with some fresh blackberries. Recipe here. This is so creamy and fruity at the same time-- the essence of summer!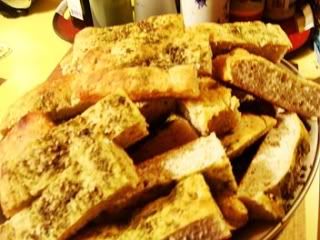 A fuzzy photo of my Potato Focaccia recipe from my new book "World Vegan Feast", made a little thinner than usual and topped with za'atar (info about this spice mixture here) and olive oil to go accompany a Middle Eastern/fusion meal.
And now that recipe I promised: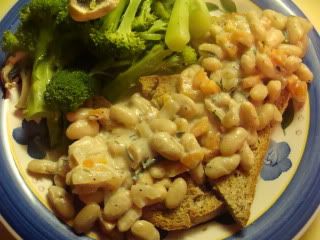 The back story:
I was making dinner at the last minute one day last week (this seems to be happening more and more often!) and I really wanted something with white beans (one of my favorite beans, and I had a few cans of them on hand), but I wanted a dish that was a little bit different and
really
quick to make. I had just received a copy of award-winning British food writer Nigel Slater's book
Real Fast Food
. (It's not vegetarian, but it's full of good veg ideas.) This is my vegan, lower-fat adaptation of Slater's recipe for "White Beans with Tarragon and Cream", which created a sort of French-style "beans on toast". We loved it!
Printable Copy
CREAMY VEGAN WHITE BEANS WITH CARROTS AND TARRAGON, ON TOAST POINTS
Serves 2
2 teaspoons olive oil or vegan butter
1 small onion, minced
1 bay leaf
1 small carrot, in small dice
2 sprigs of fresh thyme
the leaves from about 4 small branches of fresh tarragon
(NOTE: If you have no fresh herbs, use 1/4-1/2 teaspoon of the same herbs, dried.)
1/ 15 to 19 oz can white kidney, cannellini or Great Northern beans, drained and rinsed well
(Or use 1 1/2 to 2 cups cooked beans-- I cook a big pot and freeze them in 2-cup containers.)
1/2 cup vegan broth
1/3 cup non-dairy milk
1/3 cup crumbled extra-firm silken tofu
(
NOTE: If you don't use soy, use 1/2 cup of your favorite non-dairy milk blended until smooth with 3 tablespoons of raw cashews. Don't use a non-dairy creamer-- it's too sweet!)
freshly ground black pepper
4 slices of toast, cut into points [triangles] (Spread with Earth Balance if you like, but it's optional.)
Heat the oil or vegan butter in a medium skillet and add the onion. Cook over medium heat until it softens and begins to turn golden, but don't brown it. Add the bay leaf, carrot, thyme and tarragon, along with the beans and vegan broth. Quickly blend the non-dairy milk and tofu with a hand/immersion blender until very smooth and add that to the pan, stirring. When it comes to a gentle boil, turn it down to a low simmer, cover and cook just until the carrots are "al dente". Taste for salt and add lots of freshly ground black pepper.
Serve hot over crisp toast and...
Enjoy!

Posted by

Bryanna Clark Grogan
at 9:59 PM