Bryanna Clark Grogan's Vegan Feast Kitchen/ 21st Century Table: The kitchen journal of a vegan food writer.. I'm on Facebook and Twitter (see links in sidebar at right).
Wednesday, October 5, 2011
"WHAT DID YOU DO IN VANCOUVER?" ATE ASIAN FOOD, WHAT ELSE?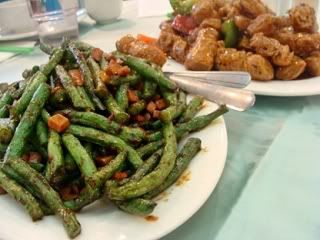 Spicy Green Beans and Bean Curd Skin Rolls in Black Bean Sauce at Whole Vegetarian Restaurant on Main St. Vancouver, BC.
DH and I spent about 2 days in Vancouver recently-- a little trip off "the rock" to visit family and celebrate our 20th wedding anniversary in a low-key kinda way. We spent the first afternoon with my youngest daughter Justine and my youngest grandchild, Logan, catching up on family news, just hangin' out, having beautiful (soy) lattes at
Caffe Artigiano
in Kerrisdale:
(Have you ever tried to make even a simple version of the above? It must take years to learn how to do this!)
Later we joined SIL George and stepson Laurence for dinner at Whole Vegetarian, a Buddhist vegetarian restaurant (formerly the Bo Kong) on Main St. at 16th, which is one of our favorite inexpensive vegan dining spots in Vancouver. Whole Vegetarian is a large restaurant, usually packed with diners of all cultures. The menu is long and varied (you can
see it here
) and has vegan dishes that please our omnivore relatives and friends as well as ourselves. This is what we ate Saturday night, and very satisfying it was!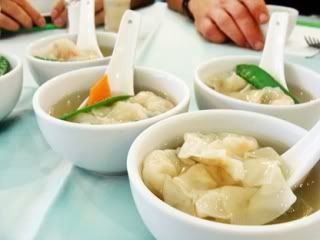 Won Ton Soup-- vegan, of course!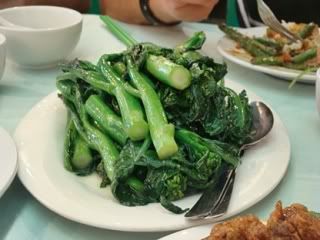 Pan-Fried Chinese Broccoli (Gai Lan)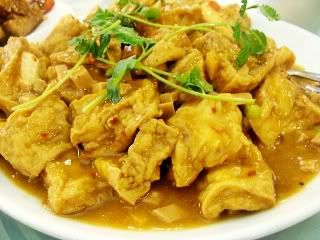 Chili Tofu with Sesame Sauce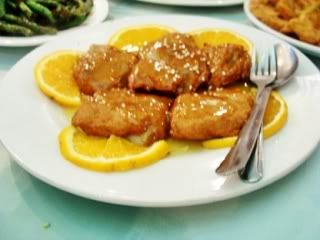 Vegetarian Cutlets with Orange Sauce (DH's favorite)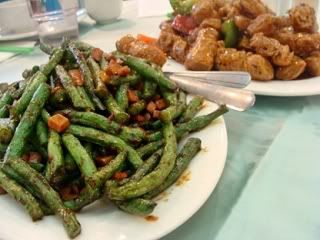 T
he richly-flavored Bean Curd Skin Rolls in Black Bean sauce were deemed the favorite dish all around the table, closely followed by the Spicy Green Beans!
The service is always fast and attentive at Whole Vegetarian, and the food hot and fresh, as well as tasty. For about $15 each, we had a veritable feast!
**********************************************************
We stayed at my cousin Chris's house and on Monday he and his partner Roxanne took us down to "The Drive" (Commercial Drive) with my sister Karin and my BIL Allen to have lunch at
Ya Yah Thai Cuisine
. None of us had ever eaten there before. The restaurant is not vegetarian, but there were vegetarian options on the menu, and the young waitress thoughtfully mentioned that no fish sauce or oyster sauce would be used in the dishes that DH, Karin (also a vegan) and I ordered. She also ascertained that they would substitute vegetarian spring roll for the crispy wonton (which was not vegetarian). Here's what the three of us had-- all lunch special options: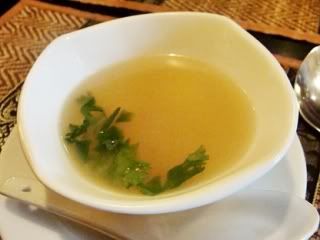 We all had some tasty vegetarian broth with cilantro to start.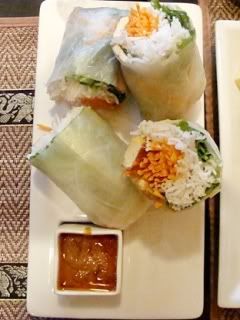 DH and I shared a summer roll bursting with veggies, rice noodles and tofu, with a spicy peanut sauce.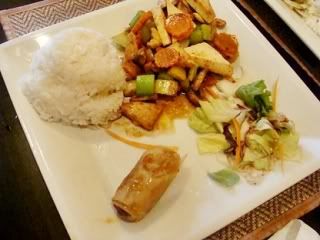 DH had the Cashew Nut Saute with carrot, red and green peppers, onion and tofu.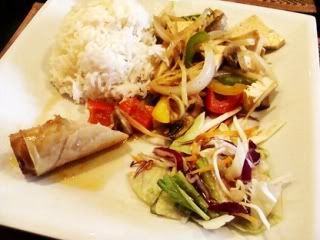 Karin had the Mixed Vegetables Saute with tofu, cauliflower, broccoli, carrot, red and green cabbage.
I had the Ginger Saute with fresh ginger, red & green pepper, white & green onion,and mushrooms. Nicely spicy!
The service was a little slow, but attentive, and the food was fresh and, at $8 for the lunch special, the price was right! The owner came to speak to us personally and ask if our vegan dishes were to our liking-- how nice was that?
******************************************************************
We did errands and some shopping in the afternoon, making a stop at
Gourmet Warehouse
on East Hastings. St., and the
Parthenon Supermarket
on West Broadway (owned by some old friends from Denman Island). I couldn't get too much, as were walking onto the ferry. I was after a tortilla press and gnocchi paddles at Gourmet Warehouse but they were unfortunately out of stock on both items! Oh, well-- another time! here's my little "haul":
Corn grits at the back, Old Bay Seasoning and Cajun Seasoning, white kidney beans (hard to find here except in cans, and navy beans just aren't the same thing), gigante beans, caraway seeds (I can't find them here!), and something new to me from the Parthenon-- chickpea chips. These are great-- I'm going to try making them myself!
*************************************************************
Our final restaurant meal out in Vancouver was Monday night dinner with Chris and Roxanne and Laurence decided to try another restaurant that was new to us, but had a good review in the
Georgia Straight
: the
Green Lettuce Restaurant
on Kingsway near Victoria. It's an unassuming little place that serves
Indian-Style Chinese cuisine
-- stir-fries with a kick! It's obviously a popular spot because the place was buzzing. Many of the diners were Indo-Canadian, I noticed. There were lots of take-out orders going out the door, too. (All good signs that the food would be good!) It was difficult to choose from the very interesting menu (with lots of vegetarian options), but our server helped by suggesting certain dishes that went well together. We opted for: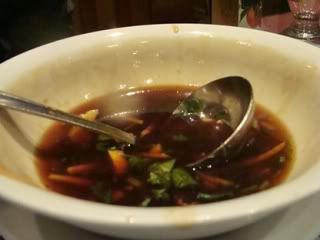 ...a dark and richly-flavored Vegetable Tofu Hot & Sour Soup.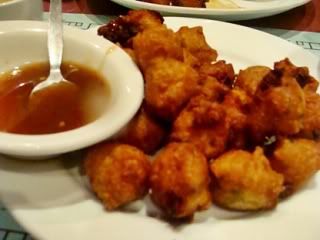 For an appetizer, we munched on Vegetable Pakoras with chutney.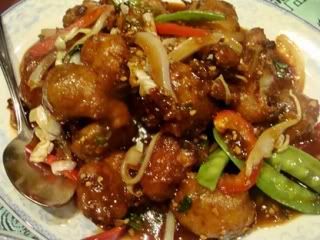 We ordered the Gobi Manchurian (Crispy Cauliflower) and our server suggested that the would go well with...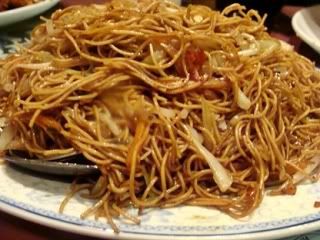 the Vegetable Hakka Chow Mein-- and they were both delish!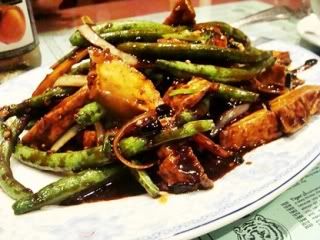 The Chili Garlic Tofu w/Green Bean in Black Bean Sauce was a favorite!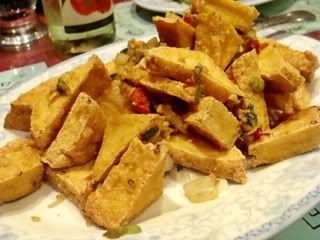 The Crispy Hot & Spicy Tofu was a bit on the dry side, but the chile onions scattered over it were a nice contrast.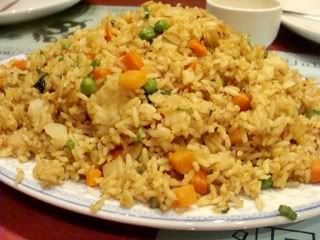 The Vegetable Masala Fried Rice was mildly curry-flavored.
Again, for about $15 each, we were stuffed with tasty, spicy food that was familiar and different at the same time. Some dishes were a bit greasy, but not in a bad way, and the service was fast. I'd like to go back a few more times to try other items on the menu that looked tempting.
******************************************************
On Tuesday we made our way back to Vancouver island on the ferry and stopped for lunch in Nanaimo, where we veered from our Asian dining path of the weekend and opted for our favorite, friendly little Lebanese restaurant,
Aladdin's Cafe
on Victoria Crescent, which boasts a great vegan plate, big enough to share: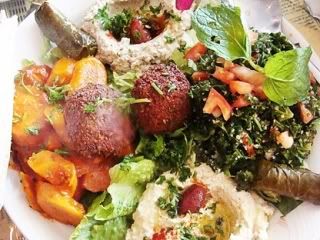 Starting at the top and going right: Smoky Baba Ghanoush (eggplant dip), tabouli with lots of parsley, stuffed grape leaf, the creamiest hummus you can imagine, spicy braised carrots, another stuffed grape leaf, crispy felafel in the middle, and house-made whole wheat pita bread alongside. Heaven!
After perusing CD's in our favorite music shop,
Fascinating Rhythm
, and books at a couple of 2nd-hand bookstores just up the street, we headed for home.
And now I am going to head for bed!
Good night!

Posted by

Bryanna Clark Grogan
at 11:28 PM