Bryanna Clark Grogan's Vegan Feast Kitchen/ 21st Century Table: The kitchen journal of a vegan food writer.. I'm on Facebook and Twitter (see links in sidebar at right).
Wednesday, October 26, 2011
VEGAN DINER BOOK GIVEAWAY AND REVIEW!


OUR 1ST WINNER DID NOT CONTACT ME AFTER 1 WEEK, SO WE HAVE ANOTHER WINNER, in2insight!
I will contact you
. Congratulations!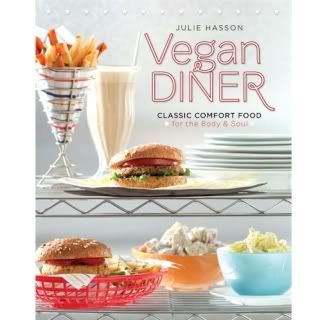 It's past due for me to do a review AND a book giveaway (see info at the bottom of this post) of my friend Julie Hasson's wonderful book, Vegan Diner,
on this blog. If you haven't seen this book, or purchased it yet, you are in for a treat! Not only do we all have some diner favorites that we would love to be able to eat again as vegans, but it
looks
wonderful, with delectable color photos of many of the recipes, and stylishly retro diner scenes. The content is a perfect combination of familiar and original. There are old favorites like All-American Beer-Battered Onions, Ooey-Gooey Brownies, and Biscuits with Creamy Sage Gravy, and then innovations such as Spelt Chai Pancakes, Vampire Fries, and Philly Seitan Sliders, to name but a very few of the tantalyizing recipes in this book.
Recently we had a couple of really delicious and quick meals from Julie's book that I'd like to tell you about. I had a yen for "macaroni and cheese" the other day, and needed a quick meal at the same time. (Actually, I had just got home from work on the 6:30 ferry. DH usually has dinner waiting for me on Friday nights, but he's been teaching a photography course at the college in Courtenay for a few weeks, so we've both been coming home on the same ferry.) I had heard so much about Julie's
Cheezy Mac
that I decided to try it. It looked quick and easy-- and it was!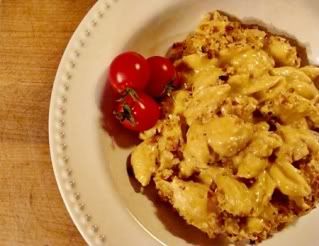 I was out of elbow macaroni, so I used medium shell pasta, and I think I'll use that from now on! The shells make little "cups" to hold more of the sauce, so each bite is sumptuous!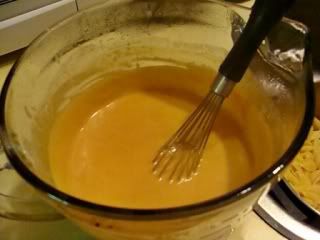 While the pasta boils, you make the sauce, which tastes much richer than it actually is. I cheated a bit and cooked the sauce in the microwave, which worked perfectly.
The recipe specifies just mixing the hot pasta and sauce together and serving immediately, which is perfectly fine, but I want a crunchy topping. So, I sprinkled the top with
panko (Japanese breadcrumbs
) and ran it under the broiler, watching carefully. So it looked like a baked macaroni and cheese: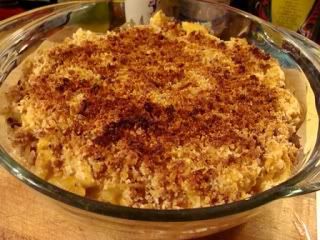 It was creamy and rich-tasting-- a very satisfying meal!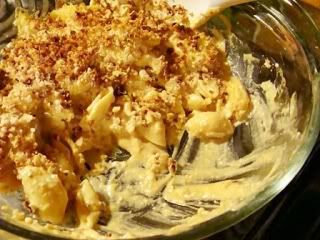 Another night I made two recipes from
Vegan Diner
: the
Smoky Soy Curls
and the
Dill and Garlic Potato Salad
. They were both very easy to make and we could pretend that, despite the cold weather, we were having a scrumptious summer BBQ meal: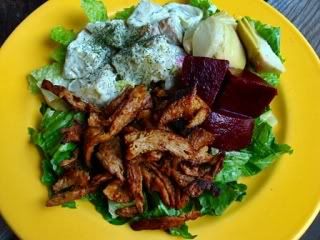 We served the two dishes together on a bed of lettuce with pickled beets and marinated artichokes-- fantastic!

I love

Soy Curls

anyway (you can

read about them here

), but this simple recipe takes them to a new level! DH devoured them and we both can't wait to try them in a big, messy sandwich! The potato salad was creamy and tangy,complementing the Smoky Soy Curls perfectly. (By the way, DH tends to prefer my cooking, but he's a great fan of Julie's cooking and NEVER looks dubious when I say I'm trying out one of her recipes. He certainly wasn't disappointed in these dishes.)

I haven't even gotten to the desserts yet-- there are so many recipes to choose from!

If you'd like to win a copy of Vegan Diner, comment below on why you'd like to lay your hands on this book and DH will choose a winner on Thursday night (the 27th).

I'm afraid that the publisher has stipulated that only Americans can join in the contest

.

All the best!

Posted by

Bryanna Clark Grogan
at 10:43 AM