Bryanna Clark Grogan's Vegan Feast Kitchen/ 21st Century Table: The kitchen journal of a vegan food writer.. I'm on Facebook and Twitter (see links in sidebar at right).
Saturday, October 8, 2011
SECOND TRY WITH GLUTEN-FREE PIE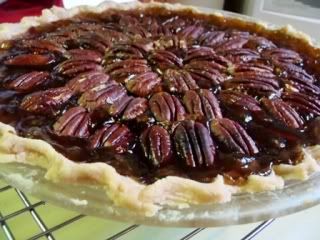 Vegan Pecan Pie-- gluten-free!
We're having our first of
two
Thanksgiving dinners (it's Canadian Thanksgiving weekend) tonight at my son's. (And, boy, is it windy out there-- I hope the power stays on!) They requested pecan pie, and told them I'd make the crust GF because my DIL Amber is gluten-sensitive. Smarting from
my GF pie fail yesterday
, I decided to try a recipe recommended by my friend
Julie Hasson
, the pie crust recipe in
"Cooking with Isaiah
" by Silvana Nardone--
recipe and tutorial here
.
I think it was success, but I haven't used that much fat in a pie crust for a long time! I found out afterwards that I should wear my new reading glasses when I read recipes, because I used 1 1/2 cups non-hydrogenated shortening |(another thing I seldom use, and never in pie crust anymore) instead of 1 1/3 cups--yikes!! It seemed to work, though-- even if it is super-rich. I also must admit that it was trickier to roll out than ordinary pie dough. And, it makes enough for about 2 1/2 pies, actually.
Here's the dough before it's 15-minute rest in the freezer: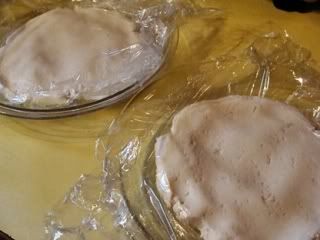 Here's the dough in the pie dishes (there was enough leftover for a small free form tart):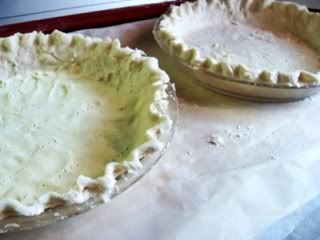 I had some trouble getting the first one in the pie dish, so, with the second crust, I rolled it out on a piece of baking parchment, put my left hand under the parchment, lifted it up a bit, placed the upside-down dish on the crust and gently flipped the whole thing over so that the crust was in the dish. I carefully peeled the parchment off the dough and gently fit it into place and fluted the edges, saving the scraps for my little tart. As you can see, I patched it in a few places, which was easy to do.
I pre-baked the crust for 10 minutes (after pricking all over with a fork, as usual) at 400 degrees F. With a wheat crust, you would only bake for 3 minutes, but this definitely seemed to need more.
Pre-baked crust: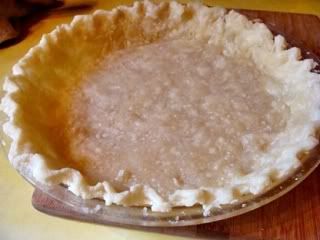 Then I filled the crusts with my filling (from my new book "
World Vegan Feast
") and baked them at 350 degrees F for 30 minutes.
They came out looking perfect!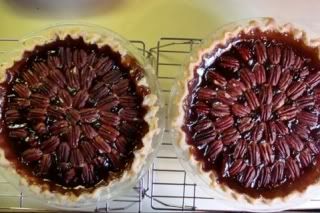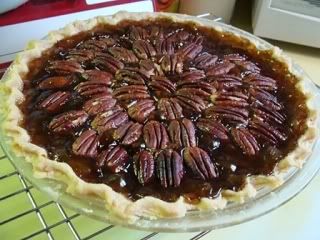 I looked around on the net for low-fat gluten-free pie crust, but I guess it's not possible (please tell me if I'm wrong!). However, I did find one recipe that sounds pretty reasonable and uses either some millet flour or sorghum flour, which is more nutritious than white rice flour. The
original recipe is here
and it uses sorghum flour and tapioca flour, but
this blogger
used millet flour instead of sorghum flour successfully, which is what I will do next time I make a GF crust, because I have a hard time finding sorghum flour here-- and I can grind my own millet flour.
Here's the little apple tart I made with the leftover dough, using the leftover apples from my fail on Thursday: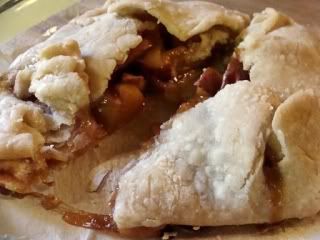 Enjoy!
Posted by

Bryanna Clark Grogan
at 3:19 PM