Bryanna Clark Grogan's Vegan Feast Kitchen/ 21st Century Table: The kitchen journal of a vegan food writer.. I'm on Facebook and Twitter (see links in sidebar at right).
Saturday, October 22, 2011
THE URBAN VEGAN'S NEW BOOK, "CELEBRATE VEGAN"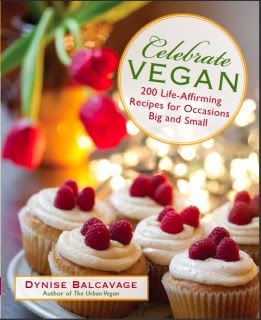 The promise of a new book by Dynise Balcavage, the
Urban Vegan
, has caused eager anticipation among fans of her blog and her first book
The Urban Vegan
. The complete title of her new book is
Celebrate Vegan: 200 Life-Affirming Recipes for Occasions Big and Small,
and it delivers! Dynise covers 48 holidays, divided into the following categories: New Year's Celebrations (from four cultures); American Celebrations (the usual ones, plus Martin Luther King day and Festivus, the festival for nonconformists, of Seinfeld fame); nine International Celebrations; Religion-Based Celebrations (from Candlemas to Eid al-Fitr); Milestone Celebrations (from birth to burial); and seven fun Everyday Celebrations. Dynise likes to surprise, so be prepared.
Consider her Lunar New Year Supper, for instance, featuring Lemon-Champagne-Braised Baby Bok Choy, Tofu with Broccoli and Black Bean Sauce and, for dessert, Mandarin Orange Upside-Down Cake ("a fun twist on a classic American dessert recipe"-- indeed!). Or, from the American Holidays section, the Martin Luther King Day "Soul Food Fit for a King" supper, sometimes traditional and sometimes darn right innovative: Sweet Mint Tea, Thai-Centric Creamy Mac ("not your grandma's mac and cheese"), Dirty Rice and Lemon-Cornmeal Diamonds.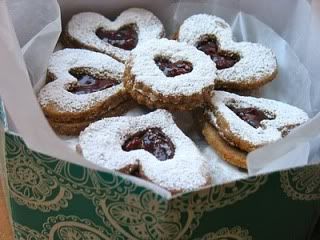 In this book, the "Heartfelt Linzer Cookies" are for Valentine's Day, not Christmas!
Guy Fawkes Day, a British Holiday with a long and rather violent past, inspired "Kinder, Gentler Bonfire Fare", featuring London Particular (a split pea soup), Indian Shepherds Pie, and Pimm's Cup (a British cocktail). I made the Indian Shepherds Pie for dinner a few nights ago. This recipe is a brilliant idea, given the long relationship of the British Empire with the Indian sub-continent, continuing to this day with the large Indian population in the UK. Dynise described the dish as a sort of "deconstructed samosa", which is very apt. I used the cauliflower option in the filling because cauliflower, pea and potato is a popular samosa filling.
The spicy filling features tempeh, which my husband claims to dislike, but I had some in the freezer, I had everything else in the house to make this dish, and I decided to take a chance. The dish was calling to me, and, besides, I
like
tempeh, and I don't have it very often.
This has a happy ending, though. I didn't tell him that the dish contained tempeh until he had tucked in and started going on and on about how great it was!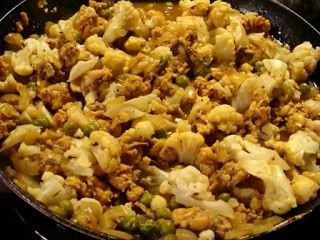 The spicy tempeh and vegetable filling.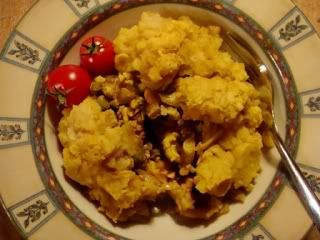 Indian Shepherds Pie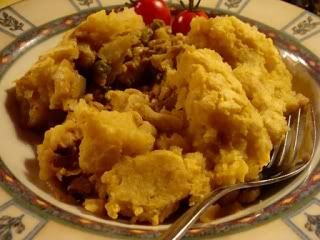 The festive and unusual Christmas Eve "Feast of the Seven Grains" is the vegan equivalent of the traditional Pan-European "Feast of the Seven Fishes"-- genius! In the Everyday Celebrations section, the "Tailgate Party" features Spicy Seitan Wings, pretty traditional, but wait-- there's a surprising Cumin-Harissa Dipping Sauce and Chocolate Popcorn to finish. And then comes the "Raw Celebration": Zucchini "Linguine" with Lemony Spinach Pesto, Truffle-Stuffed Dates and Ruby Red Cocktail.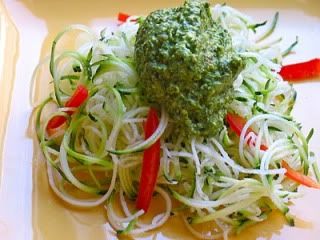 Zucchini "Linguine" with Lemony Spinach Pesto
That's just a small sampling of the original menus and recipes that go with them. Traditional sometimes, but always with a (sometimes quirky) twist. You'll have fun with the food in this book, and so will your guests. As an added bonus, Dynise has included a list of online resources, a recipe index by category, and some reassuring information on "veganizing" traditional recipes, baking without eggs, and much, much more. You're going to love this book!
Enjoy!

Posted by

Bryanna Clark Grogan
at 10:45 PM