Bryanna Clark Grogan's Vegan Feast Kitchen/ 21st Century Table: The kitchen journal of a vegan food writer.. I'm on Facebook and Twitter (see links in sidebar at right).
Monday, May 30, 2011
WHAT ARE YOUR (CURRENT) FAVORITE CONDIMENTS?

Just wondering! Here are 5 of my fave condiments right now (What are yours?):
1.) Bacon Salt
(yes, it can be vegan!):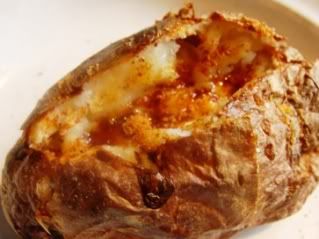 A baked potato with my homemade Bacon Salt-- here's my recipe.
All the the
bacon salt
I have seen on the Internet is vegetarian-- it either just contains the flavorings for bacon (liquid smoke, brown sugar, etc.), or it contains some
soy bacon bits
, but some brands contain milk products (like J&D brand).
The sodium content of this condiment is much, much lower than table salt-- 1 teaspoon of my homemade recipe contains 90.2 mg. of sodium; 1 teaspoon of table salt contains 1880 mg of sodium! My recipe is much lower in sodium than the commercial brands I've checked.
If you don't want to make it yourself, this is the one I tasted first: Chef Salt Bacon BBQ Salt
-- it is vegan.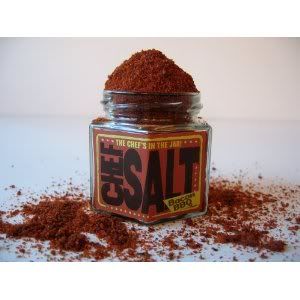 USES FOR BACON SALT:
On corn on the cob and popcorn and homemade oven-fries; seitan steaks; in BBQ sauces; in marinades for seitan TVP and tofu; in dips, spreads, and vegan mayonnaise; in baked beans; in salad dressings and on salads; as a seasoning in homemade seitan products; in mashed potatoes; on scrambled tofu; in eggless egg salad (made with tofu); roll tofu pieces in it and pan-fry; mix with olive oil for a French bread dip; on potatoes; in potato salad; on or in veggie burgers; on a grilled (vegan) cheese sandwich; with vegan cream cheese and/or vegan sour cream as a dip or spread; on steamed or grilled or roasted veggies; on pasta with a thin creamy sauce (a sort of vegan carbonara); on grits; in vegan mac'n'cheeze; on many types of sandwiches; in soups (or on them); on homemade potato crisps (chips) or other veggie crisps-- kale chips, maybe?-- I'm sure that's just the beginning!
2.) Peruvian Restaurant-Style "Green Sauce":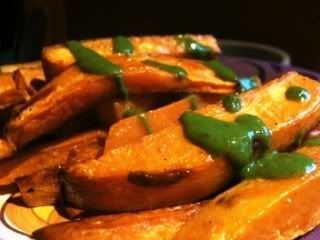 Sweet Potato Oven-Fries with Peruvian Restaurant-Style "Green Sauce".
Here's my recipe.
I still like good ketchup on fries, but we love this creamy, spicy sauce not only on sweet potato oven-fries, but also on veggie burgers and even tomato sandwiches! They use it as a dip for bread and yucca fries in Peruvian restaurants, too. It's pretty addictive! (But, that's no problem, as my recipe has negligible fat and calories.)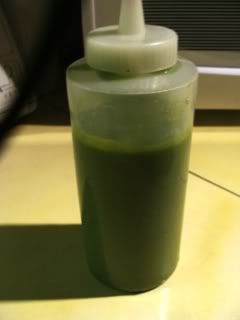 3.) Ajvar (
Pronounced Eye-vahr) (Balkan or Serbian "Salsa"): This is a name of Turkish origin given to a popular Balkan spread or relish made of roasted peppers and eggplant (and sometimes other vegetables, too). I make it with zucchini instead of eggplant sometimes. Here's my recipe for making it at home, but it's widely available commercially.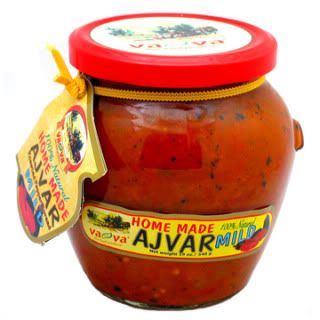 This delicious condiment is originally from Macedonia, Croatia, and Serbia, but is popular also in Albania, Greece, Bulgaria, Hungary, Turkey, etc., and all over the Middle East now, it seems. It is sometimes called "vegetable caviar", and there are hot ajvars
and mild ajvars
. In some areas they use roasted green peppers.

Commercial versions are inexpensive in Middle Eastern stores and many brands are available from amazon.com. Trader Joe's sells it but they don't call it ajvar on the label. They call it Trader Joe's Red Pepper Spread with Eggplant and Garlic. I understand that Whole Foods sells an organic version with "Ajvar" on the label.
I use it on all kinds of wraps, panini, and sandwiches,
or as a cracker spread or a dip. Serve it as an appetizer to spread on thick slices of country-style bread or flatbread such as pita or lavosh, or use it as a side dish. Or just use it like salsa. You can use it with rice or potatoes, or as a quick pasta sauce; or use it in hummous and other dips. It's used on grilled meats, so why not on grilled seitan or tofu? Or on some of those big Field Roast or Tofurkey veggie sausages? Or with white beans, veggie "meatloaf", or "cheese" toast, or bruschetta?
Spice Island Vegan
used it with my tofu fritatta from "
Nonna's Italian Kitchen
" and it would be good on
scrambled tofu and vegan omelets,
too. I also use it to color vegan cheeses and sauces.
4.) Za'atar (
a seasoning
mixture of wild thyme, lemony ground sumac and sesame seeds)
is a popular seasoning in Armenia, Iran, Iraq, Israel, Jordan, Lebanon, Libya, Morocco, Palestine, Saudi Arabia,Syria, Tunisia, and Turkey.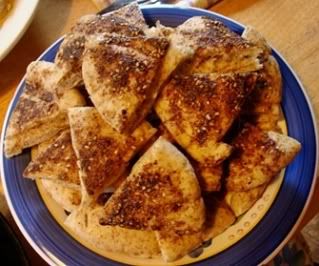 Pita bread with za-atar and olive oil
If you've never tasted za'atar (also spelled za'tar, zatar, zatr, zahatar, satar), prepare to be hooked! The taste of a za'atar mixture can described be tangy, herbal, nutty, or toasty-- actually all of the above!(The word can be used for wild thyme, or for the mixture of thyme, sumac, sesame and salt, by the way.)
You can either spread it on flatbreads or pita with olive oil, or dip the bread in a mixture of olive oil and za'atar. (Use a really good extra virgin olive oil that you enjoy uncooked.) I sprinkle it on top of roasted cauliflower, steamed broccoli and stir-fried Brussels sprouts, some soups (try it on
Palestinian Red Lentil Soup

,
Levantine Bean Soup

,
Silky Sweet Potato and Red Lentil Soup

or
Balkh Brown Lentil Soup

), on tofu feta and on dips and other vegan cheese preparations. It would be great on grilled or fried tofu, or rubbed into your favorite seitan. Try it in salad dressings and on latkes (potato pancakes) or oven-fried potatoes, sweet potatoes, couscous, grilled zucchini, cucumber salad, tomatoes-- I'm sure you'll come up with many other ways to use it!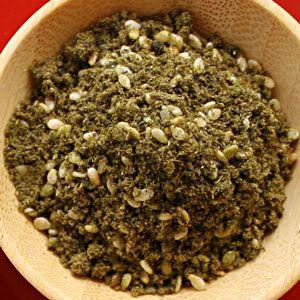 There are many, many different versions-- here's a formula to start with. Or you can buy some at Greek or Middle Eastern Markets, or on amazon here
and here
and more.
My absolute favorite za'atar is Zatoun fair trade brand,
available from Ten Thousand Villages fair trade markets in Canada (
you can order online
) and
here in the USA
.
The aroma of the wild thyme in this product is so amazing-- it bears no
resemblance
to the dried thyme we usually have available to use.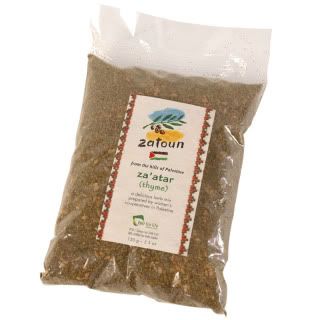 #5) Spanish Smoked Paprika
(
Pimentón): How did I ever live without this product? I know it's a bit "old hat" now, but I still love it!
Smoked paprika is the Spanish cousin to
sweet Hungarian paprika
. It's made from pimiento peppers that have been dried and smoked over an oak fire, then ground into a fine powder.
I
t was originally used in paella and in spicy Spanish sausages, but it's delicious sprinkled on soups, salads, dips (such as hummus) vegetables (especially roasted), pizza, potatoes, scrambled tofu,
roasted tomatoes, and in stews and BBQ sauces. It's a great spice for adding smoky flavor and depth to vegan dishes, and low-fat dishes.
There are many, many brands available (amazon carries many) and in gourmet food stores and supermarkets.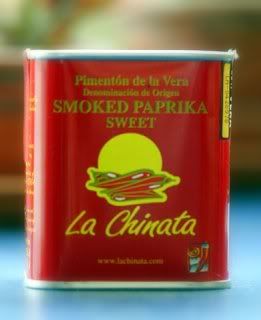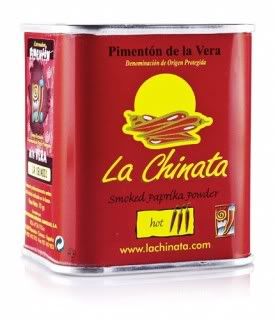 There is also a
moderately spicy smoked paprika (Pimentón Agridulce), but I haven't found it around here. Perhaps I should order the 3-pack
from amazon!
Enjoy! (And I look forward to hearing what your favorites are!)

Posted by

Bryanna Clark Grogan
at 10:13 AM