Bryanna Clark Grogan's Vegan Feast Kitchen/ 21st Century Table: The kitchen journal of a vegan food writer.. I'm on Facebook and Twitter (see links in sidebar at right).
Thursday, November 12, 2009
TRYING OUT OTHER COOKS' RECIPES-- AN EXOTIC LENTIL SOUP AND A DELICIOUS QUICK STEW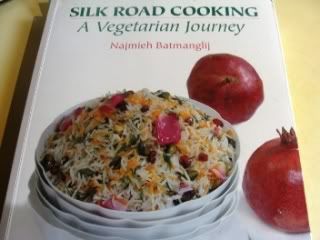 A

n early Christmas present from DH

.
I've had the above book, "
Silk Road Cooking: A Vegetarian Journey"
, by Najmieh Batmanglij, for a couple of weeks now. I got it from my library originally through an inter-library loan, and it excited me more than any cookbook has for quite some time, so I just had to have it! I have owned the author's earlier book "
Food of Life: Ancient Persian and Modern Iranian Cooking and Ceremonies
" for some years now, and thoroughly enjoyed it, but this volume is absolutely amazing. Stunning pictures and travelogue/history of the Silk Road from Genoa to Shanghai make this more than a cookbook. I spent the first week picking up the book at intervals to read the first part, which takes you through exotic, but more familiar, cuisines of Italy, Turkey, India, Persia, and China, but also through the little-known Central Asian countries such as Azerbaijan, Turkmenistan and Uzbekistan. DH immediately ordered it for me for an early Christmas present.
The recipes just have such appetizing combinations of ingredients-- I know that it will add some warmth to the winter to experiment with this book over the next few months. Rose water, saffron, pomegranates in various forms, walnuts, almonds, and all the spices of the Silk Road are common ingredients in these recipes.
Here are but a few of the recipes I really want to try:
Mesopotamian Rice salad with Green lentils, Dates and Raisins;

Tunisian Couscous salad with Pine Nuts and Barberries (I'll use dried cranberries instead);

Armenian Bulgur and Pomegranate Stuffed Grapevine Leaves;

Caspian Butternut Squash, Bulgur and Wild Orange Soup;

Azerbaijani Pomegranate and Spinach Soup;

Caspian Fresh Herb Kuku (a type of omelet that I'll veganize) Rolled in Lavash Bread;

Fertile Crescent Bulgur and Mung Bean Pilaf (with chilies, dill, garlic, cumin, onions, ginger, tumeric and a little tomato!);

Shurazi Baked Saffron Polow with Spinach (an elegant rice dish);

Georgian Pilaf with Tart Cherries;

Levantine Pilaf in Pastry (redolent with spices, almonds, carrots, dried fruit and rose water);

Murghal Mushroom Curry;

Kurdish Rhubarb Braise with Aromatic Herbs;

Persian Butternut Squash Braise (with walnuts, sweet spices, onions, dried golden plums);

Afghan Garlic Chive Ravioli with Yogurt Sauce;

Sicilain Fava Bean, Garlic and Dill Crostata;

Mosul Bulgur Patties with Walnut and Pomegranate;

Tashkent Onion and Garlic bread;

Sicilian Sour Cherry and Pistachio Crostata;

Ardebil Quince Baklava Cake;

Amman Semolina Cake with Orange Blossom Glaze;

Shirazi Melon and peach Sorbet with Crystallized Rose Petals;
How can anyone resist such delights?
All the recipes, BTW, have fairly long introductions, very interesting and informative. There are many, many vegan recipes in this vegetarian book, and most of the others could easily be veganized.
The recipe that I tried from this book the other day was a simple soup made with items that I had around the house, but with an intriguing combination of flavors. We loved it!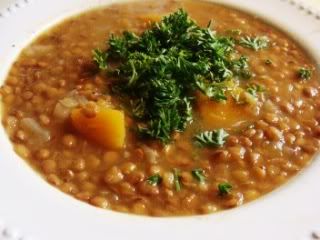 Printable Recipe
BALKH BROWN LENTIL SOUP
Servings: 6
This recipe is from "Silk Road Cooking: A Vegetarian Journey", by Najmieh Batmanglij, with a little tweaking from me. This recipe is popular in what is now Afghanistan, Usbekistan and Tajikistan.

I used a vegetarian broth instead of plain water for a richer flavor.
3 tablespoons olive oil
1 teaspoon cumin seeds
2 large onions, peeled and thinly sliced
4 cloves garlic, crushed and chopped
1/2 lb butternut squash or pumpkin, cut into cubes (or spiced butternut puree made for butternut squash soup)
8 cups
vegetarian "chicken" broth
2 cups brown lentils
2 tablespoons rice flour (I used
brown rice flour)
stirred into 2 cups of water
1/2 cup fresh orange juice
1/4 cup fresh (
or organic bottled) lime juice
1 tablespoon
angelica powder
OR a s
tar anise
. (Star anise has a sort of licorice flavor like angelica.)
1/4 teaspoon cayenne pepper
1 cup chopped fresh parsley
salt and freshly ground black pepper to taste
Heat the oil in a medium-sized heavy pot over medium heat. Add the cumin seeds and stir-fry for 20 seconds. (Keep a lid over them so they don't fly out!) Add the onions, garlic, and squash cubes (but not the puree if that's what you're using) and stir-fry for 10 minutes.
Add the broth and lentils and bring to a boil. reduce the heat, cover and simmer it until the lentils are tender, about 50 minutes. Stir occasionally.
Stir in the rice flour which you have stirred with the 2 cups of water, the orange and lime juices, the angelica powder or star anise, and cayenne. Bring to a boil, reduce the heat, cover and cook for 40 mire minutes, stirring occasionally.
Taste for salt and season to taste with freshly-ground black pepper. Don't forget to discard the star anise, if you used it, before serving. Sprinkle each serving generously with coarsely-chopped parsley before serving. (The parsley is important!)
Nutrition Facts
Nutrition (per serving)
: 342.1 calories; 19% calories from fat; 7.8g total fat; 0.0mg cholesterol; 936.6mg sodium; 905.0mg potassium; 53.4g carbohydrates; 21.5g fiber; 9.4g sugar; 31.9g net carbs; 21.0g protein; 6.7 points.
******************************************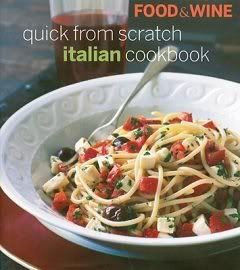 The second book,
"Food & Wine: Quick From Scratch Italian Cookbook"
, was a new find at the library just a few days ago. I must confess that I only had a quick look at it, but the stew recipe I tried for dinner yesterday sounded appetizing for a cold autumn day and I had everything I needed for it. It was excellent!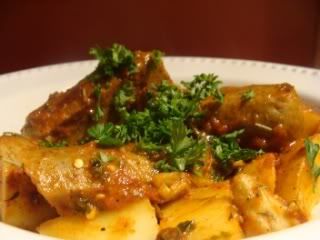 Printable Recipe
VEGANIZED ITALIAN SAUSAGES, POTATOES AND ARTICHOKE HEARTS IN TOMATO BROTH
Servings: 4
Adapted from a recipe in "Food & Wine: Quick From Scratch Italian Cookbook". I found that it needed a few more herbs and more liquid, but that's all I changed in the recipe (except for the vegetarian sausages and veggie broth, of course! Very easy to make.
1 tablespoon olive oil
4
Field Roast Italian Sausages
, OR Tofurky Veggie Italian Sausages
3 cloves garlic, chopped
1 1/2 lbs Yukon Gold potatoes (about 5), scrubbed and cut into 1-inch chunks
1/2 teaspoon dried thyme
1/2 teaspoon dried rosemary
1/2 teaspoon dried red chili flakes
1/2 cup dry red or white wine (can be de-alcoholized)
1 1/2 cups
vegetarian "chicken" broth
1 cup canned thick
crushed tomatoes
1 1/2 cups drained and rinsed halved canned artichoke hearts (one 14-ounce can)
1/2 teaspoon salt
freshly-ground black pepper to taste
Garnish
6 tablespoons chopped fresh parsley
In a large heavy pot, heat the oil over moderately high heat. Add the sausages (cut them into 2 or three pieces each) and brown well, about 5 minutes. Remove the sausages from the pot and set aside.
Reduce the heat to moderate. Add the garlic, potatoes, red pepper flakes, rosemary and thyme. Cook, stirring occasionally, until the potatoes are lightly browned, about 5 minutes. Add the wine and boil until reduced to approximately 4 tablespoons-- 2 to 3 minutes.
Stir in the broth, tomatoes, artichoke hearts, salt, and the browned sausages. Bring to a simmer and cook, covered, until the potatoes are tender, about 30 minutes. Add freshly-ground black pepper to taste and 2 tablespoons parsley. Serve with a tablespoon of parsley over each serving.
Nutrition Facts
Nutrition (per serving):
480.6 calories; 26% calories from fat; 13.9g total fat; 0.0mg cholesterol; 1215.0mg sodium; 1382.2mg potassium; 54.7g carbohydrates; 11.6g fiber; 2.4g sugar; 43.2g net carbs; 32.4g protein; 10.0 points.
The Nutrition Facts were calculated using Field Roast Italian Sausages. If you used Tofurky, the Nutrition Facts are as follows:
NUTRITION FACTS USING TOFURKY:
Nutrition (per serving): 510.6 calories; 28% calories from fat; 16.9g total fat; 0.0mg cholesterol; 1265.0mg sodium; 1382.2mg potassium; 55.7g carbohydrates; 15.6g fiber; 3.4g sugar; 40.2g net carbs; 36.4g protein; 10.8 points.
Happy experimenting in the kitchen!

Posted by

Bryanna Clark Grogan
at 9:08 PM