Bryanna Clark Grogan's Vegan Feast Kitchen/ 21st Century Table: The kitchen journal of a vegan food writer.. I'm on Facebook and Twitter (see links in sidebar at right).
Sunday, November 15, 2009
COMFORT FOOD DESSERT: VEGAN STICKY TOFFEE PUDDING CAKE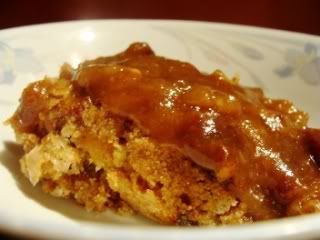 Vegan Sticky Toffee Pudding Cake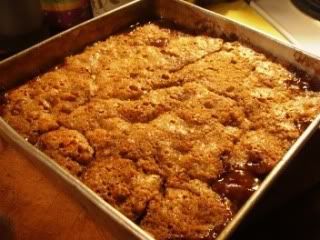 It's been a blustery, soaking-wet few days here on the BC coast, and the other evening we just felt like something hot, gooey and sweet. We decided to use up a few Weight Watcher's points on the following treat, which is a quick and easy, low-fat and vegan version of a popular British dessert,
Sticky Toffee Pudding
.
(I have made a vegan version of that traditional dessert, which is very good but requires more time and steps. The recipe is in my new book "World Vegan Feast")
This version is based on the North American pudding cake
, which starts with a thickish batter, over which you sprinkle sugar and then pour hot liquid over the whole thing. After baking, you are left with a light cake floating on top of a gooey sauce.
This recipe is not meant to replace the authentic British Sticky Toffee Pudding!
When I first made a
pudding cake
for DH, he called it
Pouding
au Chomeur
. He's from Quebec and he said it was a very common everyday dessert and the name translated to "
Unemployment Pudding"
. Evidently it appeared in many permutations all over North America during the Great Depression of the 1930's-- presumably because it required only inexpensive ingredients and no eggs or even milk. I've also heard it called
P
oor Man's Pudding
,
Depression Cake
and
Depression Pudding

. I have a version of the Quebec recipe
in my new book "World Vegan Feast".
Whatever you call it, it's a great dessert for vegans because of being made without eggs, and you can use water or any non-dairy milk for the liquid in the cake batter. It's also a great vehicle for experimentation-- witness this version.
Printable Recipe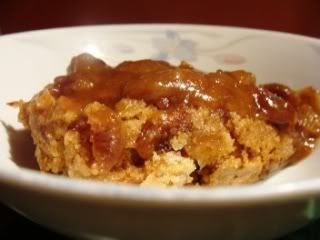 BRYANNA'S QUICK AND EASY "STICKY TOFFEE PUDDING" CAKE
Servings: 6
Dry Mix:
1 1/4 cups wholewheat or white
pastry flour
(do not use regular wholewheat or unbleached flour or the cake may be tough)
1/3 cup brown sugar
2 teaspoons baking powder
1/4 teaspoon salt
Additional:
3/4 cup chopped pitted dates
Optional:
1/2 cup chopped pecans (this isn't traditional, but it's good!)
Wet Mix:
3/4 cup non-dairy milk
1 tsp pure vanilla extract
Topping that turns into Sauce:
3/4 cup brown sugar
1 1/2 cups boiling water
1 tablespoon Earth Balance
Preheat oven to 350 degrees F. Spray an 8" square pan
with oil from a pump sprayer
.
Whisk together Dry Mix ingredients in a medium bowl. Add the chopped dates and optional pecans, if you are using them. Mix them in with your fingers so that the dates don't clump up all together.
Whisk together the Wet Mix ingredients in a smaller bowl. Pour the Wet Mix into the Dry Mix and stir briefly just to mix into a batter. Spread into the prepared pan.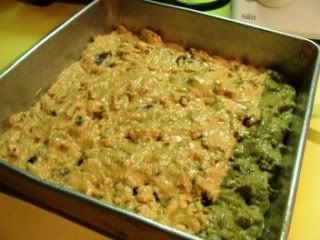 Sprinkle the brown sugar evenly on top of the cake batter.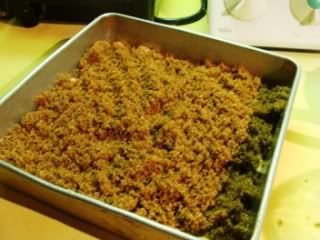 Mix the boiling water and Earth Balance together. Pour gently over the cake batter and sugar, dribbling it evenly over the batter, not pouring it all into one spot. DON'T MIX THE WATER IN! It looks like a swamp, but, trust me this will be fine!
Bake 35 minutes. The cake will be on top, with a sticky "toffee" sauce on the bottom. Serve warm (maybe with your favorite vegan vanilla "ice cream"??).
VARIATION: For Praline Pudding Cake
, omit the dates and use the optional 1/2 cup chopped pecans instead.
Nutrition Facts

without

pecans:
Nutrition (per serving):
325.8 calories; 7% calories from fat; 2.6g total fat; 0.0mg cholesterol; 133.2mg sodium; 591.1mg potassium; 75.2g carbohydrates; 5.0g fiber; 53.1g sugar; 70.3g net carbs; 4.7g protein; 5.9 points.
Nutrition Facts

made with pecan

s:
Nutrition (per serving)
: 388.6 calories; 20% calories from fat; 9.2g total fat; 0.0mg cholesterol; 133.2mg sodium; 628.3mg potassium; 76.5g carbohydrates; 5.9g fiber; 53.5g sugar; 70.6g net carbs; 5.6g protein; 7.7 points.
Enjoy!

Posted by

Bryanna Clark Grogan
at 7:23 AM