Bryanna Clark Grogan's Vegan Feast Kitchen/ 21st Century Table: The kitchen journal of a vegan food writer.. I'm on Facebook and Twitter (see links in sidebar at right).
Monday, November 23, 2009
IMPROMPTU CHINESE MEAL FOR GUESTS (WITH PHOTOS)

HAPPY THANKSGIVING TO MY AMERICAN FRIENDS

! (We Canadians have already had our Thanksgiving-- thus the following non-Thanksgiving-relevant post!) BTW, IF YOU NEED LAST-MINUTE VEGAN THANKSGIVING HELP... Recipe links on this blog.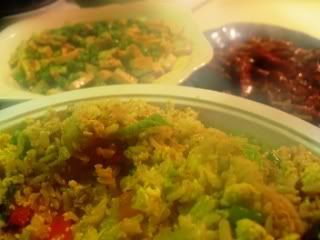 Some steaming hot dishes, ready for the table
(photo by Emma-Lena Lezard)
My stepson and his girlfriend Emma-Lena stayed with us for a couple of days and, the first night, I had to plan an impromptu meal. I wanted it to be fun and a little special, because we don't see them very often and Sean always enjoys my cooking. So I searched my refrigerator and quickly planned a Chinese-style meal with 4 dishes.

The menu was:





Stir-Fried "Chicken" and Mushrooms in Vegetarian "Oyster" Sauce


(From my Chinese cookbook, except that I used commercial Chinese

mock chicken

instead of tofu)



Stir-Fried Peas and Tofu


(A simple Cantonese-style dish, also from my Chinese cookbook)



A Broccoli Stir-Fry with red onions, sweet potatoes, and cashews, which I made up on the spot and seasoned with a bottled "Thai Teriyaki Sauce" that someone gave me

(Cheating, I know, but it was tasty!)



Fried Rice


(also from my Chinese cookbook, and made with cold cooked brown basmati rice)

I have a small kitchen, and I wanted to be able to sit down and eat with everyone, so I followed my own advice from my cookbook "Authentic Chinese Cuisine for the Contemporary Kitchen":

"A Chinese cook can prepare a six-dish meal in half an hour in a tiny kitchen with no oven. This takes practice, of course, but it is achievable in our modern kitchens. The Chinese cook will stir-fry or deep-fry some of the dishes in turn, transferring the finished dish to a heated serving plate with a cover while the next dish is completed (stir-frying and deep-frying, when all of the ingredients are prepared ahead of time, take only minutes).

However, if the thought of all this last-minute cooking makes you nervous and will keep you from your guests, you must chose your dishes with care and prepare as many things ahead of time as you can. Have all the vegetables chopped and all the cooking sauces mixed."

For a meal like this, I like to do what I do for a cooking class and gather the ingredients for each recipe on a separate tray or cookie sheet, so that I don't mix anything up! (This is what is referred to in cook's parlance as "mise en place", [pronounced [MEEZ ahn plahs], which is a French term referring to having all the ingredients necessary for a dish prepared and ready to combine up to the point of cooking.) I thought it might be instructive for those of you who haven't attempted several Chinese-style dishes in one meal to see this. Here are photos of the mise en place for each dish, and then the finished dish:

Stir-Fried "Chicken" and Mushrooms in Vegetarian "Oyster" Sauce, and the finished dish: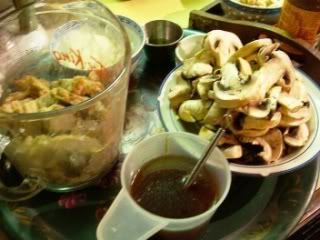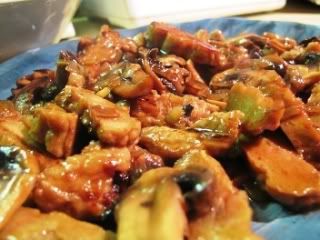 Photo by Emma-Lena Lezard
Stir-Fried Peas and Tofu, and the finished dish: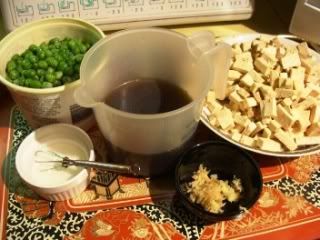 Photo by Emma-Lena Lezard
Broccoli Stir-Fry and the finished dish: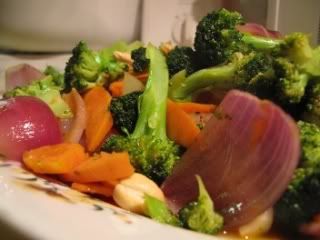 Photo by Emma-Lena Lezard
Fried Rice (with scrambled tofu instead of egg), and the finished dish: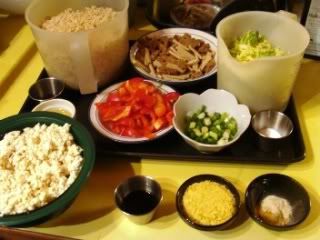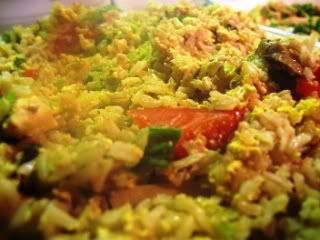 Photo by Emma-Lena Lezard

The cooking went quickly and smoothly, and the dinner, I'm happy to say, was much enjoyed. We had leftover Fried Rice for lunch the next day! (And, BTW, it is much easier to keep your kitchen clean when you use mise en place, especially with rapid-fire cooking like stir-fries. You can wipe up after chopping, put everything away, clean dirty utensils, etc., before you begin the actual cooking. If you don't do this, your kitchen will look like a bomb hit it and you will be frazzled from trying to locate the soy sauce, or a measuring spoon, at the crucial moment!)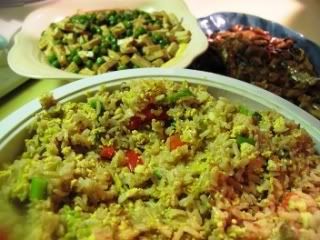 Photo by Emma-Lena Lezard
Enjoy!
Posted by

Bryanna Clark Grogan
at 5:53 PM