Bryanna Clark Grogan's Vegan Feast Kitchen/ 21st Century Table: The kitchen journal of a vegan food writer.. I'm on Facebook and Twitter (see links in sidebar at right).
Thursday, November 5, 2009
WHAT I'VE BEEN EATING WHILE I'M ON MY OWN-- WHAT ABOUT YOU?

DH is away for a week and I didn't really plan any meals. The other day I was wondering what to blog about next and it occurred to me that it would be interesting to hear what some of
you
eat when you're all on your lonesome, so I'm going first. DH left Sunday morning. I ate leftover
potato kibbeh
for breakfast (well it's made from bulgur wheat and potatoes-- those are good for breakfast, aren't they?):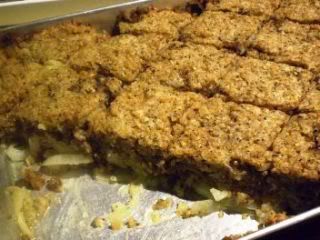 We had a pan-full in the freezer leftover from the benefit dance show I organized 2 weekends ago, and I just love it. I actually had it for breakfast 3 days running. The last time I paired it with
Ajvar
, the Bulgarian red pepper and eggplant spread-- delicious!
For Sunday dinner, I had more leftovers-- DH's delicious spaghetti sauce: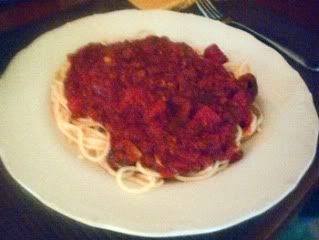 (Sorry about the fuzzy picture!)
On Monday I made a large pot of my
Japanese Noodle Soup
with grilled tofu and vegetables and had a bowl of that for lunch: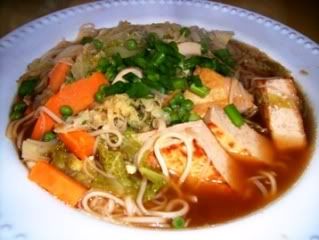 That night, I used the rest of DH's spaghetti sauce, mixed with a little wine and half a package of Yves Veggie "Ground Round", and made a casserole with wholewheat penne, topped with my
Okara Parmesan
and some vegan "mozza". Baked it for 20 minutes or so-- wonderful!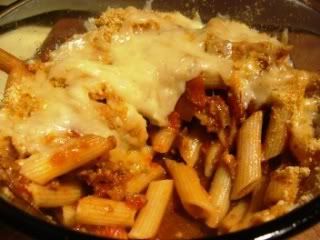 With that, I braised some kale from our garden with a little olive oil, salt and garlic: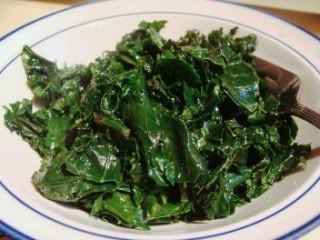 Tuesday, I went to work at the library and took some of the noodle soup and some of the pasta casserole for lunch. I stayed at my friend's Jenny's house in Courtenay that night-- we get together every 2 weeks to catch up and dance together. (Jenny's a bellydance teacher, and we used to dance in a troupe together.) Jenny's not a vegetarian, but she has a gorgeous garden and served us baked squash, steamed kale (really, nice tender kale!), a simple pasta, and garlic bread. Yum!
My mother had her 92nd birthday on Tuesday (no, that's not a typo-- 92!), so Jenny and I took her out to lunch on Wednesday after I went shopping. I had a very nice roasted corn and black bean fajita with sweet potato fries.
When I went shopping, I splurged a little on some ready-made items that I don't usually buy-- some canned Lebanese hummous and baba ganoush (Update: didn't like!), 3 kinds of canned beans (they were on sale), a huge artichoke, a portobello mushroom (more about those later), and some Gardein "Tuscans Breasts"-- a vegan chicken substitute made in Vancouver and being promoted by vegan chef Tal Ronen: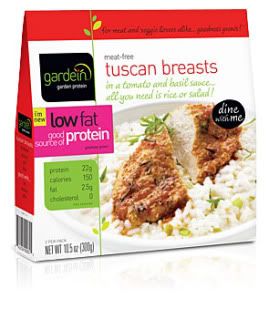 I also bought bottled some salad dressing. I almost
never
buy salad dressing, but this sounded good, and it contained olive oil, not cheap soybean oil. It's made by Sobey's, a Canadian supermarket chain-- their
Compliments Sensations
line of dressing. I chose the
Blackberry with Cabernet Sauvignon
: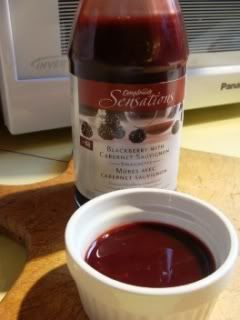 It is actually quite delicious! It would make a good marinade, I think. I probably won't buy it again, because I like my own dressings, but, if you are from Canada and you buy dressing, I'd recommend it.
By the time I got home, fed the cats, got wood out of the woodshed, made a fire, and put all the groceries, books and my overnight things away, I was starving, even though I'd had a substantial lunch. I had my big artichoke, just simmered in lemon-juice-laced water until tender, for a starter. For a dipping sauce, I mixed some of my
Tofu Mayonnaise
with a spoonful of melted Earth Balance and some dried dill: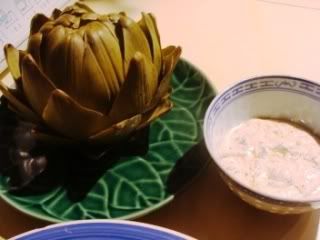 Oh, that was good! Artichokes are expensive, so I don't eat them often, but it reminds me of when I was a kid in central California and in May, artichoke season, we would often just eat artichokes for dinner and there would be a huge bowl of the leave sin the middle of the table afterwards!
I microwaved some brown basmati rice that I had steamed and frozen, and the Gardein vegan "chicken breasts" I had purchased: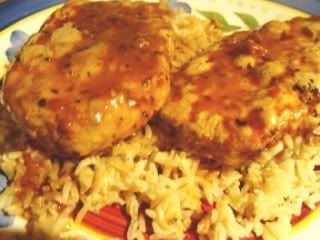 It was pretty good-- the sauce could have been a bit perkier and I think thinner pieces of the "chicken" would have been better. But I enjoyed it, all the same. (And there was plenty left for another meal.)
For "dessert" I had a simple salad with some of my new dressing: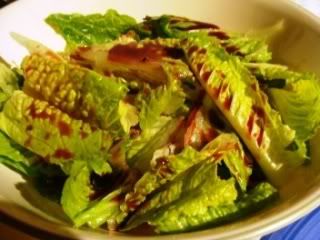 This morning I had more of the Japanese Noodle Soup for breakfast (I like soup for breakfast!) and had a simple lunch of grilled "cheese" sandwich, using my
"Cheddary Spread"
for the filling.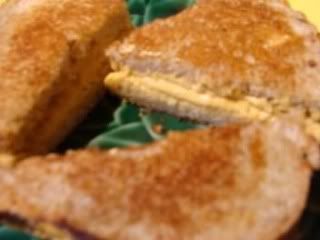 (This picture shows the sandwiches made with DH homemade bread, and you can see the nice creamy, cheddary filling!)

I accompanied my sandwich with a grilled portobello mushroom salad with a balsamic/mustard dressing: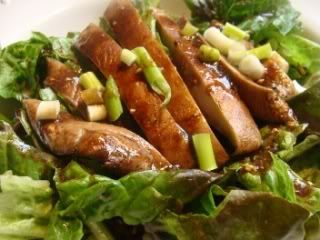 For a snack just a little while ago, I had a lovely soy mocha latte (homemade):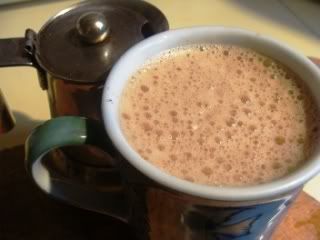 For dinner tonight?
I have some taco shells left, and half a package of Yves Veggie "Ground Round", and some of my homemade taco paste in the fridge-- so, tacos, I'd say!
I'd love to hear about some of your solitary meals!
Cheers!

Posted by

Bryanna Clark Grogan
at 2:50 PM