Bryanna Clark Grogan's Vegan Feast Kitchen/ 21st Century Table: The kitchen journal of a vegan food writer.. I'm on Facebook and Twitter (see links in sidebar at right).
Thursday, October 29, 2009
USING UP THE FALL BOUNTY: APPLES AND PEARS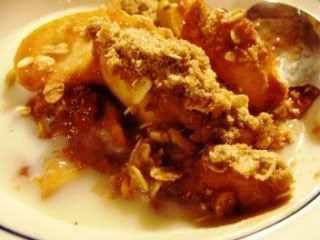 Apple and Cranberry Oat Crisp
This has been a great year for apples and pears, and those of us with friends who are generous with their bounty are busy trying to use it up in ways that will insure that it does not get lost at the bottom of the freezer! (By the way, sometimes people are downright desperate to get rid of extra fruit this year. Don't forget your local Food Banks, food salvage, gleaning and reclamation programs, church programs, and other social agencies that feed people.)
Having already made applesauce and apple butter, and also pear sauce (make it the same way as applesauce— smooth or chunky but with some ginger —it's good!), I was searching for some low-fat ways to use up the rest of this bounty that keeps coming my way (I'm not complaining!). I didn't want to make pies this year because we're trying to keep off the weight we lost earlier in the year. (But, if you want to make pie, there are a couple of yummy pies on the recipe list below.
) So, #1, I made pear chutney, because we love chutney and it keeps well, plus I had everything I needed in the house already.
I've been asked, "What do you serve chutney with if you don't eat meat or cheese?". Well, curries and other Indian dishes, of course; veggie "sausages" and seitan; smoked tofu (this is a terrific combination!) or tofu cream cheese on crackers—and that's just for starters!
And, #2, I had some cranberry sauce leftover from Canadian Thanksgiving, and I decided to mix that with an impressive amount of apples to make a very large and low-fat apple crisp, some of which could be frozen for a future desserts. Both of these recipes were hits and now I'd like to share them with you.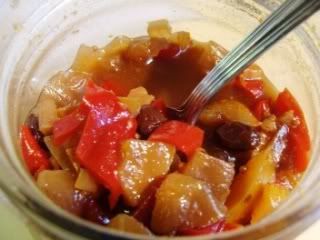 Printable Recipe
BRYANNA'S PEAR CHUTNEY WITH RED PEPPERS
Servings: 32
Yield: 4 cups
This chutney is both colorful and delicious.
2 tablespoons olive oil
2 medium onions, finely chopped
4 medium red bell peppers, finely chopped
4 cloves garlic, minced
2 lbs ripe pears, peeled and cubed
3 cups water
2 cups white vinegar
1 cup firmly packed brown sugar
1/2 cup organic unbleached granulated sugar
1/2 cup raisins
1 tablespoon mustard seeds
1 tablespoon ground ginger
1 tablespoon grated orange peel
1 tablespoon salt, or to taste
1/2 teaspoon cayenne pepper
1/2 teaspoon ground cinnamon
freshly black pepper to taste
Heat the oil in a large pot. Sauté the onion, pepper and garlic in the oil over medium heat until tender. Add the pears, vinegar, water, mustard seeds, ginger, orange peel, salt, cayenne, cinnamon, brown and white sugars, and raisins.
Bring to a boil, reduce heat and simmer for 45-60 minutes, or until the chutney is thick but the fruit still holds its shape. Taste for salt and pepper. Cool completely. Refrigerate in tightly-sealed jars until ready to serve. OR water bath can in sterilized half-pint jars.
Nutrition Facts
Nutrition (per 2 tablespoons)
: 83.6 calories; 10% calories from fat; 1.1g total fat; 0.0mg cholesterol; 216.1mg sodium; 144.9mg potassium; 19.7g carbohydrates; 1.6g fiber; 15.3g sugar; 18.1g net carbs; 0.5g protein; 1.4 points.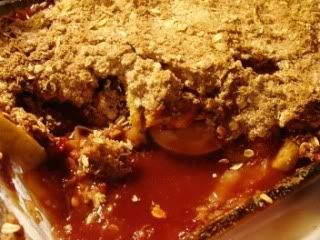 Printable Recipe
BRYANNA'S APPLE-CRANBERRY OAT CRISP
Servings: 12
This crisp uses up about 4 lbs of apples and makes a big 9 x 13-inch dish of delectable dessert! I only used 1/4 cup of Earth Balance for 12 servings, which works out to 1 teaspoon for each serving. I used some homemade cranberry sauce left over from Canadian Thanksgiving.
Oat Topping:
2 cups old-fashioned rolled oats
1 1/2 cups wholewheat flour
1 cup packed brown sugar
1/2 teaspoon salt
1/4 cup Earth Balance (non-hydrogenated "buttery spread")
Filling:
4 lbs apples (approximately) (if they are organic, don't peel-- just cut away any bad spots)
2 cups whole-berry cranberry sauce
1 cup brown sugar or organic unbleached granulated sugar (or 1/2 and 1/2)
2 tablespoons cornstarch
2 teaspoons ground cinnamon
Preheat the oven to 375° F. Grease a 9 x 13" baking dish with a little oil or Earth Balance.
Make the Topping by mixing together the oats, flour, sugar and salt in a medium bowl. Cut in the Earth Balance with your fingers until crumbly-- set aside.
Core and slice the apples about 1/4" thick. In a large bowl, mix the sliced apples with the cranberry sauce and sugar, and then sprinkle with the cornstarch and cinnamon and mix well to evenly distribute it.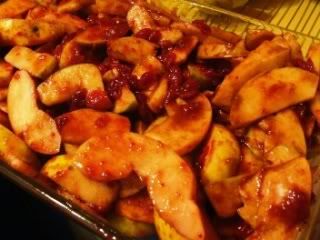 Pour the Filling into the prepared baking dish and spread it out evenly. Cover with the Topping and press it evenly over the fruit.
Bake for about 70 minutes. Cool it for at least 20 minutes before serving.
NOTE: you could divide this between two smaller baking dishes and freeze one of them for a later date-- that's what I did! In that case, bake for only 60 minutes.
Serve plain, or with nondairy milk or soy creamer poured around it; or with plain soy or coconut yogurt; or with your favorite nondairy whipped topping or nondairy vanilla "ice cream".
Nutrition Facts
Nutrition (per serving):
428.7 calories; 10% calories from fat; 5.1g total fat; 0.0mg cholesterol; 149.1mg sodium; 410.6mg potassium; 96.0g carbohydrates; 7.5g fiber; 68.7g sugar; 88.5g net carbs; 4.7g protein; 8.2 points.
Enjoy!

Posted by

Bryanna Clark Grogan
at 4:25 PM


Labels: apple, apple crisp, apple crumble, chutney, cranberries, cranberry, cranberry sauce, pear and red pepper chutney, pear chutney, pears, red pepper