Bryanna Clark Grogan's Vegan Feast Kitchen/ 21st Century Table: The kitchen journal of a vegan food writer.. I'm on Facebook and Twitter (see links in sidebar at right).
Thursday, October 15, 2009
THANKSGIVING LEFTOVERS

That would be me!! (That's

kind of

a joke!)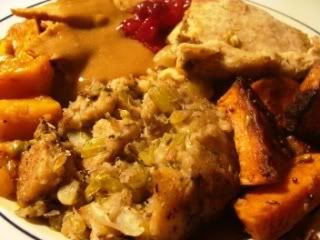 Plate of Thanksgiving leftovers the day after-- clockwise from 6:00: vegetarian bread stuffing with sage and onion
(recipe in my book The Almost No-Fat Holiday Cookbook)
; a Peruvian squash stew with corn and peas called Locro (
Update
:
recipe in my new book); my Soy and Seitan "Turkey" with vegan brown gravy (
Update:
gravy
recipe in my new book and most of my other books
); homemade cranberry sauce with oranges; Tofu Pot Pie (recipe in my book Soyfoods Cooking for a Positive Menopause); Roasted Sweet Potatoes with Moroccan Spices
(
Update:
recipe in my new book)
.
We had 18 people (all family) for our Canadian Thanksgiving dinner on Monday and I was so distracted that I forgot to take pictures until the next day! But, it was very much like years past, except for some of the side dishes. Don't get me wrong! It was great fun being with everyone. But I have been organizing a big fundraiser and I'm generally pretty distracted right now. (And also why I'm not blogging alot just now.) Besides the above items, we had some lovely whole wheat dinner rolls and an apple bundt cake that my oldest daughter Bethany made; mashed potatoes; pumpkin pie (
my vegan recipe
); a Persian-style brown rice pilaf with edamame (Update:
recipe in my new book)
, a root vegetable stew (
see recipe link below
-- it was one of my picks for the #2 question in the
Vegan Mofo Survey
, "What are the top 3 dishes/recipes you are planning to cook?") and a Brussels Sprout Slaw with mustard dressing and candied walnuts (
see recipe link below)
. These last two recipes were from magazines and they were quite good-- I would make them again.
My vegan Pumpkin Pie (recipe in my book The Almost No-Fat Holiday Cookbook)-- pics from last year or before: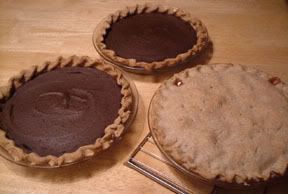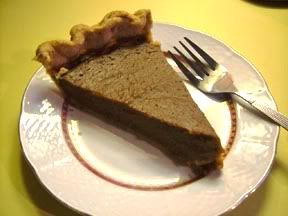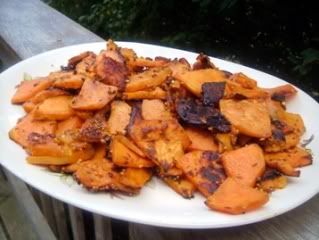 Roasted Sweet Potatoes with Moroccan Spices (Update: recipe in my new book)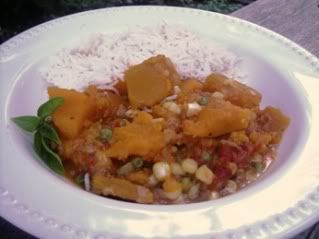 Locro (Peruvian Vegetable Stew; Update: recipe in my new book)
The Brussels Sprout Slaw
was a real hit! Everyone loved it! It's from the current issue of
Bon Appétit
magazine (Nov. 2009), and you can
get the recipe here
. It's really easy to make if you have a food processor with a slicer attachment-- otherwise, slicing those little sprouts so thinly by hand would be very tedious!
The only changes I made
were to use olive oil in the dressing, and I used walnuts instead of pecans because I didn't have any pecans.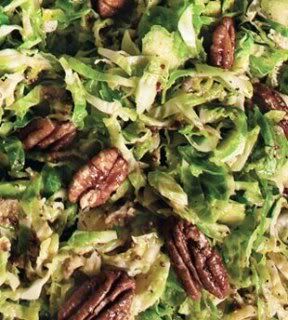 Photograph by Elinor Carucci on the Bon Appétit website.
The Root Vegetable Stew with Herbed Dumplings
was from
Eating Well
magazine and
you can find the recipe here
. I veganized it by using
Tofurkey Vegetarian Italian Sausages
(
Field Roast
Italian veggies sausages would be good here, too!) and vegetarian broth instead of chicken broth and it turned out very well.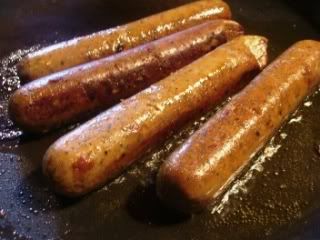 I doubled the recipe, so I used a whole package of the Tofurkey vegetarian Italian sausages.
(I used carrots, Yukon Gold potatoes and beets for the root vegetables, and kale for the greens (the beets and kale were from our own garden).
Here are pics of the stew in progress....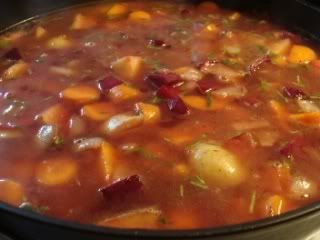 Just the vegetables for the stew cooking...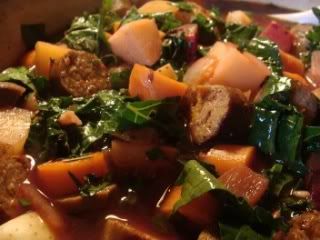 With the kale and veggie sausages added...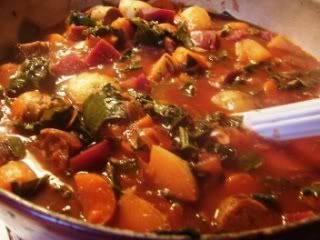 Ready to add the dumplings.....
I followed the directions pretty much to the letter, but
I found that the instructions don't give you much information about how long to cook the stew before you add the dumplings.
The dumplings only cook for 10 minutes, so you need to cook the vegetables until they are almost tender (especially the beets).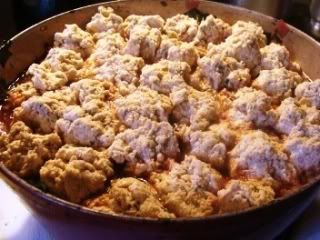 The stew with the dumplings on top.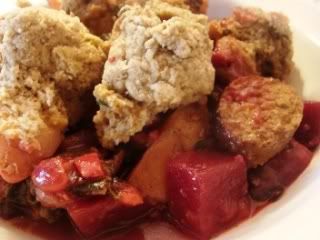 I also didn't care for their dumpling recipe--
they came out too dry and heavy for my taste. I used Ener-G Egg Replacer powder and soymilk instead of the egg, and even added more soymilk, but, even so... Next time I will use my own Featherlight Dumplings...here's the recipe (double it for the stew recipe, and add the herbs in the
Eating Well
recipe):
Printable Recipe
BRYANNA'S FEATHERLIGHT DUMPLINGS
Servings: 8
Yield: makes about 8 dumplings
This recipe is from my first cookbook,
"The Almost No-Fat Cookbook".
1 cup unbleached white flour (or use 1/2 white whole wheat
pastry
flour)
1 teaspoon baking powder
1/4 teaspoon salt
OPTIONAL: rub in 1 tablespoon oil or Earth Balance
1/2 cup non-dairy milk
In a medium bowl mix together the flour, baking powder, and salt. Rub in the Optional oil or Earth Balance with your fingers, if desired.
Stir in the soymilk to make a stiff dough.
Stir briefly just to mix. Drop small spoonfuls of dough on top of simmering stew or thick soup, cover tightly, and cook without peeking for 10 minutes. Test one dumpling to see if it's done in the middle before serving.
Note

: You can add fresh chopped parsley or other herbs to the flour before mixing.
Nutrition Facts
Nutrition (per serving WITHOUT optional oil or Earth Balance)
: 61.9 calories; 4% calories from fat; 0.3g total fat; 0.0mg cholesterol; 67.1mg sodium; 98.6mg potassium; 12.7g carbohydrates; 0.5g fiber; 0.4g sugar; 12.2g net carbs; 2.0g protein; 1.2 points.
Off to
Pender Island
this weekend! Have a good one!

Posted by

Bryanna Clark Grogan
at 4:06 PM