Bryanna Clark Grogan's Vegan Feast Kitchen/ 21st Century Table: The kitchen journal of a vegan food writer.. I'm on Facebook and Twitter (see links in sidebar at right).
Thursday, November 19, 2009
CRAVING VEGAN "SEAFOOD": A QUICK, EASY & SUCCULENT ALMOND MOCK "SHRIMP" CURRY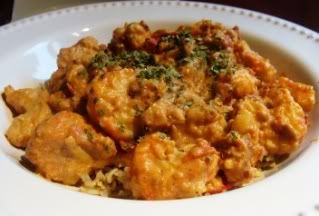 DH was at work when I had lunch today and I decided to indulge a craving for vegan "seafood" while he wasn't here. Don't misunderstand me-- I wasn't sneaking any goodies while he was slaving away in the bakery! He never liked seafood, even as an omni, and he still hates anything remotely "fishy" (even seaweed!)! But he very kindly brought me a small bag of frozen Chinese mock "shrimp" from West Best Vegetarian store in Vancouver (4934 Victoria Drive, Vancouver, 604-323-2362) when he was over there earlier this month. (They sell Chinese vegetarian "mock meats", etc.. I have since discovered that our favorite Asian store in Nanaimo,
Man Lee
, now sells mock "shrimp" and some other frozen "mock meats", and they also now have 2 locations, one in the Terminal Mall, and one just across Applecross Road from Costco.)
NOTE ON FINDING MOCK "SHRIMP" OR "PRAWNS": 2 online vendors are
Vegieworld.com
and
Vegecyber
. Many Asian markets and some health food stores carry these products in their freezer section.
So today, yet another soaking wet, windy November day (we had no power for a day-- it went on again this morning), I decided to treat myself for lunch and made the following simple Indian-style curry. Mmmmmmm! It would make a good company meal with a vegetable dish to accompany it. And it's low in WW Points, too!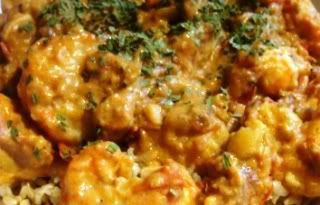 Printable Recipe
BRYANNA'S VEGAN ALMOND MOCK "SHRIMP" CURRY
Servings: 4
This is deceptively fast and easy to make.

Tofu Creme:
1/2 cup
extra-firm silken tofu
1/2 cup nondairy milk
Curry:
1 tablespoon olive or peanut oil
1/4 cup ground almonds (if you grind them yourself, use a dry electric coffee/spice grinder)
4 large cloves garlic, minced or crushed
1 large tomato, chopped small, or about 3/4 cup drained, chopped good-quality canned tomatoes
1 teaspoon sugar
1/2 teaspoon cayenne pepper
1/2 teaspoon salt
1/2 teaspoon garam masala or good curry powder
9 1/2 oz Chinese vegan mock "shrimp" or "prawns" thawed
(approximately 32) (see Note above recipe)
Garnish:
chopped fresh cilantro or dried cilantro (use about 1/3 as much dried cilantro as you would fresh)
OR you can use fresh parsley instead, if you wish
Blend the tofu and nondairy milk together in a
blender
,
food processor
, or with a
hand/immersion blender
until smooth. Set aside.
Heat the oil in a
large nonstick skillet
over medium-high heat Add the almonds and stir until the they turn golden-- quickly add the garlic and stir briefly. DO NOT BROWN!
Add the tomato, sugar, cayenne, salt and garam masala. Cook for a few minutes, scraping the pan so the mixture doesn't stick, until the tomatoes soften a but. (Add a bit of water if necessary, but not too much.) Add the mock "shrimp" and then the Tofu Creme. Stir briefly. Lower the heat a little and stir-cook just to heat the shrimp and until the sauce is creamy. The sauce will be thick-ish, and not too wet. There is not a lot of sauce in this recipe and most of it will cling to the "shrimp".
Serve over steamed brown basmati rice, garnished with cilantro or parsley.
Nutrition Facts
Nutrition (per serving):
179.4 calories; 37% calories from fat; 7.8g total fat; 0.0mg cholesterol; 393.0mg sodium; 256.3mg potassium; 10.9g carbohydrates; 1.6g fiber; 3.7g sugar; 9.3g net carbs; 18.5g protein; 3.9 points.
Enjoy!

Posted by

Bryanna Clark Grogan
at 3:11 PM