Bryanna Clark Grogan's Vegan Feast Kitchen/ 21st Century Table: The kitchen journal of a vegan food writer.. I'm on Facebook and Twitter (see links in sidebar at right).
Monday, May 23, 2011
BACK FROM WHITEHORSE, YUKON!

What a whirlwind trip to Whitehorse, our second trip! Wednesday was a glorious sunny day and the leaves literally tripled in a day! Don't let visions of the Far North with nothing but meat deter you from visiting Whitehorse, with its friendly people and spectacular scenery. (And, if you speak French, it's a plus, because there are lots of French-Canadians there-- my DH spoke more French there than he has in years!) You can eat well as a vegan in Whitehorse. No trouble finding most ingredients and good produce. Besides the
Alpine Bakery
, where everything is organic and it's almost all vegan, there is
Ruby's
(vegan). There are several Chinese, Japanese, Caribbean and at least one Vietnamese restaurant in town, with vegan options.
The Baked Cafe
is vegan-friendly and so is
The Kebabery
, which has authentic Middle Eastern food.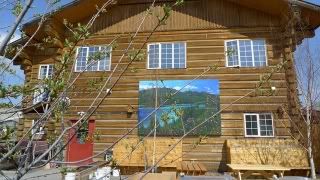 The Alpine Bakery in Whitehorse-- organic, community-oriented, vegetarian (mostly vegan) (yoga studio upstairs)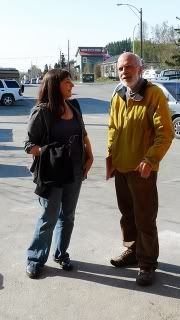 Me with Suat Tuzlak, the dynamic owner of the Alpine Bakery
Inside the Alpine Bakery: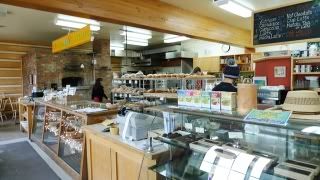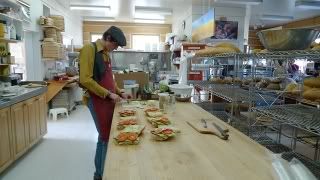 Oban preparing sandwiches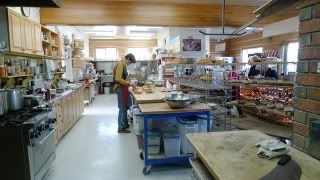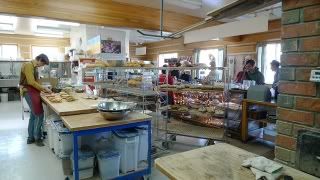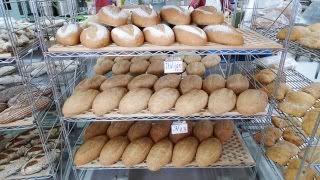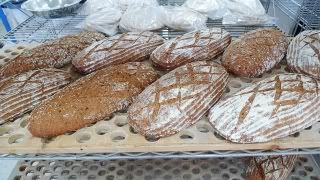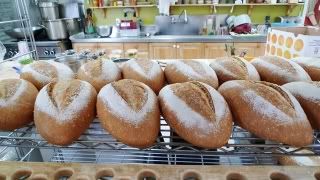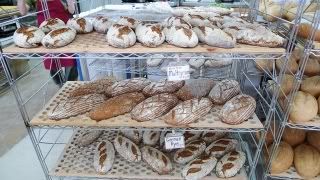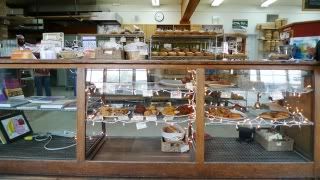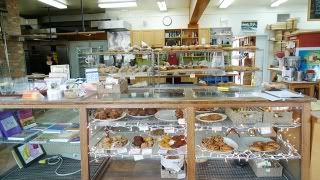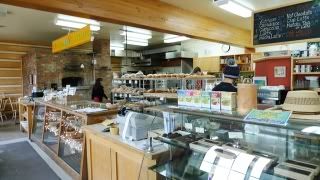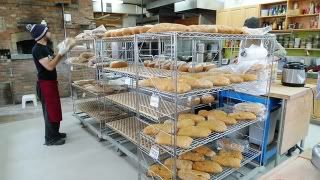 Max loading the racks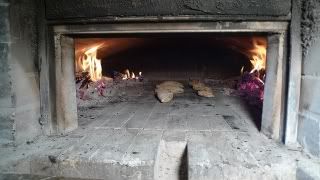 Calzone in the brick wood-fired oven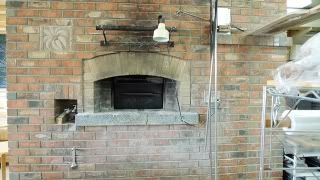 One of my classes in the bakery-- lots of interest and enthusiasm!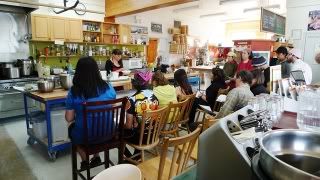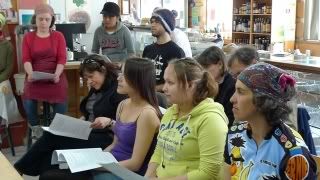 That's Trena, who hosted us at her house, on the right. She had biked to the class (she's preparing for a big bike race!). Trena started the vegetarian society in Whitehorse. We enjoyed staying with her, and meeting her husband Peter, and appreciated her hospitality despite her busy training schedule, and caring for her 2 (darling) young children.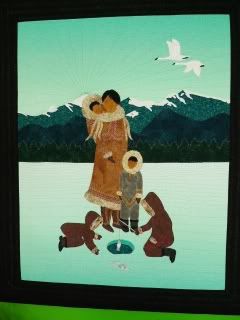 A beautiful Inuit scene on a quilt in Trena's house.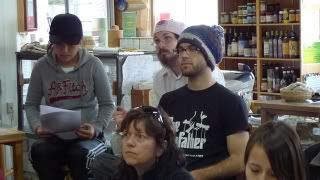 In the center are Alpine Bakery staff members Christoff (L) and Max (R). Christoff is a baker and aspires to be a pastry chef and hotelier. He made a wonderful molded organic chocolate dessert with buckwheat! He now would like to take some of Fran Costigan's classes in New York!
Some of the food (UPDATE: all recipes in my book World Vegan Feast)--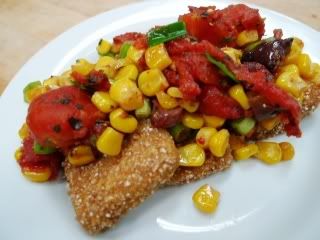 Crispy Marinated Tofu with Italian Olive, Tomato and Corn Salsa (Relish)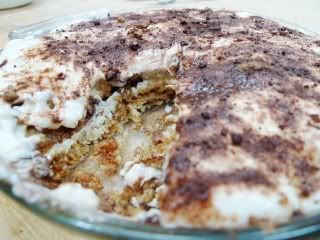 Tiramisu!
Italian Kale and Butternut Squash tart with Olive Oil Crust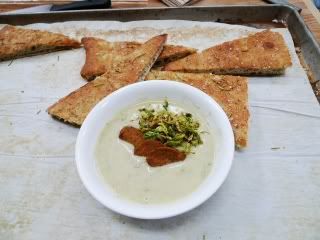 Focaccia and Velvety Brussels Sprout Crema (Creamy Italian Soup)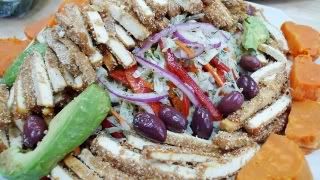 Peruvian-Style Crispy Tofu and Cabbage Salad (Salpicon de Tofu con Col)
Around Whitehorse:
Some of the great murals--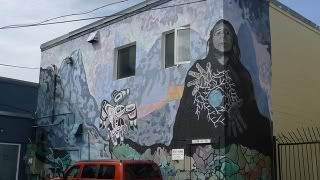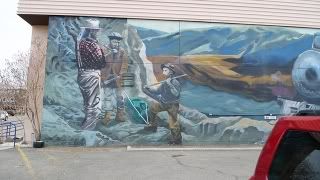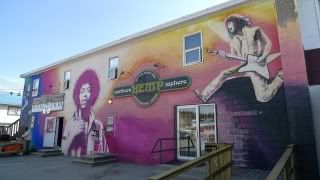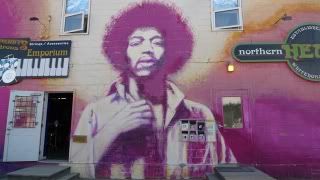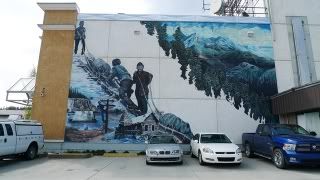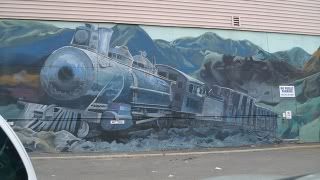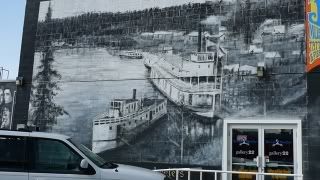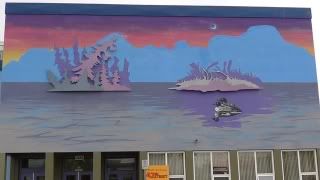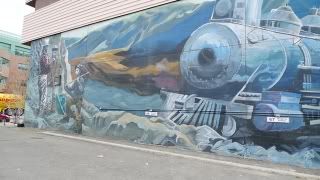 The Green party Office: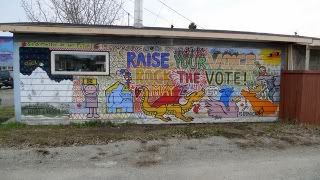 An old sign on one of the old historic hotels: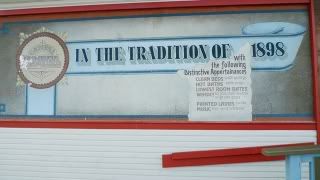 All the best,

Posted by

Bryanna Clark Grogan
at 10:39 PM