Bryanna Clark Grogan's Vegan Feast Kitchen/ 21st Century Table: The kitchen journal of a vegan food writer.. I'm on Facebook and Twitter (see links in sidebar at right).
Wednesday, October 22, 2008
VEGAN MOFO: HOMEMADE SMOKED TOFU IN A STOVETOP SMOKER!


What is Vegan MoFo? Click
here
to find out!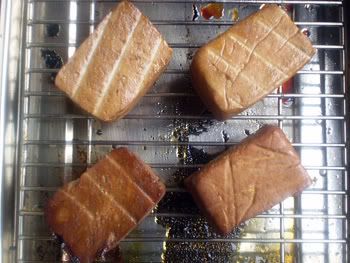 Smoked tofu from my stovetop smoker
(Not familiar with smoked tofu? Check out this post.
It includes updated info on available commercial brands.)
Last year, one of my readers very kindly gifted me with a Cameron stovetop smoker: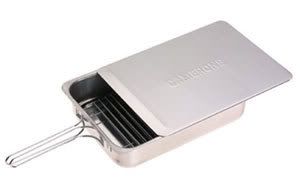 This handy-dandy smoker, which comes in two sizes, is so easy to use! It comes with
little wood chips
of a few varieties. You sprinkle about 1 1/2 tablespoons in the bottom of the smoker, cover that with the tray, and then add the food rack. You place the food on the rack, slide the cover in place and put it on your stove burner over medium heat. Foods take from 10 to 30 minutes to smoke, depending on how cooked and how smokey you want it. You can smoke eggplant, peppers, potatoes, mushrooms, tomatoes, and many other vegetables as well as tofu.
You can download the Cameron smoker instruction manual here.
There are no instructions for smoking plant-based foods, but amazon has the book "Smokin' ", which was written for using the Cameron Stovetop Smoker. Despite the emphasis on meats, there are veggie recipes in it. Amazon has many other books on smoking, too. There are some smoked veggie instructions
here
.)
The Cameron stovetop smoker is available many places online-- just "google" it!
amazon has it
, as well as many venues that sell camping supplies and cookware.
In Canada
, the Cameron smokers and chips, etc., are
available here
. (If you are a really serious smoker, Cameron makes a larger electrically-heated
"Smoke'n'Fold" portable smoker
. It's still pretty inexpensive and has 4 racks, but is only 27.5" high, 16" wide and 12.5" deep, all stainless steel. Hmmmm....)
This smoker has been a great boon to me because I LOVE smoked tofu! Soya Nova Tofu has been making great smoked tofu on Salt Spring Island, near us, for years, but it has been difficult to find lately. The reason is that they have moved their facility to Vancouver recently, and will also be making smoked tofu for
Sunrise Soyganic
. (
Update: the new product is not as good as the original Soya Nova.
) Evidently, they'll be producing as usual very soon but, in the meantime, I've had to make my own.
I had devised a recipe for tea-smoked tofu, a Chinese invention, for one of my newsletters, and it was tasty, but I've been working on a way to make my homemade smoked tofu taste more like the Soya Nova brand.
This time, I purchased
super-firm tofu
. I got Sunrise Soyganic Organic Super-Firm Tofu, but a number of brands carry that variety-- Wildwood, Nasoya, Nature's Soy, Pete's Tofu...
I marinated it overnight in a mixture of 2 parts soy sauce (use Kikkoman Lite, which is low-sodium, if you wish), 2 parts dark sesame oil, and 1/2 to 1 part maple syrup (you could use brown sugar mixed with water instead).
You have to cover the tofu (I cut the cubes in half) with the marinade, but you can refrigerate leftover marinade in a covered jar and re-use it. It will keep for several weeks.
Then I smoked it with hickory wood chips for about 30 minutes, turning them over half-way through. It is really good! I just eat it plain, or in a sandwich , or on a cracker (chutney's good with it!). Mmm-mmm-mm!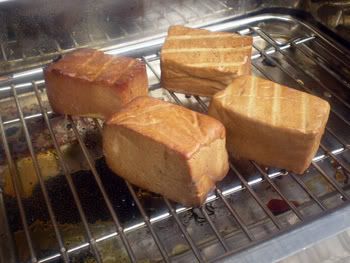 Enjoy!

Posted by

Bryanna Clark Grogan
at 11:41 AM