Bryanna Clark Grogan's Vegan Feast Kitchen/ 21st Century Table: The kitchen journal of a vegan food writer.. I'm on Facebook and Twitter (see links in sidebar at right).
Monday, October 20, 2008
VEGAN MOFO: VEGAN MERINGUES!


What is Vegan MoFo? Click
here
to find out!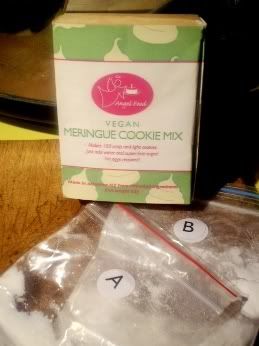 Vegan Cocoa-Pecan Meringue Cookies!
Another great product from Alice at
Angel Food, Ltd
. in New Zealand! I wrote about Alice's
vegan marshmallow kit
in a previous post. I'm not a great marshmallow fan, but they were easy to make, came out just great, and made tons!
Alice's new kit is for making crispy meringue cookies, something I can appreciate much more than marshmallows! I've had the kit for some time and just yesterday got around to trying them. I just made a small batch-- about 1/4 of the box-- and I felt like a little chocolate and nuts, so I added some of both to the mix (Alice said that was okay!).
It's easy-- the directions are right on the package for making 24 cookies. To that recipe I added:
1/8 tsp. salt (added to sugar mixture)
3 tablespoons unsweetened cocoa (added at end of mixing)
2/3 cup finely-minced toasted pecans (added at end of mixing0
1 teaspoon vanilla (added to the water)
The recipe calls for caster sugar, or super-fine sugar (not powdered). I didn't have any, so I ground light organic granulated sugar in a spice/coffee mill: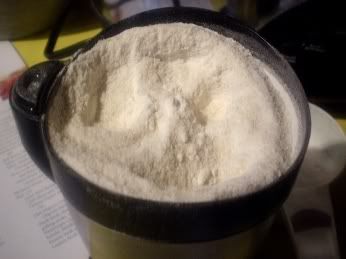 I measured the sugar AFTER grinding it. This worked very well.
First you beat water with a 2 tablespoons from sachet A:
It whips up to soft peaks.
Then you add a dry mixture of the sugar (3/4 cup) and 2 1/2 teaspoons from sachet B (and I added the salt). Wow! It sure looks like meringue!
If you are making plain meringues, you bake them at this point. But I added my cocoa and nuts first and just beat to mix them well: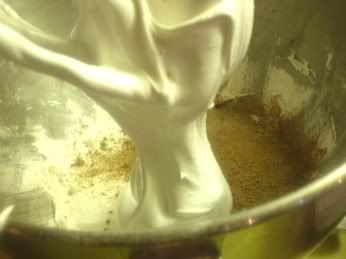 Gooey, thick meringue mixture (the cocoa shows up more when the meringues are baked, BTW):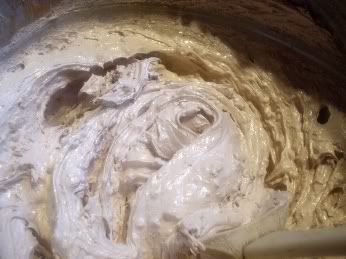 Then you spoon or pipe (I spooned) the gooey mixture onto a baking-parchment-lined baking sheet and bake at 212 degrees F (100 degrees C) for about 30 minutes, or until crispy.
I made 16 larger cookies, and I had to bake them for 50 minutes, and then let them dry out in the oven (turned off) for about 10 more minutes before removing them to a rack to cool.
They turned out really well and would go well with vegan ice cream or fruit.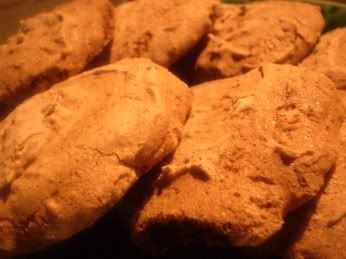 Alice gives you some suggestions for variations, and you can find more by looking up meringue cookies on the Internet. I found an interesting version made with pecans (as above, but no cocoa), the cookies made rather flat, and then sandwiched with strawberry sauce and whipped cream (vegans can use
Soyatoo
)-- sounds like a winner to me!
The box makes about 100 small vegan meringues, so, for under $7 US, that's not bad! The mix is available in the US (online) at
Food Fight!
in Portland, OR;
veganessentials.com
(they ship internationally); and from
Cosmo's Vegan Shoppe
from Atlanta, GA.
vivagranola.com
in Canada (Quebec) now carries it, too.
Enjoy!

Posted by

Bryanna Clark Grogan
at 8:49 AM