Bryanna Clark Grogan's Vegan Feast Kitchen/ 21st Century Table: The kitchen journal of a vegan food writer.. I'm on Facebook and Twitter (see links in sidebar at right).
Thursday, October 30, 2008
VEGAN MOFO: ENERGY BALLS AND VEGAN DEMO FOR TEENS AT LOCAL HIGH SCHOOL


What is Vegan MoFo? Click
here
to find out!
I missed the last 2 days! Sorry about that-- I almost fulfilled the challenge! Just didn't have time!
Ms. Hill and two students help me make vegan Energy Balls at a school demo yesterday
My oldest granddaughter, S., who is 16, is the only vegetarian in my family besides me, my husband, and my sister. She decided on this at age 14, and she has stayed the course.
(Update Oct. 2014-- Granddaughter S is now a vegan.)
Her mom often makes things that they can all eat and then adds meat to the dish after removing S.'s portion. She also buys S. vegetarian products. S. is a busy straight-A student who is also active in drama (particularly improv), but she has also learned to cook veg for herself (she spent some time with me learning a few tricks.) She is not a vegan, but she is very careful not to use gelatin capsules in medicines and nutritional supplements; she seeks out vegetarian-friendly cosmetics, and does not eat anything with cochineal in it-- pretty well-informed!
S. invited me to come and give a short demo during lunchtime for her high school's "Books with Bite" day, and the foods teacher kindly volunteered her classroom for it, AND assisted me! It's always great to have an opportunity to talk to interested teens about vegetarian and vegan lifestyles, especially if they can taste some of the food!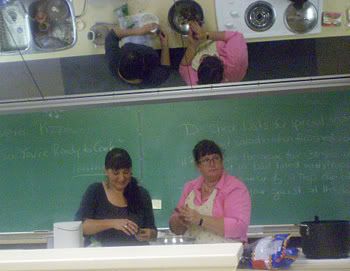 We didn't have alot of time, so I only demonstrated one recipe, but I brought two quick and easy bean dishes that we thought the kids might like-- my 30-Minute Vegan Chile, made with pinto beans, and my Mexican-Influenced Bean Dip (or Refried Bean Stand-in), made with black beans. (Both of these recipes are in my book
The Fiber for Life Cookbook
. I used Yves Veggie "Ground Round" in the chile, and I added 1 tablespoon roasted sesame oil and some smoked hot paprika to the dip this time.)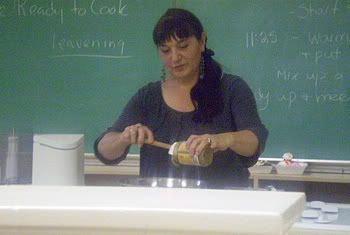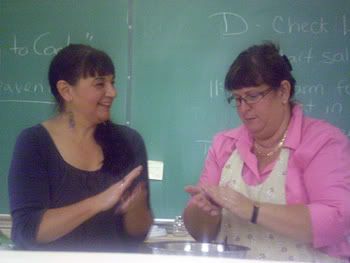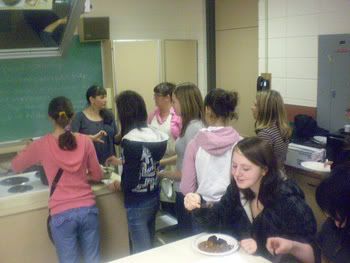 The students enjoying the chile and bean dip with blue corn chips
The students asked some questions about when and why I became a vegan, and about some of the products I brought to show. Ms. Hill also had some pertinent questions to ask, and so did my granddaughter when there was a lull in the questioning (smart girl!). They perused my books and took extra recipe handouts for friends. They ate up most of the food and took some extra for friends and staff!
Although I had less than an hour, I think it was a great success. Ms. Hill said she wanted to invite me back for the vegetarian portion of her Foods class!
Here is my recipe for Energy Balls
: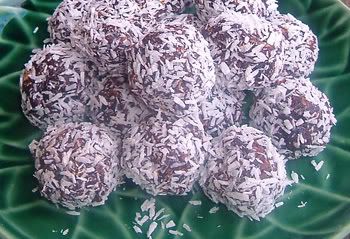 Printable Recipe
BRYANNA'S "ENERGY BALLS"
Servings: 4
Yield: 4 large or 8 smaller balls.
These are yummy and so easy to make! You can multiply the recipe as needed.
1/2 cup oatmeal (
or other cereal flakes for cooked cereal)
1/4 cup moist brown sugar
1/4 cup peanut butter or other nut butter
(I used almond butter in the school demo)
4 tsp fine unsweetened grated coconut
(or ground nuts or sunflower seeds
)
4 tsp chopped dates or raisins, or other dried fruit of choice
4 tsp non-dairy milk
1 tablespoon unsweetened cocoa
(or carob
) powder
1 tablespoon maple syrup
more coconut to roll the balls in
Grind the oatmeal in a food processor until chopped well. Add remaining ingredients and blend until a ball forms. Roll into 4 large or 8 smaller balls. Roll the balls in fine unsweetened coconut.
Nutrition Facts
Nutrition (per serving)
: 254.5 calories; 43% calories from fat; 13.2g total fat; 0.0mg cholesterol; 14.4mg sodium; 282.1mg potassium; 31.5g carbohydrates; 3.6g fiber; 20.2g sugar; 27.9g net carbs; 6.6g protein; 5.5 points.
Enjoy!

Posted by

Bryanna Clark Grogan
at 11:44 AM