Bryanna Clark Grogan's Vegan Feast Kitchen/ 21st Century Table: The kitchen journal of a vegan food writer.. I'm on Facebook and Twitter (see links in sidebar at right).
Tuesday, October 21, 2008
VEGAN MOFO: SOURDOUGH NO-KNEAD BREAD EXPERIMENT


What is Vegan MoFo? Click
here
to find out!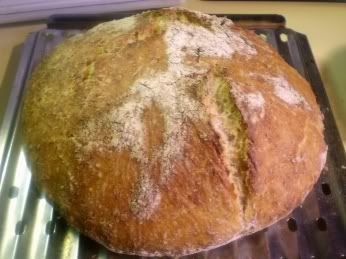 Some of you may be familiar with the no-knead bread revolution, and
my own small experiments
. I've been wanting to try making it with only sourdough starter-- no yeast-- but haven't had time lately. However, a few days ago, I planned ahead and gave it a shot. The results were not bad, but it still needs work.
Why sourdough? Well, I've known for a long time that sourdough breads have a better glycemic index rating than yeasted breads-- good news for diabetics and people who need to lose weight. Recently there was a small study that showed
positive blood sugar responses to sourdough bread
-- even white bread! And, these responses stayed with the body for quite some time.
Even though it's nice to know that a white sourdough bread can be a good thing, I still like the idea of adding some wholewheat flour for fiber and other nutrients.
I got out my two sourdough starters-- my
San-Francisco-style soy yogurt starter
and my
Carl Griffith's Oregon Trail starter
-- and refreshed them, and then made two batters with them.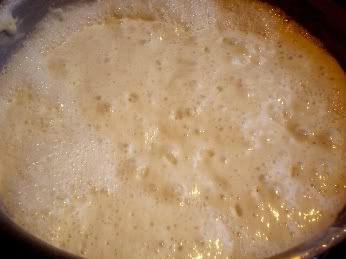 Bubbly sourdough batter
I didn't figure the percentage of water to flour-- I just adapted
my no-knead recipe
according to my experience. But, next time I'll be more scientific. My starters were less liquidy than I thought they were, so I had to do some fast-footwork, and, in the end, I wound up with doughs that were a bit too stiff.
With Carl's starter, I used a large amount of white starter and added wholewheat flour. But it ended up being mostly white. With the San Francisco starter, I added more wholewheat.
I mixed the doughs and shaped the loaves and set them to rise
as in this recipe
, swathed in clean large white plastic bags.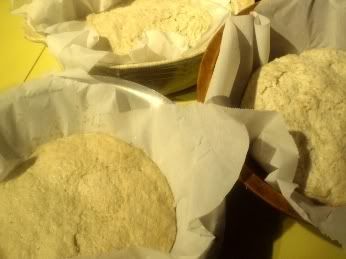 I made 2 loaves out of the more wholegrain dough, and one larger one for the mostly white one.
I rose them at room temperature for 5 hours, and then refrigerated them for 12 hours-- timing them so that they would bake first thing the next morning. I really don't think that sourdough will react well to many days in the refrigerator, as the yeast dough does. Correct me if I'm wrong! That's why I only refrigerated the loaves for 12 hours and why I formed them
before
the refrigerator rise.
I took the risen loaves out of the refrigerator and let them sit at room temperature while I heated the covered, heavy pans I was using in the oven at 457 degrees F for 30 minutes. I used two different sizes of enamelled cast iron pots, and one large clay baker-- the clay baker soaked in hot water for 15 minutes before placing in a cold oven. Then I baked them as per
my yeast recipe
, but they didn't need the extra 15 minutes with the lids off.
They came out nice and crusty, and very tasty, but didn't have big holes in the crumb. I think that's because the dough was not wet enough.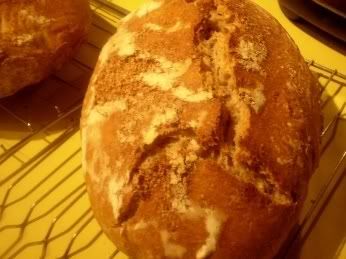 One of the more whole grain loaves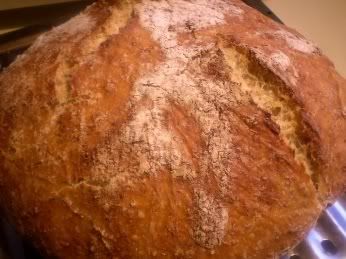 The whiter loaf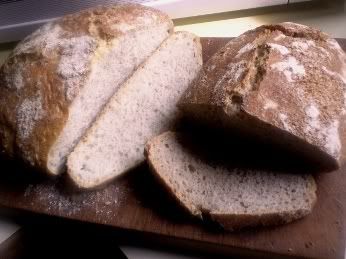 Enjoy!
Posted by

Bryanna Clark Grogan
at 2:52 PM