Bryanna Clark Grogan's Vegan Feast Kitchen/ 21st Century Table: The kitchen journal of a vegan food writer.. I'm on Facebook and Twitter (see links in sidebar at right).
Tuesday, October 7, 2008
MY FAVORITE DESSERT DIVA, FRAN COSTIGAN


What is Vegan MoFo? Click
here
to find out!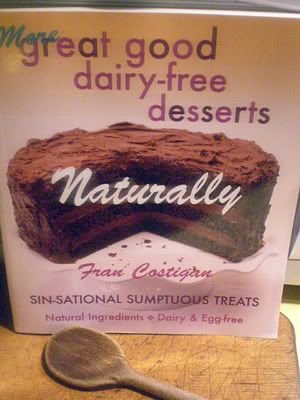 If you don't already have a copy of Fran Costigan's
More Great Good Dairy-Free Desserts Naturally
, then put it on your holiday wishlist immediately! It's a vegan kitchen must-have.
Fran herself is a wonderful, warm, funny, loving, hard-working and knowledgable person. I'm privileged to be able to call her my friend.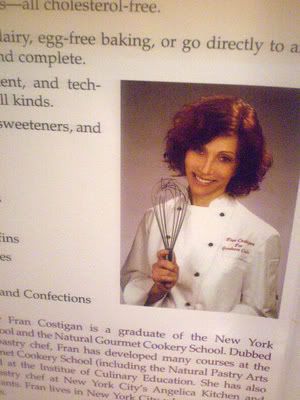 We met at a NAVS SummerFest quite a few years ago. She was presenting the day before I was. She had a mini-disaster while baking some cookies in her workshop-- one of the helpers placed cookie dough on baking-parchment-covered trays as directed, but used
plastic
serving trays instead of metal baking trays! They were slipped into the oven as Fran demonstrated another dish. She began to smell plastic and peeked into the oven to see the trays melting! She quickly shut the oven door and turned off the oven, and kept going.
I needed to use the oven in my workshop the next day, so Fran and I met over a garbage can-- scraping hardened plastic off the oven racks! We had a great time, though, and discovered many similarities in our personal backgrounds, as well as both being Geminis and cooks. Even though we live on opposite ends of the continent, and usually only meet at vegan conferences, we keep in touch and have a great time when we meet.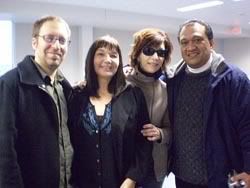 Me and Fran in the middle, between chefs Eric Tucker and Sualua Tupolo at the airport, all looking a bit worse for the wear after the 2007 Vegetarian Awakening vegan chef's conference in Grand Rapids, Michigan.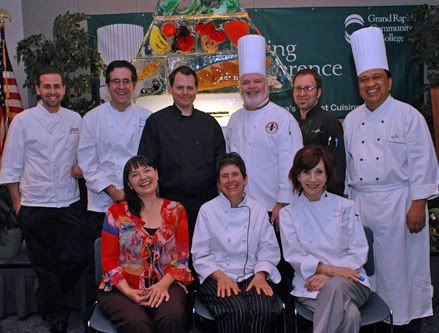 The chefs at the 2007 Vegetarian Awakening Conference Back Row (L to R): Tal Ronnen, Chad Sarno, Ian Brandt, Kevin Dunn, Eric Tucker, Sualua Tupolo; Front (L to R) Bryanna, Cathi Di Cocco, Fran Costigan
I visited briefly with Fran when I was in New York last March. In her tiny apartment kitchen, she was making a vegan wedding cake for her daughter, plus about 400 biscotti!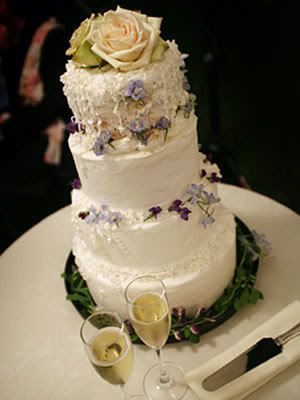 The Chocolate Cake to Live For, for Tracy & Rob by Mom Costigan (Mocha ganache and white vegan buttercream)-- spectacular!!
Fran uses the best natural ingredients, and, unlike alot of pastry chefs, she doesn't go crazy on the fats! Her desserts are absolutely fabulous and have won over traditionalists such as Deborah Madison:
"I'm a fan of traditional pastry – flaky, buttery pie crusts, sugar cookies made with white sugar and wheat flour, rich pastry creams and all of that. I've even worked as a pastry chef. But when I wanted to make a chocolate cake for a vegan friend, I didn't know where to begin. Thankfully Fran Costigan came to the rescue. I made her Chocolate Cake. I couldn't believe how utterly delicious it was! No one who tasted the tender-crumbed, dark chocolate cake guessed that it was made with whole-wheat pastry flour, maple syrup, no eggs and oil instead of butter. Even I, the big doubter, was terribly impressed and very pleased to know that such good confections can be made in a healthful manner without losing their taste. Cooking from Fran's book has taught me to open my mind to new possibilities. Vegan I am not, but I'd make this cake (and many of her other recipes) again, purely for my own selfish enjoyment."
Deborah Madison
, award-winning author of
Vegetarian Cooking for Everyone
Fran also gives explicit directions and lots of information about ingredients-- so important with any baking, but especially vegan baking!
She's going to have a
blog
soon, so keep an eye out for it! UPDATE: The blog is still in the making, though you can see pictures at her website at that link, but you might want to "like"
her Facebook page
.
Get this book and start baking vegan!
Enjoy!

Posted by

Bryanna Clark Grogan
at 3:20 PM