Notes from the Vegan Feast Kitchen/ 21st Century Table: The kitchen journal of a vegan food writer...For the 21st century we need to learn to cook for ourselves again, and learning to cook vegan can be a bit intimidating. I'd like to help with that, from my kitchen to yours. (Photo by Scott Hurlbert) I'm now on Facebook and Twitter(see links in sidebar at right).
Tuesday, October 14, 2008
VEGAN MOFO: QUICK AND EASY VEGETABLE-BASED VEGAN LEMON (OR LIME) CURD!


What is Vegan MoFo? Click
here
to find out!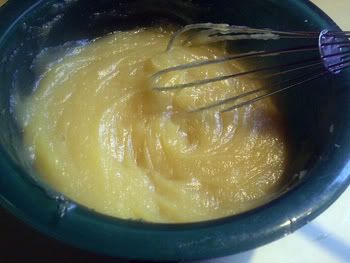 This sweet spread is adapted from a recipe by food writer William Woys Weaver. It's a really novel recipe
using parsnips, of all things
, as the base! That intrigued me, because it sounded a lot more healthful than a sugar/cornstarch mixture (although I do have a recipe for that type of vegan lemon curd, because I don't always have parsnips around the house!). However, I found his recipe way too sweet and not lemony enough, plus I wanted to make it quickly, so here's my version.
BTW, parsnips are virtually fat-free and very low in calories (only 60 calories in 1/2 cup when cooked). Parsnips are a good source of folate and also contains some iron. This root vegetable is also a source of magnesium, potassium, vitamin C and pantothenic acid. 1 cup of cooked parsnips gives you a hefty 6.4 grams of fiber, too!
Parsnips, the unlikely base for a delicious lemon (or lime) curd!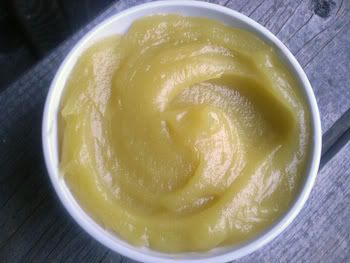 The finished product
Printable Recipe
BRYANNA'S QUICK VEGETABLE-BASED VEGAN LEMON (OR LIME) CURD
Yield: 1 and 1/2 cups
This lemon curd is delicious in tarts, as a cake filling, or as a spread on scones. NOTE: You can add a tiny bit of
natural food coloring
for a more yellow or green look, if you like! (Here's
another brand
and
one more
.) You can also devise your own natural food color from your kitchen. For instance, some kale or spinach juice (from raw greens) can be used for a green color; or a bit of saffron water (soak a bit of saffron in hot water), or carrot or yellow beet juice to make the lemon curd a bit brighter yellow (you don't need much of either). Here's
an article
on making food colorings.
NOTE: if you don't have a microwave oven, steam the cubed parsnips until tender instead of microwaving them, and cook the processed mixture in a small heavy saucepan over medium-high heat, whisking all the time, until thick and glossy. Otherwise, do the same as instructed in the recipe.
1/2 lb parsnips, peeled and diced
3/4 cup light granulated organic sugar
1 1/2 tablespoons Earth Balance
6 Tbs freshly-squeezed lemon or lime juice (or you can use bottled organic juice)
finely grated zest of one large organic lemon or lime
1 pinch turmeric
1/2 tablespoon more lemon or lime juice
Microwave the parsnips with 1/2 c. water in a covered Pyrex dish for 10 minutes, or til very tender.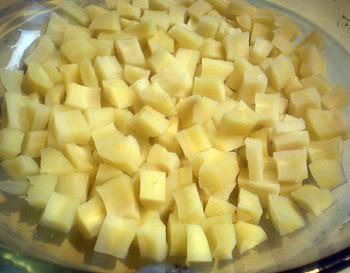 Drain if necessary and place in a food processor with the remaining ingredients,
except
for the last 1/2 tablespoon lemon juice. Process until very smooth.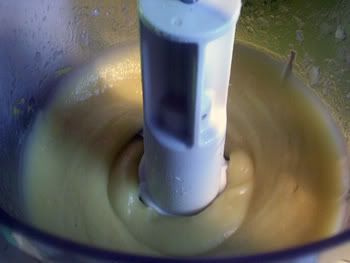 Scrape the mixture into a microwave-proof bowl. Microwave oh High for 3 minutes, uncovered. Whisk smooth and microwave on High 3 minutes more. It should be thick and glossy. Add the remaining 1/2 tablespoon lemon juice and whisk vigorously for a minute or two. Scoop the mixture into a jar or dish, cover and refrigerate. Keeps 2 weeks. Serve at room temperature.
Nutrition Facts
Nutrition (per 2 tablespoons [6 teaspoons]):
77.4 calories; 16% calories from fat; 1.4g total fat; 0.0mg cholesterol; 17.0mg sodium; 82.8mg potassium; 16.7g carbohydrates; 1.0g fiber; 13.6g sugar; 0.3g protein; 1.5 points.
JUST FOR COMPARISON'S SAKE:
The same quantity of traditional lemon curd made from
this recipe
contains 1 1/2 cups sugar (twice as much as my recipe), 1/2 cup of butter, 3 whole eggs and 2 egg yolks!
Compare the nutrition facts with the recipe above:
Nutrition Facts
Nutrition (per 4 teaspoons):
129 calories; 44% calories from fat; 6.4g total fat; 69mg cholesterol; 48mg sodium; 24mg potassium; 17.5g carbohydrates (mostly from sugar!); 0.1g dietary fiber; 16.9g sugars; 1.4g protein
Enjoy!

Posted by

Bryanna Clark Grogan
at 2:12 PM