Bryanna Clark Grogan's Vegan Feast Kitchen/ 21st Century Table: The kitchen journal of a vegan food writer.. I'm on Facebook and Twitter (see links in sidebar at right).
Thursday, May 7, 2009
FARINATA OR FAINÁ (ITALIAN CHICKPEA PANCAKE), TOFU YOGURT, AND OTHER THINGS WE'VE EATEN LATELY

Here are some pics of things we've been eating lately. Below the photos are a couple of recipes and details about them.
A "Baked Kibbeh" or Middle Eastern-style "Grain Meatloaf"
, topped with sliced fresh tomatoes and sliced onions, a little olive oil, salt and pepper before baking (UPDATE: You can use
this recipe
for the base of this dish)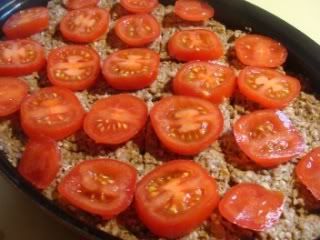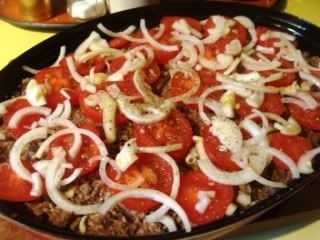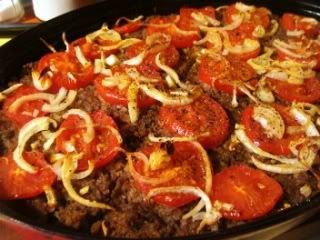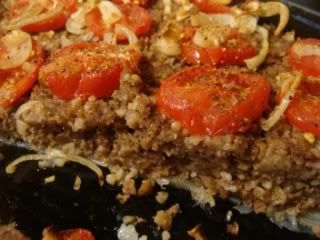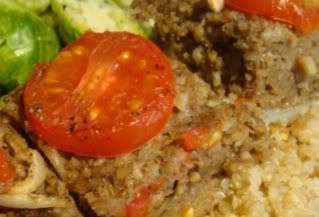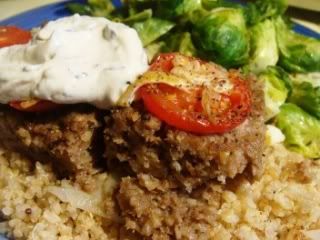 Serve with Creamy Tofu Tahini/Mint Sauce.
Making miso powder for my New, Improved Okara Parmesan (the directions for making the miso powder are in the same post):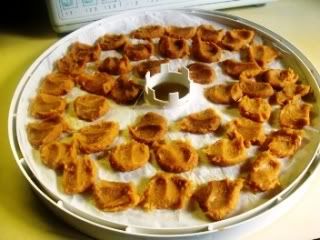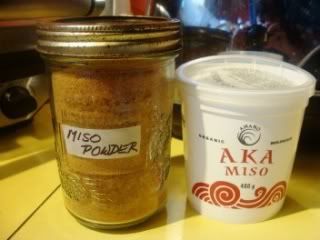 Experimenting with a vegan "tortillita"
(Spanish chickpea pancake usually made with seafood--I used vegan "shrimp"). It wasn't as tasty as I would have liked, perhaps because I wasn't using much oil. I'm still working on this!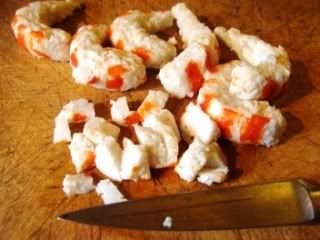 Vegan "shrimp" from an Asian grocery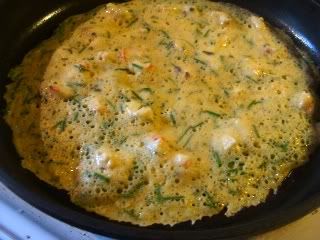 The "tortillita" before turning over.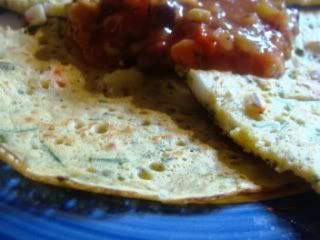 A simple Cantonese "shrimp" stirfry with the vegan "shrimp"
: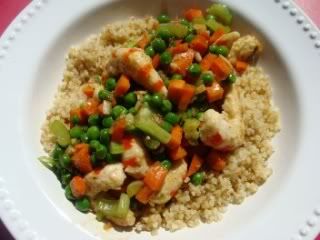 A Japanese version of a Chinese recipe-- Mapo Doufu: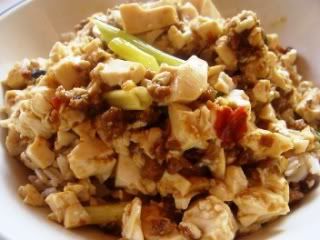 Chinese Lemon "Chicken" Cutlets with gai lan (Chinese broccoli)
(the cutlets are the type they serve in Buddhist vegetarian restaurants-- we found them at an Asian grocery store):
Pasta with Lemon, Asparagus, Peas and Vegan "Ham"
(UPDATE:
recipe here
):
A grilled asparagus and corn dish with a tomato-curry sauce, adapted from a recipe from Vij's cookbook (**I considerably reduced the fat** and it was still yummy!):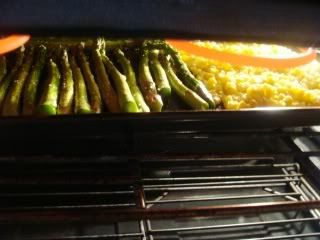 Dal Soup with vegetables in it (made from leftover Red Lentil Dal from my "Fiber for Life Cookbook") with poppadoms toasted on a dry cast iron skillet instead of frying them in oil
: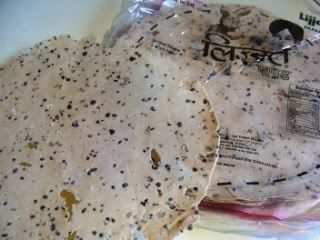 A poppadom (or papad)is a South Indian wafer made from lentil flour. They are inexpensive and take only seconds to dry-toast or grill or fry. Very crunchy and yummy!
A Middle Eastern-style stew with peas and tomatoes
, made with textured soy protein chunks:
NOW, THOSE RECIPES: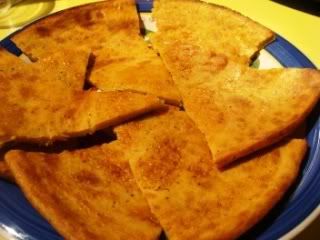 Freshly-baked chickpea flour Farinata or Fainâ
I've been fooling around with chickpea flour alot these days, because it's a legume flour which we can eat on the WW Core plan without having to count extra points for it! One of my favorite chickpea flour dishes is Farinata, a dish from the region of Italy where my fraternal grandmother's family originated.
My father called it Fainâ, and for years I thought that was because his mother's family was originally from the Genoa region of Italy. But I have just discovered that it is called Fainá in South America. The dish is popular in Uruguay and Argentina, and, apparently, also in Peru, where my father was born. (There are a surprising number of Italians in those countries, and many people from the Genoa area immigrated to South America in the 1800's.) Fainâ or Fainá, the name undoubtedly resulted from a slurring of the more general Italian term for the dish, Farinata. Which is odd, because "farina" actually means white flour in Italian, not chickpea flour. Scholars guess that this was a reflection of the dish's origins among the poorest population—to these peasants, who never saw white flour, all flour was chickpea flour. (They had the last laugh, though, because high-protein chickpea flour is a lot more nutritious than white flour!)
The dish migrated to Tuscany, where it is called Cecina (from the Italian for chickpea, ceci) or "Calda, Calda" (meaning "hot, hot"); to Livorno (Torta di Ceci); across the border to Monaco and Nice, in France, where it is called Socca; to Sardinia (la fainé genovese); and to Gibraltar (Calentita).
So what is this mysterious "pancake"? It's a delicious and nourishing snack food, a flatbread, really. In Nice, their version, Socca, is a street food, cooked huge copper pans over wood burners (rather than baked), pieces eaten out of hand like French fries in a cone of paper with lots of pepper. In Italy, it is eaten at home, with a knife and fork, or at a bar. In Genoa, there are farinata bakeries everywhere. In Argentina, they eat it on pizza! Both Italians and Niçois will tell you that it should not be made at home and it won't taste the same if it's not made over a wood-fired stove or in a wood-fired oven, but, trust me, a very reasonable approximation can be made and enjoyed at home!
It's basically a chickpea flour and water batter with some salt, olive oil, and sometimes garlic and fresh herbs. Some people make it thinner than others— there are many versions. Farinata is sometimes eaten with sliced onions or artichokes. Modern chefs are now using it as a base for imaginative toppings, even salads.
It couldn't be simpler, and yet it will raise your status with knowledgeable "foodies", if that is what gives you a thrill. It's one of those ancient, nourishing peasant dishes (like polenta) that one now encounters in trendy, expensive city restaurants, perhaps to be nibbled with wine. But that's okay— it can't hurt for more people to learn to love this dish, because it's delicious, nutritious, inexpensive and very easy to make at home, and, besides, we grow a lot of chickpeas in Canada (in southern Alberta and Saskatchewan, mostly).
I hope I've intrigued you sufficiently to try out my version of it. Whenever I serve it to guests they are mystified, but they love it! We eat it hot or cold for a snack.
(

On the WW Core Plan, 1/6th of the "the 'pancake' uses1 teaspoon of your 2-teaspoon daily oil allowance; or, if you've used that up, you use up 1 point-- not bad for alot of satisfaction!)
UPDATE:

Here's another great way to serve farinata-- farinata with toppings!

(Chickpea flour, by the way, can be purchased in Indian food stores under the name "besan" or "chana flour", as well as in health food stores, and in the Indian food section of some large supermarkets.)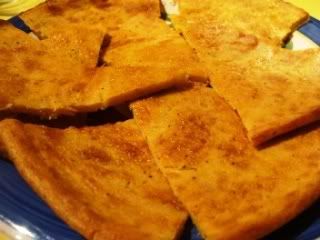 Printable Recipe
BRYANNA'S FARINATA (FAINÁ) (ITALIAN CHICKPEA FLOUR "PANCAKE")
Serves 6
This from my book
Nonna's Italian Kitche

n
.
This is a thin version, which I prefer. You can sprinkle the top with chopped garlic and rosemary, thyme or sage before baking, if you like. Ligurians, who eat it with a knife and fork, sometimes also top it with thinly sliced onions or green onions, or even slices of baby artichoke. I like the leftovers cold, too. (UPDATE:
Here's another great way to serve farinata
.)
1 1/2 cups chickpea flour or plain besan
1 1/2 cups water
3/4 tsp. salt
freshly-ground black pepper to taste
OPTIONAL: 2 teaspoons crushed garlic
2 tablespoons extra-virgin olive oil
2 hours before cooking,
mix the water and chickpea flour in a medium bowl, cover, and let stand in a cool place for 2 hours.
Preheat the oven to 475° F (450° with convection). Coat a 14" pizza pan (or an 11 x 15" rimmed cookie sheet) with 1 tablespoon of the olive oil.
Stir the salt and pepper (and optional garlic, if using) into the batter, which should be like a pancake batter (add water if too thick). Pour the batter into the pan and drizzle with the remaining oil. (If you like, sprinkle with some of the items suggested in the text, above.)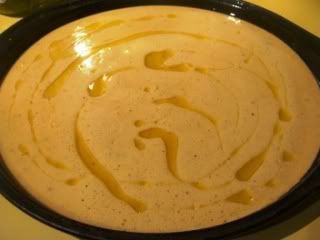 Bake for 10 minutes, then place under the broiler for a few minutes to brown the top. Grind more pepper on top, if you wish, and cut into wedges to serve. Serve hot.
Nutrition Facts
Nutrition (per serving):
128.8 calories; 41% calories from fat; 6.0g total fat; 0.0mg cholesterol; 251.0mg sodium; 194.6mg potassium; 13.3g carbohydrates; 2.5g fiber; 2.5g sugar; 10.8g net carbs; 5.1g protein; 2.6 points.
THE SECOND RECIPE:
This is nothing very earth-shaking, but I had a craving this morning for a really rich, Greek or Bulgarian-style whole milk yogurt! I like soy yogurt, but it's more like a low-fat or no-fat yogurt. So I made a recipe that I generally use as a yogurt substitute in Greek and Middle Eastern cooking, just because it tastes so rich and is so stable when cooked. The recipe is for Tofu Yogurt, made with silken tofu. It is is almost all of my cookbooks. I made a little change, though. I had used the same recipe last night for the "Yogurt/Mint sauce" to go with the "Grain meatloaf" pictured above, and I put just a little bit of tahini in it. It tasted to rich, and yet you could not detect the tahini taste, so I decided to add some tahini to the yogurt recipe for eating. It is delicious! I just added a spoonful of low-sugar jam to it and ate some that way, and used the rest as a sauce on some polenta squares browned in a non-stick pan. Yummy!
I know that silken tofu can be expensive, so I won't eat it this way often, but it was sure a treat! (I buy silken tofu by the case from a local food co-op and save about $1 a box, though.)
Printable Recipe
BRYANNA'S TOFU YOGURT, RICH "BULGARIAN-STYLE"
Servings: 6
Yield: 1 3/4 Cups
Silken tofu makes a smooth, rich-tasting mixture which can be used anywhere you would normally use yogurt, including cooking. The little bit of tahini adds richness and edge, but you can use a neutral oil, if you prefer..
If you like, you can add some dairy-free acidopholis powder.
1 box (12.3 oz.) extra-firm SILKEN tofu
1/4 cup fresh or organic bottled lemon juice
1 tablespoon tahini (or neutral cooking oil)
1/2 tsp unbleached organic sugar (UPDATE: If you like it a little sweeter, use up to 2 tablespoons agave nectar)
scant 1/4 tsp salt
Process all of the ingredients in a blender until VERY smooth. Keep in a covered container in the refrigerator for up to a week.
For a snack or topping for fruit, sweeten with Grade A light maple syrup, fruit-sweetened jam, agave nectar, fruit juice concentrate, and/or fruit liqueur.
Nutrition Facts
Nutrition (per generous 1/4 cup)
: 47.7 calories; 42% calories from fat; 2.3g total fat; 0.0mg cholesterol; 116.8mg sodium; 100.6mg potassium; 2.2g carbohydrates; 0.3g fiber; 0.9g sugar; 1.9g net carbs; 4.7g protein; 1.1 points.
Enjoy!

Posted by

Bryanna Clark Grogan
at 10:39 AM