Bryanna Clark Grogan's Vegan Feast Kitchen/ 21st Century Table: The kitchen journal of a vegan food writer.. I'm on Facebook and Twitter (see links in sidebar at right).
Wednesday, May 27, 2009
LUSCIOUS VEGAN PECAN MOCHA LATTE CAKE!

Yes, it was my birthday yesterday! Here I am blowing out my candle with two grandaughters looking on

.
I took some time of work for an extended weekend and DH and I went over to
Hornby Island
on Sunday morning to walk the trail through the Mt. Geoffrey Escarpment Provincial park, which goes from the ferry landing to picturesque Ford's Cove. It was a vigorous 45-minute walk, with alot of uphill and downhill, and very beautiful.
An interesting tree root
When we arrived in Ford's Cove, we walked out on the dock and sat down on a very comfy bench to enjoy the scenery, the sun and the quiet while eating the lunch we had packed.
The view of Denman Island, where we live, from Ford's Cove:
Some of the boats docked at Ford's Cove:
My daughter, Bethany, met us on the dock and we also met briefly with my oldest granddaughter, Savannah, who was just coming off a dive boat she helps out on. We had tea and coffee with Beth at the "Circle" near the Hornby Co-op Store, in the outdoor "Vorizo Cafe", then she drove us to the ferry and we went home. A lovely spring outing!
I insisted on making my own birthday cake, over some mild protests from family members, because I have really had the urge to bake in the last little while. But DH and I have been on the Weight Watchers' Core plan (still are-- almost 15 lbs. gone--each!), so, as you might have noticed, I haven't been making desserts! So, I controlled myself and waited for my birthday! I decided to make a version of my Vegan Almond Mocha Latte Cake, which I had devised for my son's birthday a few years ago, and which was featured in one of my newsletters. I had no almonds this time, so I used pecans (my favorite nut, anyway).
(UPDATE: The recipe for this cake is in my newest book, World Vegan Feast.)
We took it over to my son's house to share with his family (leaving some behind, so we wouldn't indulge further!). The quarter of the cake that is left is going with us to some friends' house tonight to finish off. I will not have anymore, since it is 10.5 points per slice (1/12th of the cake-- a good size, actually), but I really, really enjoyed my birthday slice, I can tell you!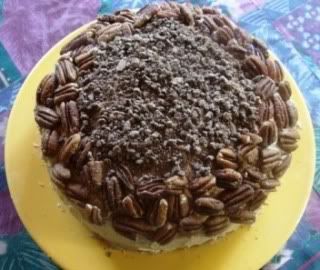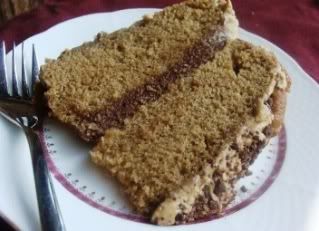 Mmmmmmmm!

Posted by

Bryanna Clark Grogan
at 3:30 PM