Bryanna Clark Grogan's Vegan Feast Kitchen/ 21st Century Table: The kitchen journal of a vegan food writer.. I'm on Facebook and Twitter (see links in sidebar at right).
Wednesday, May 13, 2009
MOONG DAL INDIAN CREPES-- MADE ONLY WITH BEANS; NO FLOUR OR GRAIN

Moong Dal Crepes with Indian-style sautéed Savoy cabbage and soy yogurt
The reason I'm excited about these Indian crepes (called adai or pesarattu, a type of dosa/crepe that is made only from dal and is un-fermented) is that they are so great for the WW Core Plan because they are made from beans!
(

I have lost 11 lbs. so far, BTW, and DH has lost 13!

We are not suffering at all on this plan!)
If I had used a grain flour, I would have had to use some of my extra points.
(I'm not sure the points thing would work if I used soaked, ground whole grain-- anybody know?)
I have made dosa for years, but usually with some grain or flour in them, and usually with some oil in the pan. My experiment was to make them solely with soaked beans and with no more than a light spritz of oil in a nonstick pan. It was a success, and DH and my friend Holly gobbled them up. (For a filling, I used a simple cabbage stir-fry recipe from Madhur Jaffrey's
World of Vegetarian Cooking
, with some
Tofu "Yogurt"
.
(UPDATE: Whole Soy Unsweetened Plain Soy Yogurt would be a great commercial option, as it is creamy and tangy and not sweet.)
We also remarked that this simple, delicious, nourishing, and filling meal was so inexpensive to make!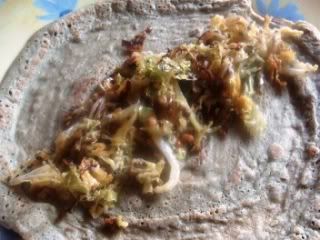 This has inspired me to try different kinds of Indian breads and dumplings that can be cooked in a nonstick pan, or steamed, using soaked beans, sprouted beans, bean flours, and even fresh corn. I'll let you know if I have any other successes!
Last night I soaked some moong dal in water: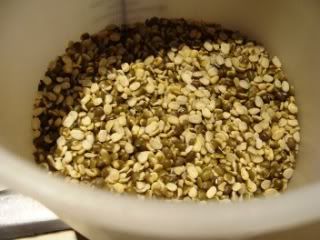 I used split moong dal, but it still had the skins. Unfortunately, much later, I found my split
washed moong dal
(which has the skins removed), which would have made a nice white batter. Mine was kind of green! Oh, well-- next time!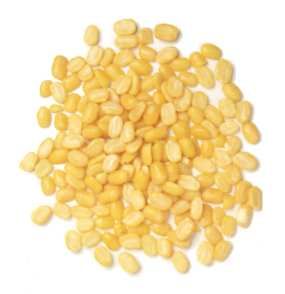 Washed moong dal
In the morning it looked like this and I had about 5 1/2 cups of soaked dal!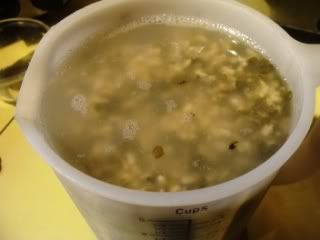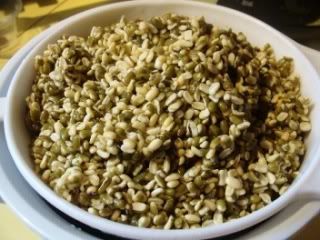 Here's the recipe:
Printable Recipe
BRYANNA'S MOONG DAL ADAI OR PESARATTU (INDIAN CREPES )
Servings: 12
Yield: 12 crepes
These crepes are a type of
dosa
that is made only from dal and is unfermented. These are actually a bit sturdier than the crepes we're used to, but they fold and roll nicely. You can just eat them with chutney or an Indian-style vegetable stir-fry, or with a more elaborate vegetable curry, if you like. They can be eaten for breakfast, as a snack, or for a lunch or supper dish.
(They would be great for a gluten-free diet, too.)
1 1/2 cups
split moong dal
(the washed kind have no skins, so make a nicer-looking batter, but you can use the kind with the skins-- just don't use whole mung beans)
water to generously cover-- they really soak it up!
2 tablespoons
(or more, according to taste)
of fresh chopped green chilies
(seeds removed-- or, cheat, as I did, and use pickled or canned jalapeño peppers)
1 piece (1-inch) fresh ginger, peeled
1 teaspoon salt
1/2 teaspoon cumin seed
water to thin the batter, as necessary
(1/2 cup, at least)
The night before you are to make the adai, rinse and drain the dal and then place in a bowl or container with room to almost triple, and cover generously with water. The dal will soak up alot of water, so don't be stingy!
The day you are making the pancakes, make or assemble your filling(s) before starting to cook the dosa.
Drain the water off the soaked dal and place it in a large blender container, along with the chilies, salt and ginger. In a Vita-Mix, you can grind the soaked beans, using the tamper, without extra water, but I don't think you could do this in cheaper blenders. In any case, I ended up adding water to the batter, so you are safe to add 1/2 cup of water to the batter when blending.
Blend the mixture until smooth, stopping and scraping down as necessary. Scoop the mixture into a bowl. Add the cumin seeds.
Now, adjust the thickness of the batter. If it's too thick, it won't spread easily. I kept stirring in water until it spread easily. I didn't measure, unfortunately, but the batter ended up like a regular crepe batter, more or less-- kind of like cream.
Spray a good-quality 8 to 10" nonstick skillet
(a good one-- Cooks Illustrated magazine
recommended this one
, which is inexpensive, and beat out far more expensive competitors
in their tests
) with oil from a spray pump and heat over high heat.
(With a good nonstick pan can cook these without using a spray pump with oil, but it depends on your pan. UPDATE: This is my current favorite. It's not the one in the photo.)
When cold water sprinkled on the pan sizzles, scoop about 1/4 cup of batter into the center of the pan with a small ladle and then use the bottom of the ladle to go in circles and spread the batter out from the center. It's easier than you might think! See the "action" pictures below: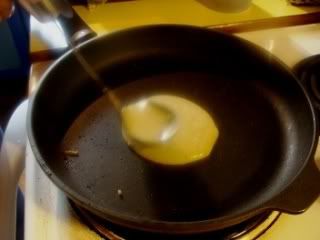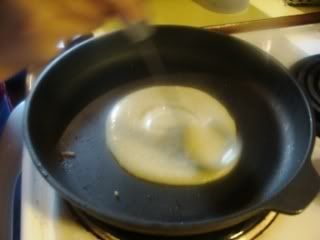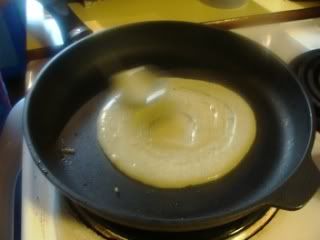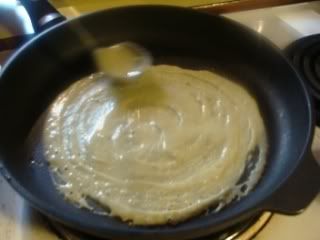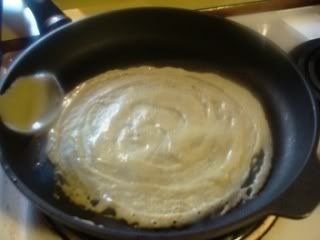 PS: if your batter doesn't spread easily, it may be too thick.
I turned the heat down just a notch or two from the "high" setting. Almost as soon as you have the batter spread, it will start looking a bit dry on top.
Carefully turn the adai and cook for a few seconds, then fold in half and lay on a platter with a clean tea towel over the adai.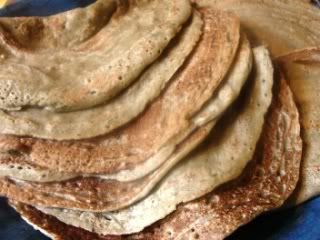 Repeat until the batter is all used up. These can be refrigerated and reheated.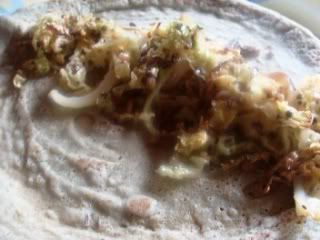 Nutrition Facts
Nutrition (per crepe)
: 90.8 calories; 3% calories from fat; 0.3g total fat; 0.0mg cholesterol; 166.5mg sodium; 327.7mg potassium; 16.4g carbohydrates; 4.3g fiber; 1.7g sugar; 12.1g net carbs; 6.2g protein; 1.0 points.
Enjoy!

Posted by

Bryanna Clark Grogan
at 2:22 PM