Bryanna Clark Grogan's Vegan Feast Kitchen/ 21st Century Table: The kitchen journal of a vegan food writer.. I'm on Facebook and Twitter (see links in sidebar at right).
Saturday, June 2, 2007
BEAUTIFUL BC B&B; A COUPLE OF SIMPLE MEALS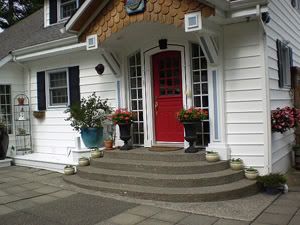 The front door
In my last post I mentioned that we stayed at a lovely bed and breakfast inn in
Fanny Bay, BC
, on Vancouver Island, just south of where we live (Denman Island). We were gifted with a night at the
Ship's Point Inn
, so we decided to spend my birthday night there last weekend.
We had a great dinner at a new Indian restaurant in Parksville, which is a little further south, and then headed back north to the inn, which has been there for many years, but was recently taken over by a charming couple from Quebec via Calgary, Robert Mercier and Agathe Fillion. The historic inn is lovely and beautifully furnished, and you are treated as if in a first-class hotel. No detail is overlooked! We had the run of the house, and a fire was laid in the living room firepalce in case we should want to read by the fire. A tray of tea fixings and a plate of homemade chocolate chip cookies was left out for us, as well as a small refrigerator full of bottled water and other cold drinks. There are binoculars here and there for bird watching (we saw lots of herons and eagles!), or looking over at Denman Island.
We ventured out into a rather blustery night, wrapped in the fluffy white bathrobes provided for us, to soak in the covered outdoor hot tub. It was a novel experience soaking in the hot water up to our next, being massaged by jets of water, all the while hearing the wind whipping in the trees, and stirring up the perfume of the flowers from Agathe's lovely gardens.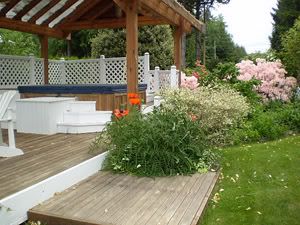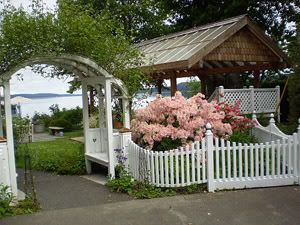 This is a view from the back of the hot tub area, as you approach the front gate.
Our room, the
Periwinkle Room
, faced the sea, and there was a balcony attached, complete with deck chairs, as well as a private bathroom. The bed was comfy and we slept in until after 7 am-- late for us!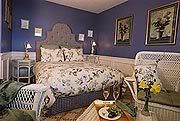 The Periwinkle Room
Breakfast is at 9 am, and many guests go for a stroll on the beach before breakfast. We chose to read in the living room in front of the window facing the sea while we had our tea and coffee.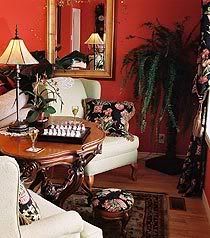 Part of the living room, in front of the window overlooking the bay
Agathe and Robert are congenial hosts and made a lovely breakfast for us-- orange juice, grapefruit broiled with brown sugar and lemon and lime zest; dark banana bread and homemade jams; and a light creamy vegetable casserole.
(They will do vegan breakfasts on request, and also tailor meals for guests who must eat gluten-free, or those with allergies.)
After breakfast we went for a walk on the beach before heading home.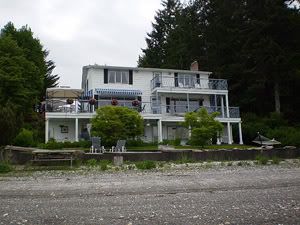 The Inn from the beach side.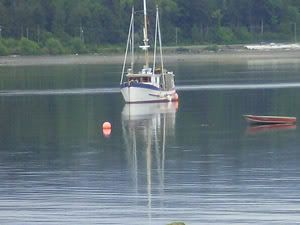 It was lovely to have 24 hours without telephone, computer or TV, and to be pampered as well!
When we got home, I fixed a couple of simple meals: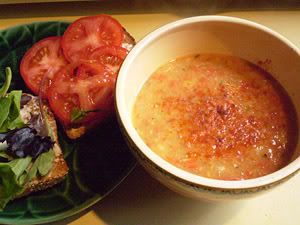 Tomato sandwich with Roasted Red Pepper, White Bean and Corn Soup (a variation on the Easy, Savory White bean and Corn Soup in my book "20 Minutes to Dinner")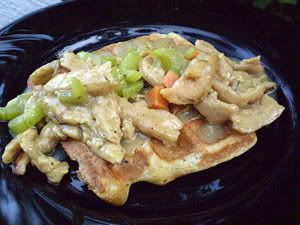 Vegan waffles topped with Soy Curls™, veggies, and gravy.
Finally, some warm weather is here, so enjoy!

Posted by

Bryanna Clark Grogan
at 10:09 AM