Bryanna Clark Grogan's Vegan Feast Kitchen/ 21st Century Table: The kitchen journal of a vegan food writer.. I'm on Facebook and Twitter (see links in sidebar at right).
Monday, June 25, 2007
A SIMPLE, DELICIOUS MID-EASTERN SUPPER

It's been so unseasonably cold these days that I made my husband light a fire in the woodstove so that I would feel like having a salad last night! I was busy all day transcribing recipes and catching up on some other writing chores, after a busy dance weekend.
My group dancing a Saidi cane dance (I'm on the right

)
I wanted to make a comforting hot dinner (with a salad) that was quick to make and a little on the exotic side. So I took out a book that I bought recently to add to my Middle Eastern cookbook collection,
Secrets of Healthy Middle Eastern Cuisine
by Sanaa Abourezk (who trained at the Masha Innocenti Cooking School in Florence and the Cordon Bleu Baking School in Paris; is a food writer, and has also worked as a nutritionist in South Dakota, where she now lives). It is a book of lower-fat versions of the wonderful dishes of the Levantine culturea (Lebanon, Syria, Jordan, Palestine). It does have meat recipes, but there are LOTS of vegetarian recipes.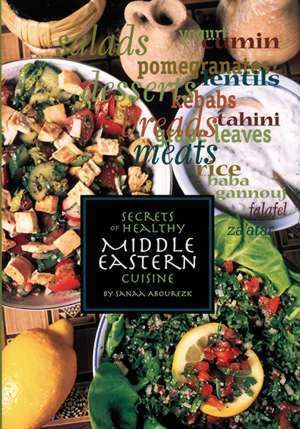 I had some mushrooms that I wanted to use up, and I had some cooked black-eyed peas. Bulgur cooks quickly, so I looked for recipes using that grain. I found two recipes that fit the bill (the mushroom recipe could even use up that piece of red bell pepper that languished in the refrigerator vegetable drawer), and served them with a simple salad of island-grown greens with cucumber, tomato and olives, and a lemon-garlic-olive oil dressing. It was just perfect!
(And both recipes would be suitable for the Weight watchers' Core plan!)
SANAA ABOUREZK'S SPICY MUSHROOMS (FITR HAR) (WW CORE PLAN COMPATIBLE)
serves 4
MY CHANGES: I had very large mushrooms, so I sliced them. I didn't parboil them as the recipe instructed (I was lazy!). I also had no cilantro, so I used some dried basil to taste-- fresh parsley could also be substituted. 1 tsp. seemed like alot of chili pepper, so I used a couple of large pinches of cayenne.
1 lb. small fresh mushrooms
1 med. onion, finely chopped
1 T. olive oil
6 cloves garlic, minced
1/2 red bell pepper, chopped
1 tsp red chili pepper (see note above)
1/2 tsp. black pepper
1 cup chopped cilantro
Parboil the mushrooms in 4 cups boiling water for 2 minutes, drain. (See my note above). Saute the onions in the oil until transparent. Add the mushrooms, garlic and both peppers. Stir-cook 5 minutes. Add pepper and cilantro (and salt to taste). Simmer for another 5 minutes. Serve in a flat dish.
4 servings, each 90 calories, 4 g fat, 2.7 g fiber
SANAA ABOUREZK'S BULGUR AND BLACK EYED PEAS (BURGHUL WA LOBEYEH HAB)(WW CORE PLAN COMPATIBLE)
serves 4
MY CHANGES: I used cooked, dried black-eyed peas--
canned
could also be used. Again, I had no cilantro so I used 1 tsp. dried basil and 1 tsp. dried mint instead (if using fresh, use 1 tablespoon each).
1 T. olive oil
1 small onion, chopped
2 cloves garlic, mashed
2 cups black-eyed peas, frozen (see my notes above)
3 cups water (I used
vegan broth
)
1 cup
medium bulgur wheat
1/2 cup chopped fresh cilantro (see my notes above)
pepper to taste
Saute the onion and garlic in the oil in a large pot.
Thaw the black-eyed peas, if using frozen ones, and simmer over low heat in the pot with onions for 5 minutes. (No need for this if you use canned or cooked ones, just add to the pot--BCG) Pour the water (or broth) into the pot with the onions and peas. Add the bulgur and herbs, bring to a boil then lower the heat and simmer on low, covered, until all of the liquid is absorbed, about 30 minutes. Taste for seasoning.
4 servings, each 280 calories, 4 g fat, and 14 g fiber.
Enjoy!
Posted by

Bryanna Clark Grogan
at 2:38 PM