Bryanna Clark Grogan's Vegan Feast Kitchen/ 21st Century Table: The kitchen journal of a vegan food writer.. I'm on Facebook and Twitter (see links in sidebar at right).
Tuesday, August 9, 2011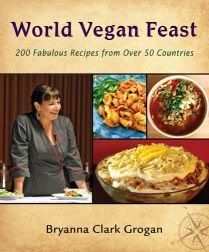 You can see 132 color photos of many of the recipes in my new book, World Vegan Feast,

in this photo album.

There are now twenty

5-star reviews of "World Vegan Feast" on amazon.com. Purchasing info in the far right-hand margin (just under photo of my book) in " UPDATES ON MY NEW BOOK, "WORLD VEGAN FEAST".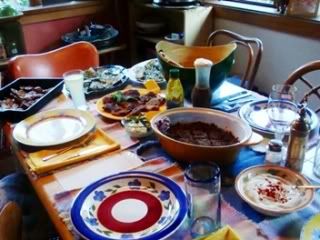 I've been working on this recipe for a few weeks and served it to friends Sunday night for dinner-- it was all eaten up by 4 of us! You know that I've written about various types of kibbeh (
here
, and
here
in past posts (and there's another recipe in
my new book
), and
what kibbeh is
. Most kibbeh is made from meat, but many varieties are made from potatoes, squash and other vegetables, along with bulgur and onions and spices. I love kibbeh! I wanted to make a vegan meatless variety that was quick and easy to throw together, so I chose to use Yves "ground Round", but you could use any vegan "hamburger crumbles", or even 2 cups of ground seitan. It is very easy to make and it's best at room temperature, so it's fine-- better, actually-- to make it ahead of time.
I want to fool around with this recipe in future, perhaps adding dried fruit and or pine nuts, using a pomegranate glaze or sauce, layering with vegetables or lentils, etc. Any ideas?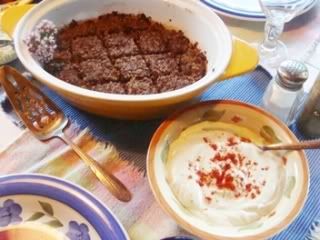 My new Meatless Kibbeh with my lower-fat version of Taheena Sauce
I hope you enjoy it as much as we did!
BRYANNA'S MEATLESS KIBBEH
Servings: 6
Best made ahead of time and served at room temperature. Another option would be to top the loaf with sliced tomatoes and onions, salt, pepper, a little olive oil before baking,
as in the photos at this blog post
.
2 cups vegetarian "hamburger crumbles" (such as 1 pckg. Yves "Ground Round")
1 medium onion, cut into chunks
1/2 cup
medium (#2) bulgur wheat
, rinsed and drained
4 oz potato, peeled and grated
2 tablespoons soy sauce
2 tablespoons
ketchup
2 tablespoons
nutritional yeast flakes
1 tablespoon
dried mint
1 tsp ground cumin
1/2 tsp salt
1/2 tsp
garlic granules
or powder
1/2 tsp cinnamon
1/4 tsp allspice
freshly-ground black pepper to taste
Preheat the oven to 350° F.
Process the onion in a food processor
until minced, then add the "hamburger crumbles" and process until it is a slightly finer texture.
Mix this with the remaining ingredients (except the olive oil) together well in a large bowl with your hands.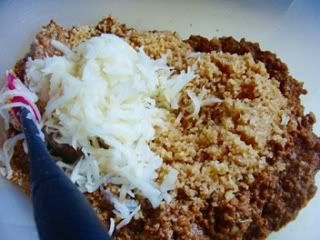 Press the mixture into 2 qt. round or oval baking dish, sprayed with olive oil from a pump sprayer, and press it down gently and evenly. (You can line the bottom with cooking parchment, if you like.) Spray the top with olive oil from a pump sprayer, or brush it on lightly. Cut the mixture carefully right through in a diamond pattern (see photos).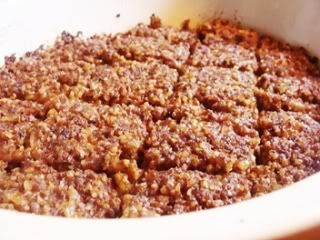 B
efore baking
Bake, covered, for 1 hour. Place it under the broiler for a few minutes to brown the top slightly. This firms up as it cools and can be reheated. Re-cut the wedges you cut before baking and loosen the sides with a table knife. Serve with
Taheena Sauce
.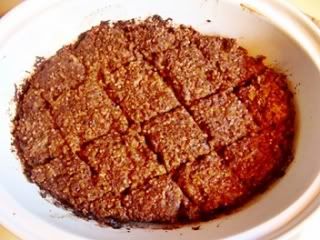 After Baking
Nutrition (per serving):
148.5 calories; 5% calories from fat; 0.9g total fat; 0.0mg cholesterol; 631.0mg sodium; 586.3mg potassium;
23.8g carbohydrates; 6.8g fiber; 3.3g sugar; 17.0g net carbs; 14.2g protein; 2.2 points.
Enjoy!

Posted by

Bryanna Clark Grogan
at 1:24 PM
9 comments


Monday, June 25, 2007

It's been so unseasonably cold these days that I made my husband light a fire in the woodstove so that I would feel like having a salad last night! I was busy all day transcribing recipes and catching up on some other writing chores, after a busy dance weekend.
My group dancing a Saidi cane dance (I'm on the right

)
I wanted to make a comforting hot dinner (with a salad) that was quick to make and a little on the exotic side. So I took out a book that I bought recently to add to my Middle Eastern cookbook collection,
Secrets of Healthy Middle Eastern Cuisine
by Sanaa Abourezk (who trained at the Masha Innocenti Cooking School in Florence and the Cordon Bleu Baking School in Paris; is a food writer, and has also worked as a nutritionist in South Dakota, where she now lives). It is a book of lower-fat versions of the wonderful dishes of the Levantine culturea (Lebanon, Syria, Jordan, Palestine). It does have meat recipes, but there are LOTS of vegetarian recipes.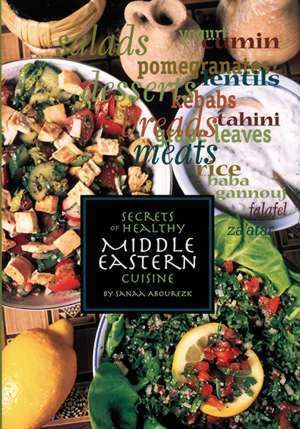 I had some mushrooms that I wanted to use up, and I had some cooked black-eyed peas. Bulgur cooks quickly, so I looked for recipes using that grain. I found two recipes that fit the bill (the mushroom recipe could even use up that piece of red bell pepper that languished in the refrigerator vegetable drawer), and served them with a simple salad of island-grown greens with cucumber, tomato and olives, and a lemon-garlic-olive oil dressing. It was just perfect!
(And both recipes would be suitable for the Weight watchers' Core plan!)
SANAA ABOUREZK'S SPICY MUSHROOMS (FITR HAR) (WW CORE PLAN COMPATIBLE)
serves 4
MY CHANGES: I had very large mushrooms, so I sliced them. I didn't parboil them as the recipe instructed (I was lazy!). I also had no cilantro, so I used some dried basil to taste-- fresh parsley could also be substituted. 1 tsp. seemed like alot of chili pepper, so I used a couple of large pinches of cayenne.
1 lb. small fresh mushrooms
1 med. onion, finely chopped
1 T. olive oil
6 cloves garlic, minced
1/2 red bell pepper, chopped
1 tsp red chili pepper (see note above)
1/2 tsp. black pepper
1 cup chopped cilantro
Parboil the mushrooms in 4 cups boiling water for 2 minutes, drain. (See my note above). Saute the onions in the oil until transparent. Add the mushrooms, garlic and both peppers. Stir-cook 5 minutes. Add pepper and cilantro (and salt to taste). Simmer for another 5 minutes. Serve in a flat dish.
4 servings, each 90 calories, 4 g fat, 2.7 g fiber
SANAA ABOUREZK'S BULGUR AND BLACK EYED PEAS (BURGHUL WA LOBEYEH HAB)(WW CORE PLAN COMPATIBLE)
serves 4
MY CHANGES: I used cooked, dried black-eyed peas--
canned
could also be used. Again, I had no cilantro so I used 1 tsp. dried basil and 1 tsp. dried mint instead (if using fresh, use 1 tablespoon each).
1 T. olive oil
1 small onion, chopped
2 cloves garlic, mashed
2 cups black-eyed peas, frozen (see my notes above)
3 cups water (I used
vegan broth
)
1 cup
medium bulgur wheat
1/2 cup chopped fresh cilantro (see my notes above)
pepper to taste
Saute the onion and garlic in the oil in a large pot.
Thaw the black-eyed peas, if using frozen ones, and simmer over low heat in the pot with onions for 5 minutes. (No need for this if you use canned or cooked ones, just add to the pot--BCG) Pour the water (or broth) into the pot with the onions and peas. Add the bulgur and herbs, bring to a boil then lower the heat and simmer on low, covered, until all of the liquid is absorbed, about 30 minutes. Taste for seasoning.
4 servings, each 280 calories, 4 g fat, and 14 g fiber.
Enjoy!
Posted by

Bryanna Clark Grogan
at 2:38 PM
5 comments