Bryanna Clark Grogan's Vegan Feast Kitchen/ 21st Century Table: The kitchen journal of a vegan food writer.. I'm on Facebook and Twitter (see links in sidebar at right).
Tuesday, June 5, 2007
A SHORT BOOK REVIEW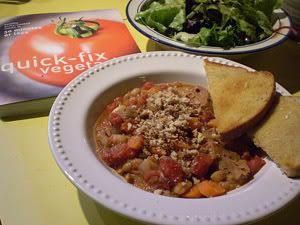 Quick Stove-Top Cassoulet from Robin Robertson's "Quick-Fix Vegetarian"
I've been meaning to review this new book for some time now. I'm not really going to do it justice, I'm afraid! I've been super-busy testing recipes for my next newsletter, and getting started on a collaboration for a new book. But I did try three recipes from the book, and we really enjoyed two of them, which I'm sure I will make again.
Quick-Fix Vegetarian (Healthy Home-Cooked Meals in 30 Minutes or Less)
, by veteran cookbook author Robin Robertson contains tasty-sounding recipes for appetizers, soups, salads, sandwiches and wraps, skillet suppers, pasta dishes, casseroles, slow-cooker dishes, sauces, and quick desserts. I like the combinations of flavors, and the variety. There is a nice emphasis on vegetables! (The title says "vegetarian", but the recipes are vegan, BTW.)
The
Quick Stove-Top Cassoulet
(p. 101) (pictured above) was really good. I used some frozen, cooked white beans that I had in the freezer instead of the canned beans called for, and I used Tofurkey Vegetarian Italian Sausages. It's simple, but satisfying and very tasty!
The other recipe that we liked was the
Mushroom and White Bean Soup
(p. 47), pictured below. It doesn't photograph well, but it is delicious! The 8 simple ingredients belie it's robust, comforting flavor.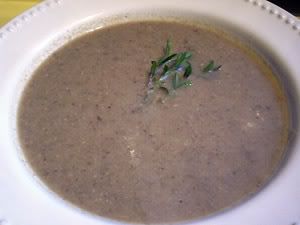 Mushroom and White Bean Soup
This would make a nice gift for a vegan student or young person setting up housekeeping without much cooking experience, as well as for any busy vegan. I'm looking forward to trying a few more recipes from the book in the near future!
Enjoy!

Posted by

Bryanna Clark Grogan
at 3:01 PM