Bryanna Clark Grogan's Vegan Feast Kitchen/ 21st Century Table: The kitchen journal of a vegan food writer.. I'm on Facebook and Twitter (see links in sidebar at right).
Thursday, June 21, 2007
WE WILL MISS BIG HUAN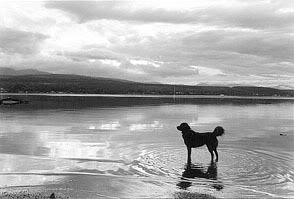 A photo by my husband, Brian Grogan-- Huan surveying the water near Sooke, BC.
Huan (pronounced
hoon
and named after the Hound of Valinor, the Great Hound from J. R. R. Tolkien's fictional universe of Middle-Earth) died last week. He was my stepson Sean's dog-- a beautiful big mix of German Shephard and Newfoundland. He also had a loving "mommy", Sean's ex-girlfriend S., and lived partime with both of his "parents", and his "sister" Skeena, a purebred Samoyed.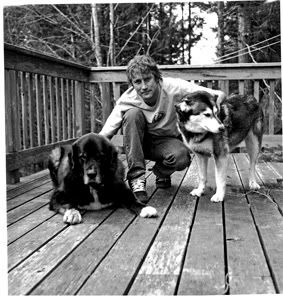 Sean with Huan and Skeena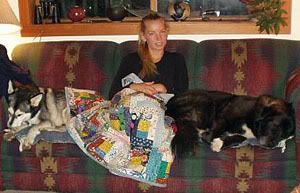 S. with sleepy dogs.
He was also our "grand-dog" (as is Skeena) and spent alot of time at our house when recuperating from an accident (he couldn't keep up with Skeena, and needed to be somewhere quiet for a while!) He was good with our cats, who tolerated him better than the speedy, more high-strung Skeena. Huan loved to chase sticks and when he got one you had to have a little tussle with him to get it away to throw again! He also LOVED to get his head scratched and would nudge your hand for more!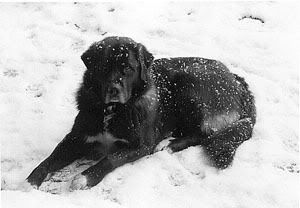 Snow-dog
Sean and S. found Huan up in Quesnel, BC as a little roly-poly puppy about 10 years ago. Skeena joined the family a little later. Huan had a terrible accident before his first year was out, and was hit by a truck, which broke his pelvis. He was in alot of pain and could just drag his lower body for some time. Sean and S. had to do alot of carrying, and he was a heavy boy! It is only through their patience and determination that he survived!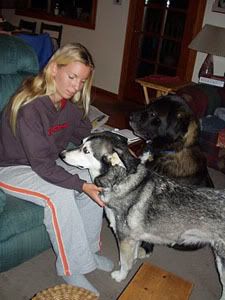 S. with Skeena and Huan
Lately, Huan had been plagued with a broken tooth, a broken toe, and a benign tumor that had to be removed. But his breathing was labored and they finally found out that he had a tumor pressing on his lung that could not be removed. As his breathing became more difficult, and his pain greater, they had to make the decision to put him to sleep.
His death was dignified and surrounded by love. Sean spoiled him for a few days and then they went to S.'s house where she had set up candles all over the living room, and played Buddhist music. She and Sean held Huan while the vet eased him into his final sleep, and my husband Brian, S.'s husband and baby son were there, too. S. told us that the vet was crying, too (I am, too, as I write this).
Sean brought Huan to our place, and dug a grave beside 4 trees growing together, which I named "The Four Guardians". Huan was wrapped in his favorite Navajo blanket and looked as if he was snuggled up for bed. We had a little ceremony and said our goodbyes. Sean marked the grave with a little wooden sculpture which a local artist had made when Sean's mother died.
Throughout the day we told Huan stories and looked at pictures of him. What a good friend he was!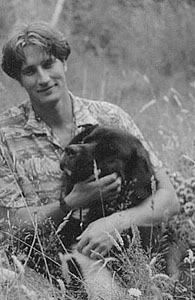 Posted by

Bryanna Clark Grogan
at 2:52 PM