Bryanna Clark Grogan's Vegan Feast Kitchen/ 21st Century Table: The kitchen journal of a vegan food writer.. I'm on Facebook and Twitter (see links in sidebar at right).
Monday, June 11, 2007
A FIND ON OUR MORNING WALK-- WILD OYSTER MUSHROOMS!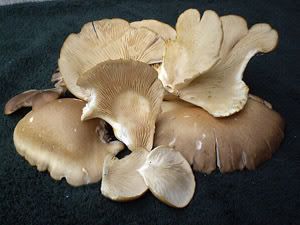 Oyster mushrooms we harvested off of an alder stump on Denman Is.
Sorry I have been blogging so seldom lately! I have alot of things on the go, not the least of which is starting on a new book with co-author
David Lee
of
Fieldroast
. I traveled to Vancouver this last weekend to meet with and work with David, which was really fun! But that's another story!
I wanted to do a short blog on our wild oyster mushrooms, which we are sometimes lucky enough to find this time of year. We only found a small batch this year, but that was enough to inspire a couple of yummy meals!
UPDATE: Both will be in my new book "
World Vegan Feast
" coming out Sept. 2011.
Homemade vegan rapini and "mascarpone" ravioli with oyster mushroom "cream" sauce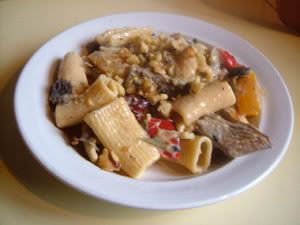 Pasta with Creamy Sun-Dried Tomatoes and Oyster Mushrooms
Enjoy!

Posted by

Bryanna Clark Grogan
at 3:10 PM