Bryanna Clark Grogan's Vegan Feast Kitchen/ 21st Century Table: The kitchen journal of a vegan food writer.. I'm on Facebook and Twitter (see links in sidebar at right).
Saturday, February 17, 2007
QUICK BISCUITS FROM MY PANCAKE MIX; VEGAN BISCUITS AND GRAVY

I had a hankering for biscuits and gravy this morning, but didn't have much time. (Biscuits and gravy are a Southern US dish which I did NOT grow up with, but have come to enjoy very much.) I decided to try making biscuits from my homemade vegan, partly wholegrain pancake mix, which I had blogged about a couple of weeks, ago. I tried making them with less fat and also with oil instead of a solid fat, but they were much lighter and tastier this way:
BRYANNA'S QUICK BISCUITS USING HOMEMADE BISCUIT MIX
2 cups Bryanna's Vegan All-American "Buttermilk"
Pancake Mix
2 Tbs COLD vegan butter(try
my homemade palm oil-free vegan Buttah
)
1 Tbs lemon juice
plus
10 Tbs soy or nut milk (2/3 c. liquid all together)
Preheat oven to 400°F.
Dump the mix into a bowl and cut in the cold vegan butter with two forks, or a pastry cutter until the mixture is like crumbs.
Mix together the lemon juice and milk. Pour into the mix and mix briefly with a fork.
Place the dough on a lightly-floured piece of cooking parchment and fold one side over the other, then repeat. Roll out to about 1/2" thick. Cut with a biscuit cutter. You can re-roll the scraps, but handle them gently so they don't get tough. Place on a baking sheet. Bake 12 minutes. Serve hot.
Servings: 8
Yield: 8 biscuits

Nutrition Facts
Nutrition (per biscuit
): 132.3 calories; 38% calories from fat; 5.7g total fat; 0.0mg cholesterol; 178.4mg sodium; 135.8mg potassium; 17.6g carbohydrates; 2.2g fiber; 1.5g sugar; 15.4g net carbs; 3.3g protein; 2.7 points.
Cooking Tips
FOR DROP BISCUITS:
Use about 3/4 cup lquid in total and drop spoonfuls close together in a nonstick baking pan.
For the gravy,
I usually make a vegan "milk gravy" with some kind of vegan "chicken" or "sausage" in it. I had, for some reason, picked up a box of Bisto Traditional Gravy Mix last time I shopped. It's made for use with poultry and meat gravies, but
the actual mix is vegan
. It's a British product, but we have it here in Canada in most supermarkets. I was in a hurry, so I decided to try it with the biscuits, and it worked out very well!
I have never used a gravy mix before!
There are other brands with better ingredients, perhaps that would work in this recipe, but you might have to tinker with the amount of mix and you probably won't need to use the vegan broth powder.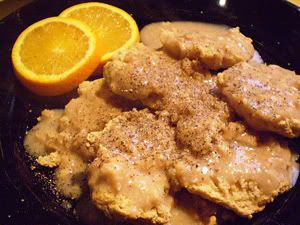 BRYANNA'S QUICK VEGAN "MILK GRAVY" FOR BISCUITS
Also good on toast! NOTE:
I used Soy Curl "crumbs" in this-- the little pieces at the bottom of the bag. Just soaked them in hot vegan chicken-style broth and drained them.
2 1/2 cups soymilk or other nondairy milk
3 1/2 Tbs Bisto Traditional Gravy Mix (for poultry)
(this is a vegan product-- see text above for info and alternatives)
2 tsp dark Asian sesame oil
1/2 Tbs vegan "chicken-style" broth powder (
you may not need this with the alternative mixes listed above)
or broth paste
1 cup ready-to-eat chopped vegan chicken sub
(such as reconstituted Soy Curls
) or vegan sausage, crumbled and browned
Mix the milk, Bisto, sesame oil, broth powder together with a whisk. Pour into a small skillet or medium saucepan and whisk constantly over high heat until it thickens and boils.
Remove from heat and stir in the chicken substitute. Serve hot over split biscuits.
Servings: 5
Nutrition Facts
Nutrition (per serving)
: 98.8 calories; 29% calories from fat; 3.3g total fat; 0.0mg cholesterol; 625.1mg sodium; 263.8mg potassium; 10.6g carbohydrates; 0.7g fiber; 4.7g sugar; 9.9g net carbs; 8.1g protein; 2.1 points.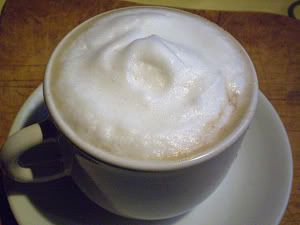 I tried a cappuccino with Almond Breeze-- the foam is nice, but the coffee is creamier with soymilk.
CAT BLOGGING: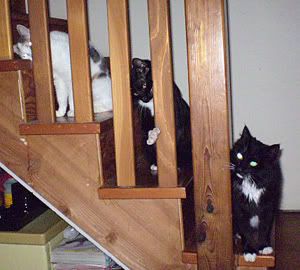 "Our gang", Sinéad, Ringo, and Tina waiting on the stairs like they do every morning, for us to come up and feed them!
Enjoy!
Posted by

Bryanna Clark Grogan
at 4:47 PM