Bryanna Clark Grogan's Vegan Feast Kitchen/ 21st Century Table: The kitchen journal of a vegan food writer.. I'm on Facebook and Twitter (see links in sidebar at right).
Tuesday, May 29, 2007
A LITTLE INDULGENCE: BANANA S'MORE PANINI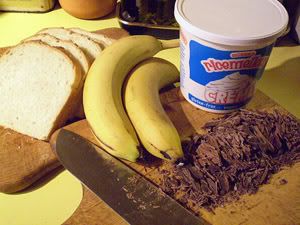 The "fixings" for our treat!
It was my birthday (well, the day after) and I had forgone a cake this year. We had gone for a lovely little adventure down island (Vanouver Island, that is) and stayed at a lovely B&B (
I'll blog about that next time, after I get the photos together
). After returning home, my stepson Sean arrived and I decided to make a treat for the three of us, using the
Ricemellow Creme
that I had purchased during our
trip to Portland
recently.
So this is what I made:
Banana S'More Panini
. I fired up the indoor grill first. I covered one slice of my husband's good white bread (use a variety of white bread with a compact crumb, like
Pain de Mie
or Pullman loaf [
see more about this below
]; but you could use a French or Italian bread-- just don't use the "Wonderbread" kind!) with a good smear of Ricemellow Creme (3 Tbs. maybe?). Then I covered that with about 1 oz. of good organic, vegan semisweet chocolate (I used some that I got from
Denman Island
Chocolate in bulk), which I had shaved into little pieces with a knife. Then I covered the other slice with sliced ripe, but not squishy, organic banana (about half a largish one).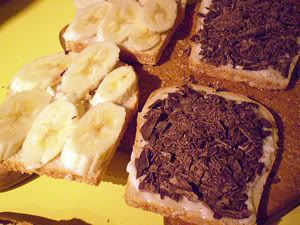 I then put the sandwiches together and "buttered" them lightly with vegan marge (preferably
palm oil-free
) They went immediately into the hot grill, I closed the cover, and let them cook for about 7 minutes. A little gooey goodness ran out, but not very much. (I would suggest piling the chocolate not-too-close to the bread edges.)
It was divine! Not as sweet as I'd expected, but rich-- half of one might be enough, actually!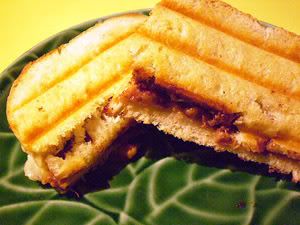 NOTE: MORE ABOUT PAIN DE MIE OR PULLMAN LOAF
Here's the Wikipedia definition: "Pain de mie is a type of sliced, packaged white bread. "Pain" in French means "bread" or "loaf of bread" and "mie" means "crumb." In English pain de mie is most identical to pullman loaf or regular sandwich bread. This bread has sugar in it, which makes it sweeter than most French breads, and even with the sugar pain de mie is still not as sweet as most American breads. This bread usually used for making sandwiches or for toasting. It can be baked in a sealed pan, which prevents crust from forming. If not baked in a sealed pan, the crust can be cut off (as done in factories before packaging). Pain de mie is sold in rounded or rectangular shapes."
It was served extensively on Pullman railroad cars, hence the name Pullman Bread or Pullman Loaf.
There is a link to one recipe in the text above, and
here is one more
. You can substitute soymilk for the dairy milk and Earth Balance for the butter in these recipes. Use half as much soymilk powder as milk powder called for.
Below is a picture of the
sealed pan
:
Enjoy!

Posted by

Bryanna Clark Grogan
at 12:45 PM