Bryanna Clark Grogan's Vegan Feast Kitchen/ 21st Century Table: The kitchen journal of a vegan food writer.. I'm on Facebook and Twitter (see links in sidebar at right).
Wednesday, May 2, 2007
SOME PHOTOS OF MY EXPERIENCE AT VEG AWAKENING 2007

This is just photos, all by the extraordinary New York food photographer,
Linda Long
, who must have taken thousands of photos and just never stopped!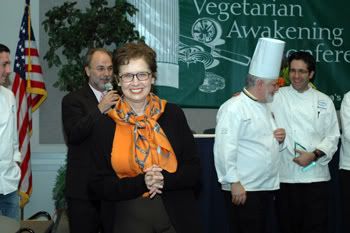 Linda Long
This is just a few, because it takes me a while to edit and resize all the photos for the blog, and I'm computer-weary this week. I'll be posting more pics of the chefs, the food, the audience, the students, etc., very soon!
For a review of the 2007 conference and more photos, check out the April 15, 2007 post at this website.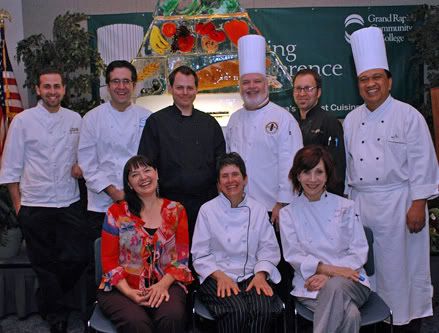 The Chefs (I took off my chef jacket too soon!): Back row, L to R is Tal Ronnen, Chad Sarno, Ian Brandt, Kevin Dunn, Eric Tucker, and Sualua Tupolo. Front L to R is Me, Cathi DiCocco, and Fran Costigan
Some of the vegan Peruvian dishes I made in my demo :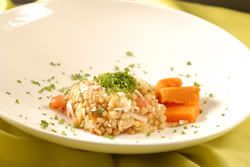 Trigo (a spicy wheat dish;
recipe here
)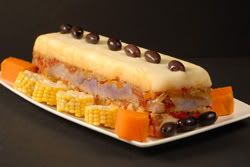 Causa, a potato terrine (Update: recipe in my book World Vegan Feast)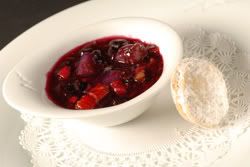 Mazzamora Morada (Purple Corn Pudding) and Alfajore (sweet pastry)
(Update: recipe in my book World Vegan Feast)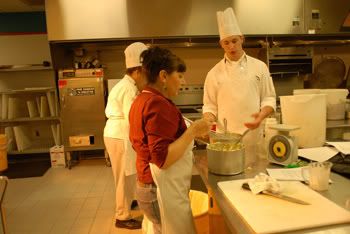 In the kitchen with Corey, one of my wonderful student chef assistants-- Corey had a real epiphany about vegetarian cuisine!
Being introduced by organizer Chef Kevin Dunn before my demo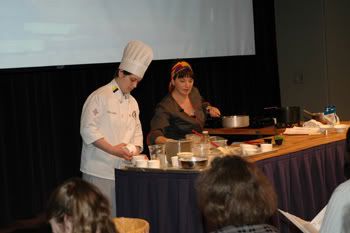 Cooking in the demo
Wonderful Hospitality Department Program Director Randy Sahajdack thanking Kevin for all of his work.
Posted by

Bryanna Clark Grogan
at 11:42 AM