Notes from the Vegan Feast Kitchen/ 21st Century Table: The kitchen journal of a vegan food writer...For the 21st century we need to learn to cook for ourselves again, and learning to cook vegan can be a bit intimidating. I'd like to help with that, from my kitchen to yours. (Photo by Scott Hurlbert) I'm now on Facebook and Twitter(see links in sidebar at right).
Monday, June 18, 2007
A FAMILY CROWD ON A RAINY WEEKEND

It's been a while since I blogged! I don't know where the time goes! This weekend two of my daughters and their families came for a visit, and we were looking forward to it, although I was worrying about making enough food for everyone, having had a super-busy week and no time to make a shopping trip to town. They brought juice and drinks and fruit and snacks, however, and I planned some simple, filling meals.
My house is small, and the weather was not very cooperative! The first night, the 4 little girls were sharing a tent. It was only supposed to "shower" intermittently, but there was a downpour early in the morning. My husband got up about 5 and was in the shower when they all came running into the house sopping wet, dragging their damp bedding!
At that point I got up, too, tucked the three youngest into my bed and set up the oldest (age 12) in the little daybed in my office with a reading lamp, with grandmotherly orders to try to sleep and let the grownups wake up!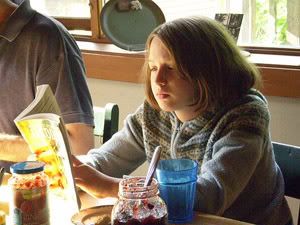 The "constant reader" at breakfast!
I managed to shower and have a cup of tea when the others started coming in. We had a simple breakfast, my husband in charge of the coffee and toast (made with his good homemade bread), dried all the bedding and clothes, made lunch for later on, and we left my husband to have a well-deserved rest while we went to the "Free store" (recycling center). Everyone found at least a few treasures, and we visited my mother at her house for a little while before heading home.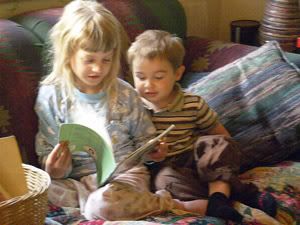 Two more cousins enjoying a book
Lunch was a BIG pot of my
Japanese noodle soup
, which I had made in the morning, with watermelon for dessert.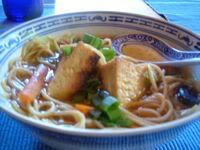 Everyone went to the beach during a lull in the rain in the afternoon, giving me a little breather, and then brought my mother to our house for an afternoon snack of
hummous
and baby carrots, and salsa and chips.

Hummous (see recipe)
a dinner of my
prize-winning vegetarian chile (see recipe below), and homemade cornbread,
with a big green salad.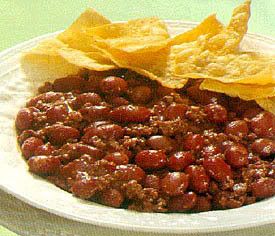 Here's a wheat-free version from a previous blog post.
Dessert was the
Triple-Ginger Espresso Cake
(
Update
-- will be in my new book,
World Vegan Feast
, out in Sept. 2011)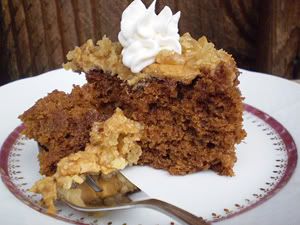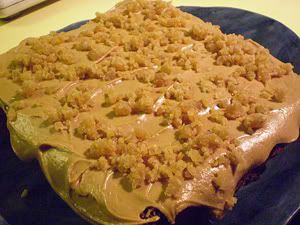 We all watched a family movie together, laughed alot, and the kids fell asleep almost immediately (they slept on bedrolls on my dance space/office floor, and in the little daybed-- the youngest slept with his parents in a more water-proof tent!). I slept like a log and didn't hear a peep from them until about 8 am!
Sunday was Father's Day, so my daughters and I made crepes for breakfast, which was much appreciated by all! The sun did come out for while, allowing the kids to play outside and get Grampa to push them on the tire swing. Everyone left around noon, and we had a lazy day after that. It was good to have some time to chat with my busy daughters, and to see my grandchildren interact with eachother. They get along really well. My little three-year-old grandson (who can tell you the bus routes in Vancouver quite accurately!) had a gaggle of girl cousins spoiling him rotten and seemed to be just fine with that!
I hope you all had a great weekend, whatever the weather! Here are a couple of the recipes I made:
PRINTABLE RECIPE
BRYANNA'S LONG-COOKING FAT-FREE CHILE (CHILE SIN CARNE)(WW CORE PLAN COMPATIBLE)
12 servings
This recipe appears in my first book, "
The Almost No-Fat Cookbook
". I won first prize in our local chile contest with this chile—beat out all the meat ones!! NOTE: You can use a combination of pinto, small red, and black beans for variety, if you like.
"MEATY" OPTIONS:
2 lbs. FROZEN tofu (start with firm tofu for best results), thawed, squeezed dry, and crumbled
OR
2 pckgs. Yves Veggie "Ground Round" (or 4 c. other veggie "hamburger crumbles")
OR
3-4 cups ground seitan
OR
3 cups dried textured soy protein
(TVP) granules
or flakes, reconstituted in 2 and 1/2 c. boiling water
ADDITIONAL:
2 large onions, chopped
4 cloves garlic, chopped
4 T. chile powder (for a really good chile, use at least half dark chile powder, such as
ancho
)
1 T. EACH dried oregano, ground cumin, and unsweetened organic fair trade cocoa (can use 2 T. cocoa for a very dark chile)
1 bay leaf
7 T. soy sauce
1 tsp. sugar
8 c. water
1 crushed dried chile pepper
2 tsp. salt
pepper to taste
4 c. dried pinto beans OR small red beans, SOAKED OVERNIGHT and drained
2 small cans tomato paste
OPTIONAL THICKENER:
2-3 T. cornmeal or
masa harina
Mix all ingredients EXCEPT the cornmeal or masa harina in a large pot and bring to a boil. Boil for a few minutes, then turn down and simmer, covered, for about 4 hours. Taste for seasoning. Add the cornmeal or masa harina if you think it needs thickening and cook for a few minutes before serving. Can freeze.
Nutrition Facts
Nutrition (per serving):
329.1 calories; 4% calories from fat; 1.9g total fat; 0.0mg cholesterol; 457.4mg sodium; 1024.9mg potassium; 56.9g carbohydrates; 15.7g fiber; 7.1g sugar; 41.3g net carbs; 25.7g protein; 5.9 points.
Enjoy!

Posted by

Bryanna Clark Grogan
at 3:27 PM