Bryanna Clark Grogan's Vegan Feast Kitchen/ 21st Century Table: The kitchen journal of a vegan food writer.. I'm on Facebook and Twitter (see links in sidebar at right).
Thursday, August 5, 2010
FLAX AND 100% WHOLE WHEAT "SANDWICH THIN"-TYPE BURGER BUNS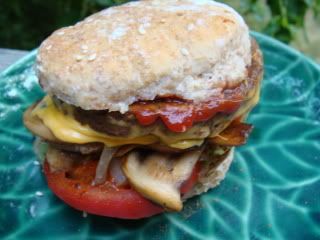 A rather tippy veggie burger, with all the trimmings, made with one of my new thin buns.
I've been meaning to try some "sandwich thin"-type buns for a long time, and finally got inspired to adapt one of my favorite burger bun recipes-- one I've used for over 25 years! The recipe was
an old "yeast batter bread" recipe
. In those days, you made a yeast-leavened batter and just rose it for 30 minutes, then formed the bread or buns, rose again briefly and baked. These were tasty enough, but I figured that they could be improved upon by using the newer no-knead bread techniques. The longer rising time with the new techniques develop the gluten and the flavor.
I chose this recipe because it was 100% whole wheat, vegan already (many sandwich bun recipes contain egg), it was "tried and true", and it is fairly soft (due to the added potato). It worked very well, though some might say they aren't big enough for some burgers. I added an option to make bigger buns, if you like. But these just fit the burgers I had around and I thought it was great that the bun didn't overwhelm the other tastes. The bun was soft, but held together well and didn't get soggy.
I did a little research, and whole wheat burger buns seem to range from 110 calories to 210 calories. Mine are 98 calories for the smaller ones and 130 for the larger ones. If you want to raise the fiber level, you can add 1/4 cup of wheat bran to the batter with no ill effects. At any rate, you can control the ingredients, and they certainly are easy and cheap to make! My freezer is now sticked with burger buns for quick meals!
Printable Recipe
BRYANNA'S WHOLE WHEAT AND FLAX "SANDWICH THIN" BUNS
Servings: 24
Yield: makes 18-24 buns
These are half the calories of many ordinary sandwich buns, 100% whole grain, and 1.5 ww points! Also, very good!
1 Tbs dry active baking yeast
(or 3/4 Tbs instant yeast
)
1 cup warm water
2 cups warm nondairy milk
1/4 cup instant potato flakes
2 Tbs olive oil
2 Tbs maple syrup or unbleached sugar, or 1 tablespoon agave nectar
2 tsp salt
1/4 cup ground flax seed, preferably golden flax
4 cup whole wheat flour (NOT pastry flour), regular or white whole wheat
Soy, hemp or nut milk for glazing tops
OPTIONAL: sesame seeds or other desired topping
Dissolve the yeast in the water. Add to the soymilk in a medium bowl, along with the potato flakes, oil, syrup or sugar, and salt.
Add the flour and ground flax and stir with a heavy wooden spoon or Danish dough whisk
until well mixed, but rough looking. Cover and let rise at room temperature for 2 to 18 hours.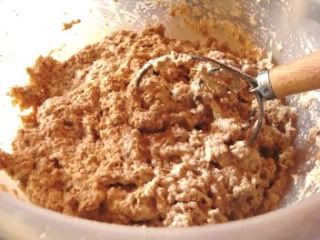 First mixing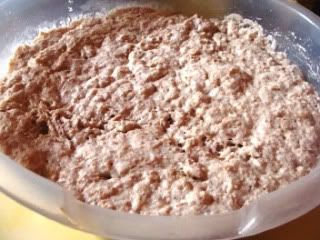 \
After 2 hour rise
Then refrigerate the dough, well-covered, for at least 3 hours and up to a week.
When ready to bake, take the dough from the refrigerator. With floured hands, dump the dough out on a well-floured surface and, coating the dough lightly with flour as you go, pat the dough out into a large rectangle about 3/8" thick. Cut the dough into rounds with a 3 1/2-inch cookie cutter
(or a 4-inch cutter if you want 18 larger buns). Here's a set of round cutters
that goes up to 4 and 7/16-inches.)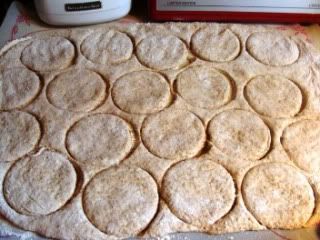 Carefully transfer to baking sheets lined with baking parchment
and sprinkled with flour or cornmeal. The rounds should have a little room around them, unless you like them softer, in which case you can have them barely touching.
Note: You could also use a hamburger bun pan, either with 3 1/4" molds (for 24 buns
) or 4 1/4" molds (for 18 buns).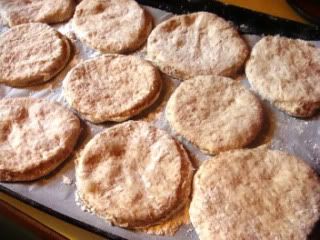 Pat down the dough in the center of each round, so that they don't make big "humps" in the middle when they rise.
Sprinkle the rounds lightly with flour, cover with plastic wrap, or place the pans inside of large food-safe plastic bags,and let rise 40 minutes, while you heat the oven to 375 degrees F.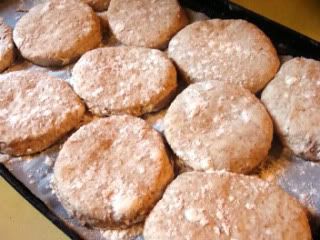 Ready to bake
Brush the buns with nondairy milk and sprinkle with sesame seeds or other topping. Bake 15-20 minutes, or until golden. Cool on racks. When serving, slice them in half horizontally with a sharp serrated knife.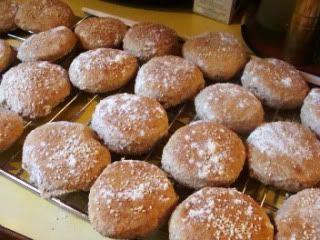 Nutrition Facts
Nutrition (per serving [1 of 24 buns])
: 98.3 calories; 19% calories from fat; 2.2g total fat; 0.0mg cholesterol; 169.2mg sodium; 131.7mg potassium; 17.3g carbohydrates; 3.1g fiber; 1.7g sugar; 14.3g net carbs; 3.8g protein; 1.5 points.
If you make 18 larger buns (4" across) the nutrition facts are as follows: Nutrition (per serving [1 of 18 buns]))
: 131.0 calories; 19% calories from fat; 2.9g total fat; 0.0mg cholesterol; 225.6mg sodium; 175.6mg potassium; 23.1g carbohydrates; 4.1g fiber; 2.2g sugar; 19.0g net carbs; 5.0gprotein; 2.1 points.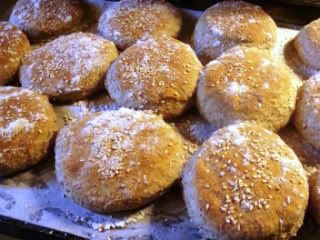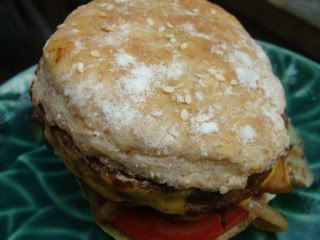 Enjoy!

Posted by

Bryanna Clark Grogan
at 10:18 AM