Bryanna Clark Grogan's Vegan Feast Kitchen/ 21st Century Table: The kitchen journal of a vegan food writer.. I'm on Facebook and Twitter (see links in sidebar at right).
Thursday, August 26, 2010
ON USING THE WORD "SUBSTITUTE" AS A VERB IN A COOKING CONTEXT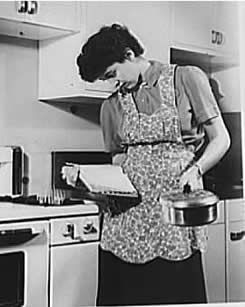 (
Source
)
I'm posting this because I've noticed, over the last few years, that many people are confused about how to use the word
substitute
as a verb, and it causes much confusion when people are discussing substitutions in a cooking context. For instance (as you will see from the expert opinions below)
, if you want to replace butter with margarine, you can say one of the following:
"substitute margarine for the butter"
(preferred)
"substitute butter with margarine" (seems to be frowned upon by grammar experts)
Better yet (and I have to remember this myself!),
for clarity, simply say
"replace the butter with margarine"!
Unfortunately, I often see phrases like this:
"I substituted the cocoa powder for chocolate milk mix"
(this is a real example)
In fact, the person
actually meant
(and I could tell this by reading the original recipe):
"I replaced the cocoa powder with
chocolate milk mix"
OR
"
I substituted chocolate milk mix for the cocoa powder"
This interests me because I want my recipes to be clear and understandable, and I'm trying to improve my own language in the recipes I write.
To
substitute
means to put a person or thing in the place of another; it does not mean to take the place of another.
When A is removed and B is put in its place, B is substituted for A and A is replaced by B.
Substitute
is wrongly used in:
"The Minister said he hoped to substitute coarse grain with homegrown barley"
The Minister ought either to have used the verb
replace
, or, if he insisted on the verb
substitute
, to have said
"to substitute home-grown barley for coarse grain"
if in a recipe butter is replaced by margarine, margarine is substituted (is the substitute) for butter. ... To avoid confusion, use
replace
instead of
substitute
as a verb.
See quote
on Google book
s.
F
rom the book
Quite literally: problem words and how to use them
By Wynford Hicks
For a more scholarly take on this, see also:
An article by Gunnell Tottie "
On Substituting
with
for
for
with
substitute
" (pps. 203-207), from the book
Contexts-- historical, social, linguistic: studies in celebration of Toril Swan
By Kevin McCafferty, Tove Bull, Kristin Killie, Toril Swan. (I read this is on
Google Books
, and you can't quote it or copy and paste it.)
All the best!

Posted by

Bryanna Clark Grogan
at 4:09 PM