Bryanna Clark Grogan's Vegan Feast Kitchen/ 21st Century Table: The kitchen journal of a vegan food writer.. I'm on Facebook and Twitter (see links in sidebar at right).
Tuesday, January 22, 2008
MY NEW COUNTERTOP "BRICK OVEN"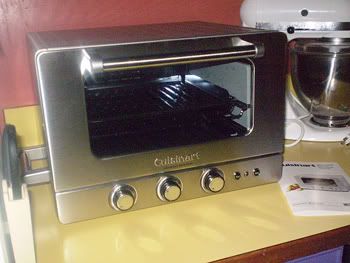 Yes, I am now the proud owner of a Cuisinart BRK-200 Brickoven. What, you might ask, do I need with another gadget on my (small) kitchen countertop? Well, it wasn't just a whim-- I actually had a good reason! It was either get this or buy a new stove. We bought our stove about 1 1/2 years ago and it's great-- I love it. Except for making pizza. Unfortunately, we did not realize when we bought it that the "covered element" is not on the bottom of the oven, but in the back wall! For this reason, pizza, even on a stone, never gets golden-brown and a bit crispy on the bottom. This has been a source of frustration for me.
When I read about this countertop oven with a brick lining that can handle a 12" pizza and lots more (and has convection), I decided to go for it. I made room on my counter by eliminating alot of junk and the small toaster oven. Our cupboards are at least 2 feet above the counter, so there was plenty of head-room.
My first experiment after setting up the oven was roasted asparagus, which I forgot to take a picture of. But, it was delicious! The oven heated up quickly and I'm sure it takes alot less energy to cook a pan of asparagus in this .9 cubic ft. space than in my 30" oven!
Next was pizza, of course: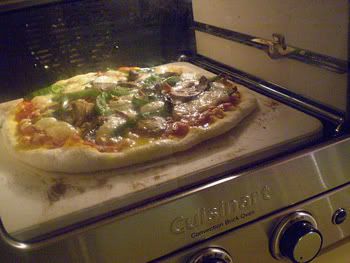 As you can see, I baked it right on the stone. I preheated the oven to 500 degrees F for 30 minutes (it takes a while for the stone to absorb all the heat). I made three 12" pizzas out of my
dough recipe
. The first one was a little dry, I thought, so I turned it down to 450 degrees F and the next two were great! The pizza bakes in 7-8 minutes.
Other experiments: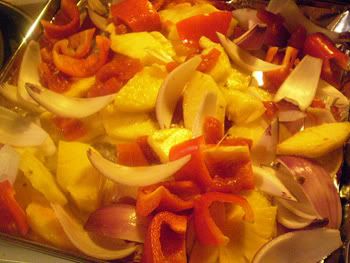 I roasted fruit and vegetables for a new salsa recipe for the upcoming Vegan Feast newsletter.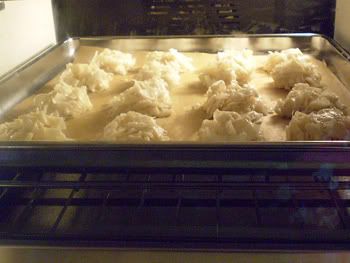 I made vegan coconut macaroons for the upcoming Vegan Feast newsletter.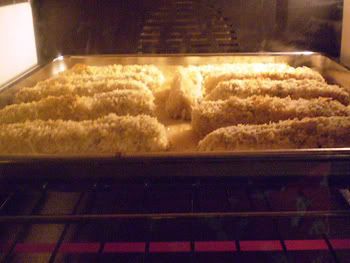 Oven-frying marinated tempeh slices in a crispy coating for the upcoming Vegan Feast newsletter.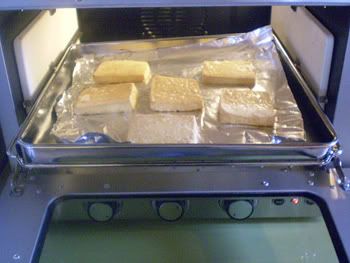 Oven-frying tofu slices for Japanese Noodle Soup.
The oven (without the stone) will heat up to 350 in 4 minutes, and 450 in 6 minutes. I figure this will be a big savings in electricity when doing small batches of this and that. But you can fit a large pie pan in the oven and I'm sure I can do a casserole, a seitan roast, a pan of brownies, etc., in it.
For just the two of us, I think I'll be using it every day. For large family gatherings and dinner parties, I'm sure it will come in very handy as an extra oven!
For oven-frying food items and roasting vegetables to avoid using alot of oil it will be great-- no guilt about firing up the big oven!
So far, I'm loving it-- no regrets! It's easy to use and many of my pans and casserole dishes fit in it. Next on my list to try is a loaf of
crusty bread
, which I'm told it does really well right on the stone. (Another recipe
here
.) And I have a perfect-sized cast iron pot in which to try the crusty
no-knead bread
in my new oven, too!
Cheers!

Posted by

Bryanna Clark Grogan
at 3:01 PM