Bryanna Clark Grogan's Vegan Feast Kitchen/ 21st Century Table: The kitchen journal of a vegan food writer.. I'm on Facebook and Twitter (see links in sidebar at right).
Monday, August 14, 2006
MEDITERRANEAN SOURDOUGH BREAD WITH SOY CAPPUCCINO

I haven't blogged for over a week! Summer kinda got away with me (not to mention a whole passle of little grandaughters!). Nothing earthshaking today, but I wanted to show you this yummy soy cappuccino (made with homemade soymilk) with chocolate shavings that made a great Continental-style breakfast with the following (partly wholewheat) bread: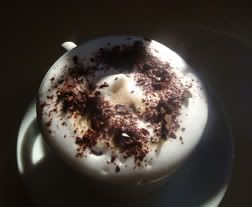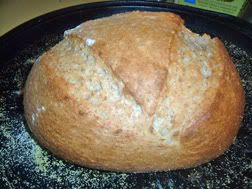 Sourdough Olive Oil Bread
ABOUT THE BREAD:
I know, it's summer-- who bakes bread? Well, I had some extra fresh sourdough starter that I wanted to use-- exactly enough for this loaf. And I got a new stove and wanted to test out the oven.
The recipe I used (see below) is actually a bread machine recipe
I developed, but I just mixed and rose it in the machine, and baked it in the oven.
It's delicious! (I developed several bread machine recipes using sourdough because I find most bread machine recipes kind of flat-tasting. Sourdough starter or an overnight yeast sponge both create a tastier bread, in my opinion.)
To bake it in the oven
, I used the dough cycle, and then formed the dough into a ball on a greased and cornmeal-dusted pizza pan and let it rise for about 45 minutes, well-covered. I heated the oven (with convection) to 400 degrees F. I slashed the loaf with a razor blade and misted it with water before placing in the oven.
NOTE: For an extra-crunchy crust and bigger holes in the crumb, you can bake this in a heavy covered pot, like a mini-brick-oven, if you like. See instructions here
.
I baked it for about 10 minutes, sprayed it again, baked another 5 minutes, lowered the heat to 375 degrees F and baked about 15 minutes more. (Do the knock-on-the-bottom-and-listen-for-the-hollow-sound test.)
Without convection
, you should lower the heat about 25 degrees and cook a bit longer.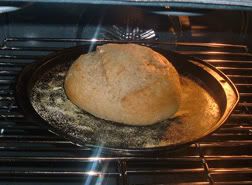 The crust was nice and evenly-golden and crisp, and the inside moist, with a pronounced sourdough flavor, despite the yeast (the addition of yeast tempers the tangy sourdough flavor, but this bread has a goodly amount of fresh sourdough starter in it). Try to resist cutting it right away-- it actually finishes the cooking process at it cools.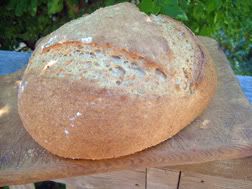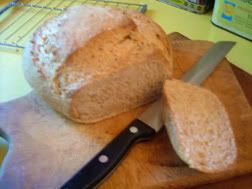 NOTE: If you are unfamiliar with sourdough
, see
http://veganfeastkitchen.blogspot.com/2006/04/1906-earthquake-in-sf-my-grandfather.html
My San Francisco starter, how to make it vegan and how to use and care for it is at that link. I actually have two vegan sourdough starters-- both are very reliable.
I also use the "Oregon Trail Sourdough Starter", which I treat the same way.
You can get a free (dried) starter (and it's a great story that goes with it!) here. You just pay postage.
(PS: I don't use the sugar and potato they call for in the instructions., and it works fine.)
If you would like a longer version of all this info, with recipes, write to me
via my contact page
.
Printable Recipe
BRYANNA'S ABM SOURDOUGH ITALIAN OLIVE OIL BREAD
Makes a 1 1/4 lb. loaf
A pretty fast recipe made with sourdough starter and yeast.
1 1/2 c. fresh sourdough starter
(less than 2 weeks old if stored in the refrigerator) (See Note above)
1 T. water
(hot if the starter is cold)
3 T. olive oil
1/2 T. salt
2 tsp. sugar
1 cup wholewheat flour
(or wholewheat bread flour in the USA-- Canadian flour is higher in gluten)
1/2 cup unbleached white flour
(or white bread flour in the USA)
1/4 c. bran
1 tsp.
dry active baking yeast
or 3/4 tsp.
instant yeast
Mix the ingredients in your
bread machine
according to the directions for your machine.
Use the French or Crusty Bread cycle according to your machine's directions.
Check the dough during the first knead to make sure that it is neither too dry, not too wet. If it's too dry, add water by the tablespoonful, letting it knead in, until it looks right. If it's too wet, do the same with flour. This should be a moist dough, but it should come together in a ball.
See instructions above for how to bake the bread in the oven.
If you want a more attractive top crust to the ABM bread,
5 minutes before the bread is due to bake (I set my kitchen timer to remind me of this), you can make a decorative slash in the top of the bread with a razor blade, and you can also glaze the bread with some soymilk, using a pastry brush, or sprinkle the top with flour.
Cover the "window" in the top of your machine with foil, so that the top of the bread will brown properly.
Remove the bread immediately from the machine when done, placing on a rack to cool thoroughly. This will insure a crisp crust.
Photo of the bread machine version: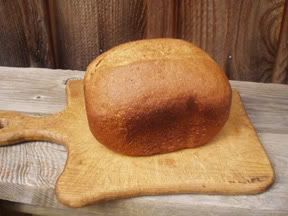 Enjoy!

Posted by

Bryanna Clark Grogan
at 3:37 PM