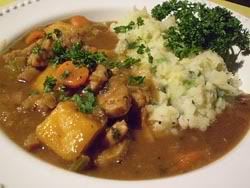 Vegan Irish Stew and Colcannon
With a name like Grogan, you've probably guessed that my husband is Irish (well, half-Irish, and half-Scottish). His request this year was my vegan Irish stew with dark Irish ale or stout in it. (see below about vegan beers, stouts, and ales.) The recipe from my book "
The Almost No-Fat Holiday
Cookbook". This time I had an organic turnip, so I used that in the stew (you can use parsnips instead, if you like), along with mushrooms and carrots, and I used textured soy protein (TVP) chunks for the "meat". I served it with Colcannon, a traditional dish of mashed potatoes with cabbage or kale added (I only had savoy cabbage in the house, so that's what I used, along with some green onion). My version is almost fat-free and very delicious with the gravy from the stew (see the Colcannon recipe below)!

VEGAN BEER, STOUTS AND ALES:
In the book mentioned above, I call for Guinness Stout in the stew. I later learned that Guiness is not vegan. Below you can read why this can be the case, and what alternatives you can use.
Why isn't alcohol necessarily vegan?
Wine is clarified, or cleared, after fermentation. Some of the ingredients used include:
- edible gelatins (made from bones)
- isinglass (made from the swim bladders of fish)
- casein and potassium caseinate (milk proteins)
- animal albumin (egg albumin and dried blood powder)
In the UK beer (bitter) is also commonly fined using isinglass. Many bottled bitters and most lagers are vegan. Guinness is not suitable for vegans. Most spirits are vegan except for Campari (contains cochineal) and some Vodkas (passed through bone charcoal).
Resources
The best resource for finding vegan wines, beers and other alcoholic beverages is http://barnivore.com/