Bryanna Clark Grogan's Vegan Feast Kitchen/ 21st Century Table: The kitchen journal of a vegan food writer.. I'm on Facebook and Twitter (see links in sidebar at right).
Thursday, March 22, 2007
100% WHOLE WHEAT BREAD AND MY NEW GRAIN MILL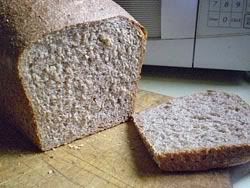 100% wholewheat bread made with freshly-milled hard red wheat
I just got a new grain mill. I've had a Magic Mill Plus III for many years, but it needs a bit of work and it is not being made anymore. We used it alot because both my DH and I make bread--DH makes it for private customers several times a week, in fact. So we have a new mill now, the
Wondermill.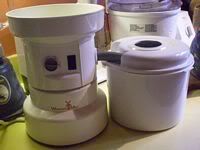 My new Wondermill (UPDATE: See this post for info about the new 2014 Wondermill.)
It is a totally different design than the Magic Mill Plus III, but the grinding mechanism is the same principle-- the "impact" or micronizer, which uses steel "teeth" or blades to mill grains or legumes into flour. (The Wondermill can grind legumes into flour, which was not recommended with the Magic Mill, so that's a plus!) The Wondermill makes a lovely fine flour. (BTW, you can't make cracked grain or very coarse flour with micronizer-type mills.) You can see the bran, which you can just mix in evenly.
If you want to have a healthier type of pastry flour, but a little finer than all wholewheat
, grind
soft
wheat kernels (soft wheat contains less gluten-- good for pie crusts, pastries, cakes and quick breads, and also for low-fat baking) and then sift out the coarse bran. Some of the finer bran and the wheat germ will stay behind with the flour. The bran can be used in cereals, muffins, etc.
The Wondermill is also quieter than the Magic Mill when it is actually milling grain (be advised, though, that no electric mill is quiet!), and it is ALOT easier to clean! I also found that there was no need to drape everything on my kitchen counter in towels (like I used to have to do!) to prevent a film of flour on everything (to be fair, my old Magic Mill needs a new gasket!).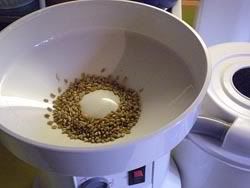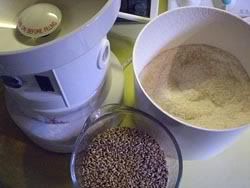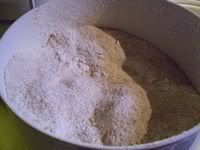 The Wondermill in action and with freshly-milled flour
Notice the container connected to the mill by a grey tube. The flour goes straight into the container and can be stored in it (some people get two containers, to have one for fresh-milling, and one for storage).
For more info about the Wondermill, dealers, reviews, go to this page .
One of the best reasons for having a grain mill (besides cost-- it's cheaper to grind organic grain than to purchase good organic flours, especially flours other than wheat-- particularly of benefit to those with food allergies and celiac disease), is freshness. As soon as grains are ground, they start to lose nutrients (just like vegetables after they are picked). So, the fresher your flour is, the better the nutrient content.
Yesterday, to try out the mill, I wanted to make a batch of bread with flour made seconds before I mixed it with the liquid ingredients, so I mixed my warm water and yeast in the Bosch mixer before I ground the grain. When the yeast was frothy, I dumped in the fresh flour warm from the grinder! Below is the recipe I prefer, and some photos of the process and the result, which was two light, moist, naturally-sweet-tasting 100% wholewheat loaves!
PS: I'LL POST A BREAD-MACHINE VERSION SOON!
TWO-LOAF BATCH OF WHOLEWHEAT BREAD (see the recipe below):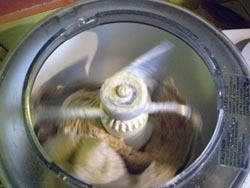 Kneading in the Bosch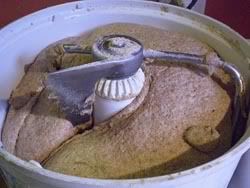 Risen dough-- who says you can't have light wholewheat bread?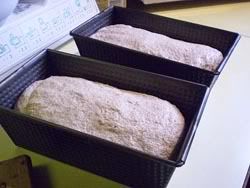 Dough in the pans before the second rising. We use the 8x4.4x3" Norpro
dimpled non-stick steel bread pans, available in many kitchen shops. They only need to be greased once in a while and they make a nicely-shaped bread for toast and sandwiches.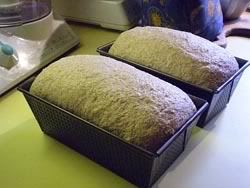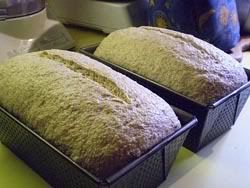 Loaves risen the second time, before and after slashing with a razor blade and ready for the oven.
After five minutes in a very hot oven, just before turning the heat down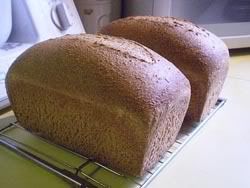 Fresh out of the oven!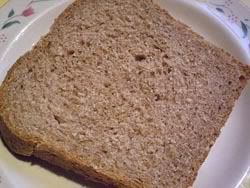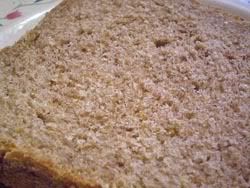 Close-ups of the cooled bread sliced, showing the nice moist crumb. It's not dry at all, and slices beautifully!
MY BREAKFAST THIS MORNING:
My husband says I eat weird things for breakfast sometimes! Maybe so, but this was delicious!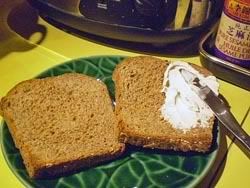 Wholewheat toast with Creamy Sheese Original and pea shoots (pea sprouts)!

UPDATE: My recipes for 100% wholewheat bread machine bread and no-knead 100% moist and tender wholewheat sandwich bread.
THE RECIPE:
Printable Recipe
BRYANNA'S BASIC TENDER 100% WHOLEWHEAT BREAD
Servings: 36/ 3/8"-thick slices
Yield: 2 loaves
You can double this recipe to make 4 loaves, but DO NOT double the yeast!
IMPORTANT NOTE! Before making this recipe, get an inexpensive oven thermometer and test the heat of your oven. Many ovens are as much as 100° off, even new ones! If it is seriously off, have it calibrated by someone from a company that sells and fixes stoves and ovens. Otherwise, you may have to adjust the temperature up or down when you bake.
I have been making this recipe for many, many years, but it has been perfected using my husband's unique baking technique, which makes a moist bread with a nice crust. This bread has at least one nice, long rise, which is the secret to making bread that has good flavor without using lots of sweeteners and fats. DO NOT cut corners on the time and try to use more yeast instead! Your bread will suffer.
2 3/4 cups very warm potato cooking water
OR warm water water plus 1/4 c. instant potato flakes
(you can get the organic variety)
1 Tbs sweetener of choice (I use organic sugar
)
1 1/2 tsp. (1/2 Tbs.) dry active baking yeast
(please DO NOT increase this amount!) OR 1 tsp. instant yeast
1/4 cup ground golden flax
(optional)
1 Tbs sea salt
(please DO NOT reduce this amount or leave out-- salt is important to regulate rising, as well as for taste)
2 Tbs oil
6-7 cups fresh wholewheat flour (4 1/2 c. hard wheat kernels
[red
or white
varieties] will mill into just about this amount of flour)
OPTIONAL: raw sesame seeds to sprinkle on the bottom of the pan
NOTE: Why use potato water?
Well, for one thing, it's a good use of water from cooking potatoes. But, seriously, the potato seems to help make 100% wholewheat bread nice and light-- I'm not sure why.
TO MAKE THE BREAD:
Dissolve the yeast in the potato water, along with the sweetener (I do this right in the bowl of my Bosch mixer). When bubbly, mix with the remaining ingredients, using a large bowl (or bowl of a heavy-duty mixer), including about 4 c. of the flour.
When that is well mixed, mix or knead in 2 more cups of the remaining flour. If the dough is too sticky, add the remaining 1 cup, a little at a time, but aim for a moist dough. I usually use the whole 7 cups, but the amount sometimes depends on the weather or the flour itself.
Knead in a heavy-duty mixer with a dough-hook (such as a Bosch) or by hand 10 minutes. (If kneading by hand, use as little flour as possible. Use a little oil on your hands and the kneading surface, if necessary. This prevents the addition of too much flour during kneading, which will make a dry dough.)
A two-loaf batch such as this one can be risen right in the Bosch bowl, with the cover on. However, you can transfer it to a large oiled bowl, oil the top, cover with plastic wrap (or place the whole bowl inside of a new small white bin-liner-bag and twist-tie it, leaving room for rising), and let rise for about 1 and 1/2 to 2 hours on the counter at normal room temperature (I prefer 2 hours to activate the enzymes which make bread taste good, and improve texture).
Shape into 2 even loaves and place in (greased, if necessary) 8-8 1/2" x 4 1/2" loaf pans. (If you like, sprinkle the bottoms of the pan first with a few raw sesame seeds. My husband always does this and it lends a little extra something to the flavor!)
Cover the loaves loosely (I place the pans inside of a new small white bin-liner-bag and twist-tie it, leaving room for rising) and let rise about 30-45 minutes, or until well-rounded over the tops of the pans.
After about 15 minutes of rising
, preheat oven to 480 degrees F with convection, 500 degrees F without.
Just before baking, slash the loaves with a razor blade (see photo above), and spray the loaves with water from a pump-sprayer (this helps you get a nice "oven-spring"). Place the loaves in the middle of the oven, and bake for 5 minutes. IMMEDIATELY LOWER HEAT TO 400 degrees F with convection, 410 degrees without (if you are baking 4 loaves at once, make the temperature 410 degrees F with convection, 425 degrees without), and bake for about 20-25 minutes (I baked them 20 minutes), or until golden brown and hollow-sounding when tapped on the bottom.
If your oven heat is uneven, switch the loaves around to different positions after the first 10 minutes at the lower temperature. Remove the loaves from pans immediately and cool on racks before slicing.
Nutrition Facts
Nutrition (per slice):
93.7 calories; 14% calories from fat; 1.5g total fat; 0.0mg cholesterol; 190.3mg sodium; 108.3mg potassium; 18.0gcarbohydrates; 3.2g fiber; 0.5g sugar; 14.8g net carbs; 3.5g protein; 1.4 points.
Happy baking!

Posted by

Bryanna Clark Grogan
at 10:06 AM