Bryanna Clark Grogan's Vegan Feast Kitchen/ 21st Century Table: The kitchen journal of a vegan food writer.. I'm on Facebook and Twitter (see links in sidebar at right).
Sunday, November 5, 2006
SMOKIN' PEAS, BEANS, BARLEY, AND GREENS SOUP

One of the products I brought home from my last trip to Portland OR was smoked salt, which I had never heard of before! I bought some
Salish
(alderwood smoked) sea salt. Here's a photo of the salt I bought, along with some
smoked pimenton
(paprika) from Spain: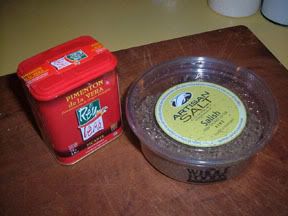 I was anxious to try it so I made the following soup, which is super-cheap and very homestyle-- a real favorite. I thought a smoky flavor would compliment it, and it did! Only 1/2 a teaspoon in the pot really added a lovely flavor. You've got to try this product!
Printable Recipe
BRYANNA'S SMOKIN' PEAS, BEANS, BARLEY AND GREENS SOUP (A Weight Watchers Core plan recipe)
Serves 6
6 cups vegetarian broth
2 medium onions, minced
3 ribs celery, with leaves, chopped
1/2 cup dried green or yellow split peas, rinsed
1/4 cup dried black-eyed peas, rinsed
1/4 cup pearl or pot barley
1 bay leaf
3 cups chopped greens of any kind (chard, rapini, Chinese broccoli, collards, kale, mustard greens, etc.)
2 carrots, chopped
1 tsp. dried basil
1/2 tsp. dried thyme
1/2 tsp.
smoked sea salt
freshly-ground black pepper to taste
Optional garnish:
smoked pimenton (sweet or hot)
Mix the broth, celery, onions, split peas, black-eyed peas, barley, and bay leaf in a large pot. Bring to a boil, then turn down, cover, and simmer for 1 and 1/2 hours.
Add the greens, carrots, basil, and thyme. Simmer about 1/2 an hour longer, or until the carrots are tender. Add the smoked salt and freshly-ground black pepper to taste.
Serve hot.
Nutrition (per serving):
155.8 calories; 4% calories from fat; 0.9g total fat; 0.0mg cholesterol; 49.6mg sodium; 606.3mg potassium; 30.8g carbohydrates; 8.5g fiber; 4.3g sugar; 22.3g net carbs; 8.4g protein; 2.4 points.
Enjoy!

Posted by

Bryanna Clark Grogan
at 5:05 PM


Labels: barley, blackeyed peas, Dreena Burton, DVD, greens, Julie hasson, smoked pimenton, smoked salt, soup, split peas, video, Weight Watchers Core Plan