Bryanna Clark Grogan's Vegan Feast Kitchen/ 21st Century Table: The kitchen journal of a vegan food writer.. I'm on Facebook and Twitter (see links in sidebar at right).
Wednesday, November 1, 2006
I'M BACK FROM FILMING FOR A COOKING DVD! (AND ODDS AND SODS)

I was down in Portland, OR last week, filming segments for a vegan cooking DVD that
Julie Hasson
and her husband Jay are producing, and which should be out early in 2007. Julie and I and
Dreena Burton
will all be cooking on it.
Check out a little video clip promo here.
It was great fun, but lots of work, too. My friend Holly did all the long-distance driving-- thank you, Holly! Julie kept us fed SO WELL, and Jay was very professional with the lighting and filming and everything! (And patient with my nerves!) They were excellent hosts, and we fell in love with their dog, Bruno!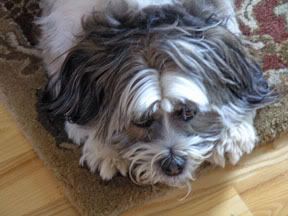 Bruno
Julie and Bruno
It was fun to be with another food fanatic, and we talked food, food, food! Julie took me to her favorite food stores (I loved Trader joe's and New Seasons!). I looked for products that I can't get where I live.
I bought smoked salt, smoked pimenton,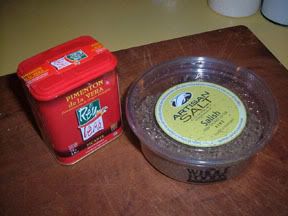 (which are delicious in chowders, stews, soups, etc!)

and vegan soy parmesan,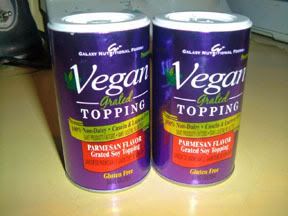 (Boy, I've missed this one! I used to get it in bulk and went through lots for my Italian cookbook, but we can't get it in Canada anymore!) UPDATE Nov. 1 2011: It IS available in Canada now, but only in these little containers. As far as I know, it is not available in bulk anymore, anywhere (except perhaps for restaurants.

and, for treats, Gardenburger BBQ Riblets, organic Newman-O's, and Soyatoo whipped soy cream (which now I'm told I can get in our town, as of very recently!).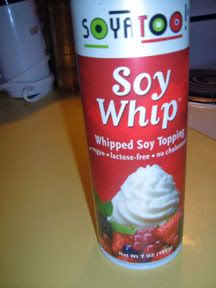 Also, Smoked Apple Sage Fieldroast "sausages"-- delicious!
We had them the day after I got home with my
gravy
, carmelized apples, and frozen potato and onion pyrogies: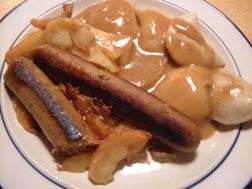 We did have greens on the side!
We had homemade delicious Indonesian tempeh dishes and yellow rice with mutual friends
Yongkie and Pokie Hurd
, who make it themselves.
Yongkie and Pokie with Jay and Julie before dinner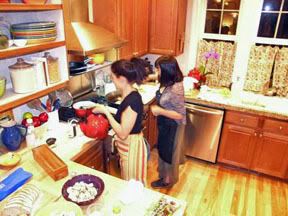 Julie and me in Julie's kitchen preparing a few quick additions to the dinner.
Tucking in!
We went to the farmers market on Saturday and had the most delicious vegan tamales! Now I am getting ready for a tamale binge! We went to a Lebanese restaurant and saw a great bellydancer. The food wasn't the best I've had, but she was great. (Have to get her name from Julie.)
*******************************************************************
I'm still catching up with work and family and have hardly had time to breathe since getting back!
We had a little congratulatory party just before I left for our friend Mike, who got his landed immigrant status, finally! Along with his spouse Fireweed, my mother, and our friend Suzanne, we enjoyed a butternut squash and walnut lasagna, salad and, a coffee-flavored cake with coffee icing, chocolate ganache and hazelnuts.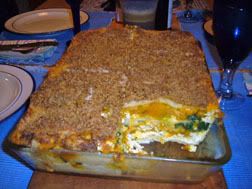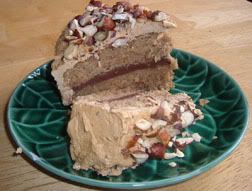 UPDATE: This recipe is in my book World Vegan Feast
**************************************************************************
HALLOWEEN
Last night I made vegan beignets rolled in cinnamon sugar, something I've done for many years at Halloween: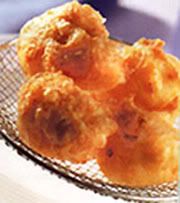 PS: Portland photos by Holly Walker.
Cheers!

Posted by

Bryanna Clark Grogan
at 3:57 PM