Bryanna Clark Grogan's Vegan Feast Kitchen/ 21st Century Table: The kitchen journal of a vegan food writer.. I'm on Facebook and Twitter (see links in sidebar at right).
Saturday, November 18, 2006
STORMS, AND BAKED ORANGE FRENCH TOAST WITH BUMBLEBERRY SAUCE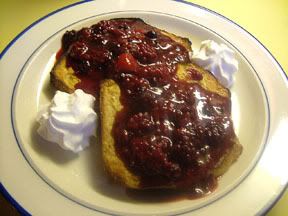 Baked vegan French Toast with "Bumbleberry" Sauce and Soyatoo vegan whipped topping
We actually had a whole day without power outages yesterday! But there is another big storm coming, so it's "batten down the hatches" time again!
(See a picture of a BC ferry fighting the storm on Weds. Click on the photo for a larger view.)
Our little islands (Denman and Hornby) have an additional problem. Here is the explanation from BC Hydro:
"Service to Denman Island is provided as three-phase, at 25,000 volts using three relatively old submarine cables that are near their end of life. An extra cable (fourth) is used as a spare cable for back up and is relatively new in comparison. Service is continued from Denman Island to Hornby Island.
BC Hydro initiated a planned outage on Sunday to test the condition
of the four undersea cables that serve Denman Island. Service was restored back to normal later that day after successfully completing the tests. On Monday, in the early morning, one of the undersea cables faulted and resulted in a power outage. We switched power to the fourth or spare undersea cable and re-energized the circuit. Later that same day, a second undersea cable faulted.
The service to both island's is now at single-phase, 14,400 volts.
For residential customers this means business as usual. However, for commercial customers such as the Co-op and schools, that use three-phase power, the current service is insufficient and requires a three-phase diesel generator. We are working with those customers for short-term solutions.
With the age and condition of these failed cables, they must be replaced. BC Hydro is now developing a plan to replace all three of the original aged submarine cables (approximately 6000 meters), as well as the two failed cables, with new cables with more capacity. This will improve reliability to the islands. BC Hydro will be removing the failed cables, lay the new cables, and tie in the new equipment to return Denman and Hornby to three-phase power. At this time we are unsure how long this process will take, but we hope to begin the seven days of work beginning Monday. There will be a few planned, short duration outages during this work. We will update you on Monday with more information, and the planned outages, as the plan comes together.
Thank you for your patience.
The outage on Wednesday and Thursday was due to extreme winds and trees contacting our lines. At one point on Wednesday we had just over 200,000 customers without power throughout the BC Hydro system."
**********************************************************
Oh, well-- what can you do? Just be prepared.
In the meantime, I'm getting this blog done!
We had a kind of fancy Saturday breakfast this morning-- baked (therefore lower in fat) vegan French toast with berries and whipped "cream", and soy cappuccinos!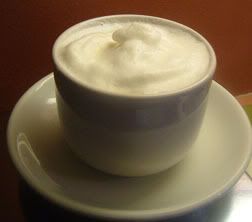 I used the vegan whipped topping in a pressurized can,
Soyatoo
, which is quite delicious! It comes from Germany and is trans-fat-free!
(UPDATE: I now prefer the whippaple version in the tetrapack box.)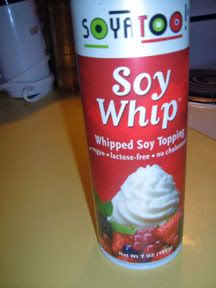 BRYANNA'S BAKED VEGAN ORANGE FRENCH TOAST WITH "BUMBLEBERRY" SAUCE
makes 6 slices
Kids (of all ages!) love French toast. This recipe eliminates the usual eggs, milk, and butter. High-fiber, essential-fatty-acid-rich flaxseeds (and a little powdered egg replacer) take the place of eggs.
This is an orange-flavored version and is topped with a mixed-berry (that's what "bumbleberry" means!) sauce containing very little sugar! The whipped topping is optional.
This method is handy for cooking for a crowd— just multiply the recipe as needed.
******************
6 slices slightly stale light sprouted wheat bread (such as
Silver Hills
)
BATTER:
1 c. non-dairy milk (I used soymilk, but nut milk would be yummy! If you use
Almond Breeze
or
So Delicious Coconut Milk Beverage
(both Original), the nutrition facts are just about the same.)
1/2 c. fresh orange juice
1 T.
golden flax seeds
(whole)
2 tsp. powdered egg replacer (
Ener-G
or
Orgran
)
2 tsp. grated orange zest
1/2 tsp. vanilla or
vanilla paste
1/4 tsp. salt
A few gratings of nutmeg
OPTIONAL: 1/4 tsp. cinnamon
BUMBLEBERRY SAUCE:
3 cups frozen mixed berries, thawed
1 1/2 Tbs. vegan sugar
2 tsp. cornstarch dissolved in 1 Tbs. water or juice
OPTIONAL: 2-4 tsp. grated orange zest
Preheat the oven to 500°F.
Blend together the batter ingredients in a blender until smooth. Soak the bread slices in this mixture in a 9x13" glass pan while the oven heats up. Turn the slices over a few times to make sure they are evenly soaked.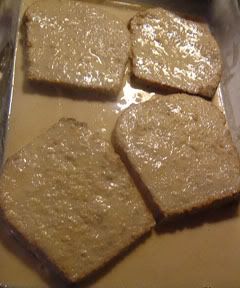 Place the soaked slices on a nonstick or lightly-oiled DARK cookie sheet (dark pans brown better), sprayed with oil from a pump sprayer. Spray the tops a little bit, too. Bake 10 minutes in the bottom third of the oven (use convection, if you have it),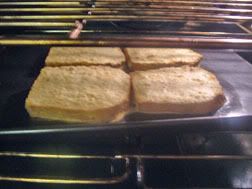 then turn and bake about 5 minutes more, or until golden and crispy on the underside.
WHILE THE FRENCH TOAST IS BAKING, make the Bumbleberry Sauce. Mix all of the sauce ingredients in a saucepan and stir over medium-high heat until thickened and bubbly; OR microwave in a medium, deep microwave-safe bowl (deep in order to avoid splashes) for about 2 minutes, or until thickened and bubbly.
Serve hot over the French toast.
VARIATION:
Overnight French Toast:
Soak the slices in a double recipe of batter (in an oiled shallow baking dish) overnight in the refrigerator. (You can use a crusty bread, cut 1/2" thick, if you like.) Then cook in the oven, as above.
Servings: 3
Yield: 12 half slices
Nutrition Facts
Nutrition (per serving):
351.1 calories; 10% calories from fat; 4.0g total fat; 0.0mg cholesterol; 474.1mg sodium; 539.1mg potassium; 68.0g carbohydrates; 17.6g fiber; 23.9g sugar; 50.4g net carbs; 4.6g protein; 6.6 points.
Enjoy!

Posted by

Bryanna Clark Grogan
at 10:40 AM