Bryanna Clark Grogan's Vegan Feast Kitchen/ 21st Century Table: The kitchen journal of a vegan food writer.. I'm on Facebook and Twitter (see links in sidebar at right).
Monday, November 13, 2006
POWER OUTAGES, CRISPY GINGER COOKIES, AND SEITAN GALORE!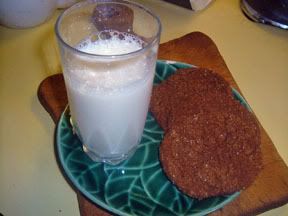 Big, crisp ginger cookies with a glass of homemade soymilk
Okay, this is Take 3! I've been trying to write this blog entry for quite some time now, but the power went off AGAIN! So, I'm writing this on Word, which saves automatically every minute, and I hope to actually post it soon!
It began yesterday, with a planned outage, supposedly to check the underwater cables between Denman and Hornby Islands and the Big Island (Vancouver Island). Power went back on in the afternoon and we thought we were all set. I got up at midnight and the power was off again! No storm. We woke up early and phoned BC Hydro…got their automated message that they were investigating and it should be on again at noon. Of course, it was a Stat Holiday today (for Remembrance Day, which was actually on Saturday), so you couldn't get a human being on the phone! Long story short-- power went on again at 9:15 am; off again at 10:20; on again at 2: 35, and since then it's been off and on about 4 times, with dimming in between! Arrrggghhh! I'm taking a chance having the computer on at all. I've sneaked in a shower and some laundry.
DH worked at the bakery today, which was challenge because, though the ovens are propane, they need electricity for the proofer and slicer and mixers. They eventually got a generator in, but could only use one machine at a time, and had to knead LARGE batches by hand at times.
It has been very quiet these last two days, but I had time to organize a lot of papers and do a good, long weight routine! We are actually in pretty good shape for outages, with an emergency outhouse, a butane cooker, candles and kerosene lamps, a plug-in phone, etc… But water is tricky, as we are on a well with an electric pump. If you aren't prepared, you have to pray for rain and collect water in buckets! (Luckily, it rained today!)
Anyway, last night, while the power was on, DH requested ginger cookies. I shouldn't be making cookies while I'm doing WW, but… it was treat! I took an old recipe of mine and cut the fat in half by substituting corn syrup for 1/2 the Earth Balance. I also cut out the chilling step for the dough and just rolled the soft dough in sugar. They are crispy and delish!
BRYANNA'S BIG, CRISP GINGER-MOLASSES COOKIES
Makes 24 cookies
Good dunkers!
Idea: replace all or some of the the corn syrup with applesauce and perhaps get a softer, chewier version.
1/4 cup vegan butter
(UPDATE: try my homemade Palm-oil-free Vegan "Buttah")
1/4 cup corn syrup
(you can get organic corn syrup in health food stores)
NOTE: You can try replacing the corn syrup with golden syrup, agave nectar or brown rice syrup-- not sure that it will give the cookies the same texture, though.
1/2 cup brown sugar
(you can get the organic variety)
1/2 cup dark molasses
1/2 Tbs baking soda dissolved in 2 T. water
2 cup whole wheat pastry flour
1 Tbs powdered ginger
3/4 tsp each cinnamon and allspice
1/4 tsp salt
unbleached sugar for rolling
Preheat oven to 375°F.
Cream together the Earth Balance and the sugar in a medium bowl, then blend in the corn syrup and molasses. In a smaller bowl, whisk together the flour, salt and spices. Add the dissolved soda to the molasses mixture, then the flour mixture. Mix well.
Have two large greased or nonstick cookie sheets ready. Also have a flat soup bowl or plate with some unbleached sugar in it ready. Scoop balls of the dough about the size of a large walnut out with a tablespoon and drop them into the sugar Carefully turn the blob of dough until it's covered with sugar and more-or-less round. Place the dough mounds on the cookie sheets with plenty of room between them (they spread).
Now, if you want thin cookies, press them down with the bottom of a smooth glass dipped in sugar (as in picture).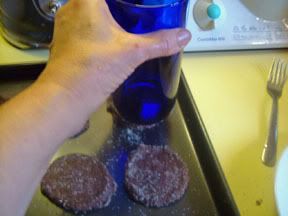 If you want them thicker, leave "as is".
Bake for 8-10 minutes, or until the bottoms are slightly browned. Place the pans on racks and immediately cut the cookies apart from eachother with a table knife, and then, with a thin spatula, loosen them from the pan. (If you don't do this right away, it will be hard to get them off the pan after they cool!) Allow to cool on the pans on the racks for about 10 minutes.
Remove the cookies from the pan and place on racks. Store in a tightly-covered container after thoroughly cooled.

Nutrition Facts
Nutrition (per serving): 103.1 calories; 17% calories from fat; 2.0g total fat; 0.0mg cholesterol; 128.5mg sodium; 230.6mg potassium; 21.0g carbohydrates; 1.3g fiber; 9.3g sugar; 19.6g net carbs; 1.4g protein; 2.0 points.
Before baking:
After baking: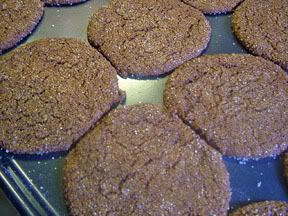 ***********************************************
I've been working on seitan recipes:
UPDATE, NOVEMBER 2014: Obviously, my plan for a seitan cookbook never materialized. I still have plans for it, though. If I can't find a publisher (and the ones I've talked to seem reluctant because of the gluten-free mania), I may just do it as an e-book. Any ideas?
"Neatballs" are an invention of mine to make vegan "meatballs" that don't fall apart in a sauce. This time I also made them into "keftas" (ovals).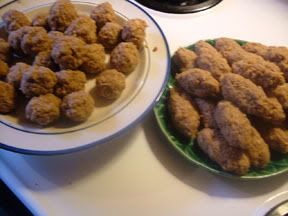 Uncooked vegan "neatballs" and "keftas" (or "lady's thighs"!!)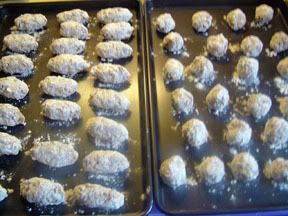 The same, rolled in flour and ready to bake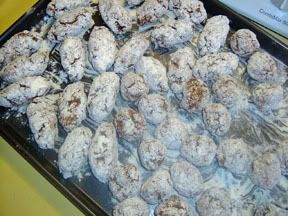 Baked
Cooking the keftas in a cumin-tomato sauce-- they plump up nicely!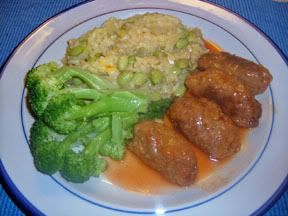 Ready to be devoured!
The following pictures are of my tender, sliceable vegan "pork tenderloin" roast, which I rubbed with a garlic-herb mixture and I also inserted slivers of garlic into it when I baked it before serving.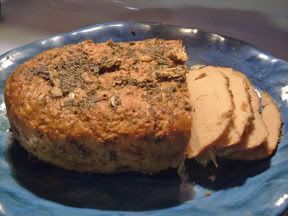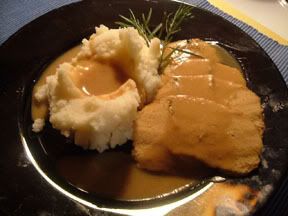 I invented a vegan "kebab meat" and made shish kebab with it on Saturday. DH LOVED them!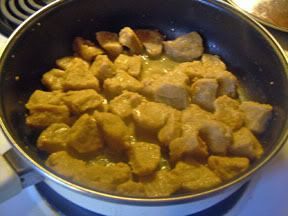 Cooking and flavoring the "kebab meat"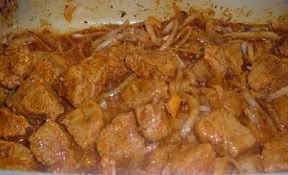 Marinating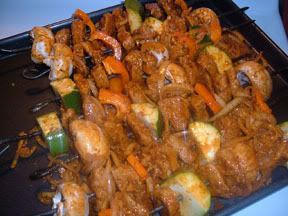 Ready to grill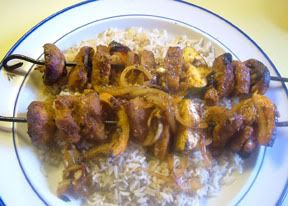 Ready to eat!
Enjoy!

Posted by

Bryanna Clark Grogan
at 4:03 PM