Bryanna Clark Grogan's Vegan Feast Kitchen/ 21st Century Table: The kitchen journal of a vegan food writer.. I'm on Facebook and Twitter (see links in sidebar at right).
Thursday, November 9, 2006
A CREAMY PEA SOUP, DUTCH PUMPERNICKEL BREAD, AND WHAT TO DO WITH TOMATILLOS!

I haven't been blogging much-- been updating my website, and catching up with work in general (except for housework, which is slated for this weekend-- oh joy!)! But I have been cooking quite a bit, working on recipes for the next newsletter, and making seitan .
This morning I made another soup from Deborah Madison's soup book and it was very tasty!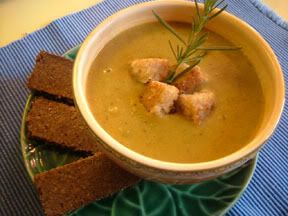 MY VERSION OF DEBORAH MADISON'S CREAM OF SPLIT AND FRESH PEA SOUP
This is another recipe I tried from Deborah Madison's book
"Vegetable Soups from Deborah Madison' s Kitchen"
(
here's another one
I veganized). Again, I lowered the fat by 3 Tbs. in total, and veganized it by using my
homemade Tofu Sour Creme
instead of half-and-half and lemon juice. I added more flavor by using a good vegetarian bouillon instead of water and salt. (I also eliminated the 2 Tbs. parsley because I didn't have any!) This soup gave me a chance to try out the smoked pimenton I bought in Portland.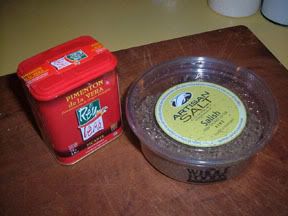 Here's a picture of the smoked paprika on the left.
1 cup green split peas, soaked in hot water while you prepare the veggies
1 Tbs olive oil
1 large onion, chopped
2 medium carrots, scrubbed and diced small
1 large stalk celery, with leaves, chopped
2 Tbs chopped fresh rosemary
2 bay leaves
2 large cloves garlic, chopped
1/2 tsp smoked pimenton (smoked Spanish paprika-- I used the hot version)
6 cups chicken-style vegetarian bouillon (I like Better Than Bouillon No-Chicken Vegan broth paste)
2 cups frozen peas
1 cup
Tofu Sour Creme
grated zest of 1 lemon
1 Tbs vegan butter (here's
my homemade palm-oil-free version
)
1 cup light wholewheat bread cut in small cubes
Put the split peas on to soak in hot tap water while you prepare the other ingredients.
In a soup pot, heat the oil; then sauté the onions, carrots, celery, half the rosemary, and bay leaves over medium heat, stirring often, until softened and a little browned. Stir in the garlic and smoked paprika and stir-cook for a few minutes more.
Drain the split peas and add them to the pot with the broth. Bring to a boil, then turn down, cover and simmer for 1 hour, or til the peas start to break up. Add the frozen peas and cook for a few minutes.
Puree the soup in the pot with a hand immersion blender until smooth (or blend in two batches in a blender. (Caution: take the middle part of the blender lid out and cover it with a clean, folded tea towel while blending-- this prevents explosions of hot soup!
Add the Tofu Sour Creme and lemon zest to the soup and stir well while heating gently. taste for salt, pepper, etc. You can add more smoked paprika, lemon juice, lemon zest,e etc., according to your taste.
Melt the Earth Balance in a nonstick skillet. When hot, add the bread cubes and toss over medium-low heat for 6-8 minutes, or until crisp.
Add the remaining rosemary, a pinch of salt and a few drops of lemon juice and stir until crispy again.
Serve the soup with a few croutons on top.
Servings: 6

Nutrition Facts
Nutrition (per serving): 234.5 calories; 19% calories from fat; 5.2g total fat; 0.0mg cholesterol; 214.7mg sodium; 559.6mg potassium; 34.4g carbohydrates; 11.9g fiber; 8.6g sugar; 22.5g net carbs; 14.3g protein; 4.3 points.
*******************************************************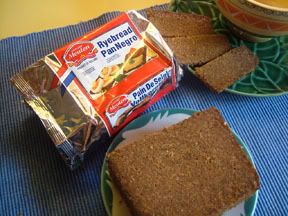 As you can see in picture of the soup, I ate this soup with some thin slices of that dark Dutch rye pumpernickel bread that comes in sort of blocks. My dad used to buy that for us and we ate it with cream cheese and lots of other things. It still reminds me of him! I could eat it like candy, even though it's very nutritious.
Actually, it's not hard to make:
BRYANNA'S DUTCH PUMPERNICKEL BREAD
2 small loaves
If you've never tried those little loaves of firm, dark, thinly-sliced pumpernickel bread that you see in delis, you're in for a treat! If you have some sourdough starter, it's really easy to make. It's chewy and moist and keeps well. You can start it the night before and let sit overnight to ferment.
Here's a link to my post on vegan sourdough starter.
3 Tbs dark molasses
1 1/4 cups boiling water
1/2 cup bulgur wheat
1/2 Tbs salt
1 Tbs oil
1/2 cup fresh, bubbly sourdough starter
(you can use any sourdough starter-- see link above for info)
2 1/2 cups rye meal, coarsely-ground stone ground rye flour, or pumpernickel flour
Stir together the molasses, boiling water, bulgur, salt and oil and let stand until lukewarm. Add the remaining ingredients and let sit in a warm place for at least 8 hours. Knead the dough briefly, flouring the board with whole wheat flour, then press into two greased fruitcake loaf pans (3x5"). Cover with foil and let stand 30 minutes (you won't notice any rising). Set in a cold oven, turn it to 275°F. and bake for 2 hours. Turn out on a rack to cool, covering with a clean towel. The bread will keep, well-wrapped for several weeks, or can be frozen (slice first). Slice very thinly.
Yield: 20 small slices

Nutrition Facts
Nutrition (per slice): 72.1 calories; 12% calories from fat; 1.1g total fat; 0.0mg cholesterol; 171.9mg sodium; 184.2mg potassium; 14.5g carbohydrates; 3.6g fiber; 0.2g sugar; 10.9g net carbs; 2.4g protein; 0.8 points.
*************************************************************
Now this doesn't go with the recipes above, but my friend Holly Walker grew some
tomatillos
in her garden and gave me some. Here's what I did with them:
SALSA VERDE (A Weight Watchers Core Plan recipe)
This was delicious! This recipe is adapted from one from Steve Raichlen's "Healthy Latin Cooking".
1 lb fresh tomatillos, husked and cut in half
1 small onion, chunked
2 Tbs sliced pickled or canned jalapeños
2 large cloves garlic
1 tsp dried oregano
1/3 cup vegetarian bouillon
Heat a large heavy skillet, such as cast iron. Add the cut tomatillos, onion, jalapeños, and garlic. Toss over medium-high heat until they are browning.
Pour the vegetables in a food processor with the rest of the ingredients. Pulse until it's a slightly chunky puree. Taste for salt and pepper.
Refrigerate before serving.
Yield: 2 cups

Nutrition Facts
Nutrition (per 1/4 cup): 14.3 calories; 17% calories from fat; 0.3g total fat; 0.0mg cholesterol; 0.7mg sodium; 95.8mg potassium; 2.9g carbohydrates; 0.8g fiber; 1.5g sugar; 2.1g net carbs; 0.4g protein; 0.2 points.
Enjoy!

Posted by

Bryanna Clark Grogan
at 3:37 PM


Labels: bread, bulgur, Deborah Madison, molasses, pumpernickel, rye, rye bread, salsa verde, smoked pimenton, soup, sourdough, split peas, tomatillos, Weight Watchers Core Plan