Bryanna Clark Grogan's Vegan Feast Kitchen/ 21st Century Table: The kitchen journal of a vegan food writer.. I'm on Facebook and Twitter (see links in sidebar at right).
Monday, April 17, 2006
CINNAMON ROLL LAMB, EASTER LEFTOVERS AND ENCHILADA CASSEROLE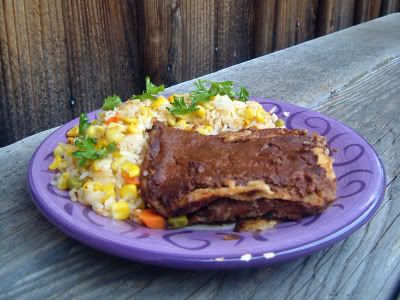 Just a quick entry today...here is an "Enchilada Casserole" I made with leftovers from my Mexican Easter dinner from the new Vegan Feast subscriber newsletter. I'd been working on the computer all day and hadn't even thought about food. So, rummage through the fridge and freezer and see what's there....homemade corn tortillas, molé sauce, Frijoles Borrachos ("Drunken Beans"), Mexican Rice, my homemade Tofu "Queso Fresco"-- all recipes from The Vegan Feast newsletter. Enchilada casserole is easier and quicker than rolled enchiladas, so that settled that! I had 8 tortillas, so I layered 4 of them in the bottom of a 9" square baking pan (on top of a little of the molé sauce), spread the beans on top, crumbled the "Queso Fresco" over that, then the other 4 tortillas, and a good amount of molé sauce. (Molé sauce is a rich, dark savory sauce that contains chocolate!) Baked it for 20 minutes at 350 degrees F, and served with salad and the Mexican Rice, to which I had added some frozen corn. Yum! (You could use any other Mexican-style beans and vegan cheese.)
Yesterday I made my Cinnamon Roll Lamb for the kids. Here are the pictures of it unrisen, risen, and baked and glazed. It's always a big hit. SEE THE RECIPE BELOW.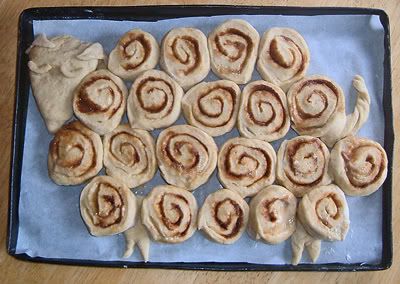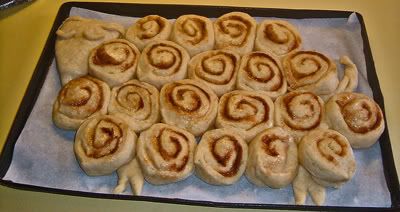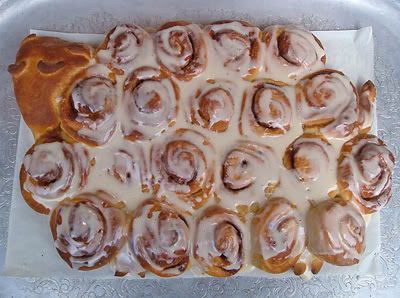 Printable Recipes
BRYANNA'S EASTER CINNAMON ROLL LAMB
This is an Easter tradition in our home and the kids love it!
NOTE: You can use any favorite cinnamon roll dough (the amount you need for this recipe would contain about 2 1/2 cups flour) to make this. See my low-fat dough recipe below.
Use half of the risen dough. Pinch off about 1/4 of the dough and set it aside, covered, for the head, legs and tail of the lamb.
Roll the remaining portion into a 10x15" rectangle. Spread this with
2 T. Tofu Sour Creme, or vegan margarine (try my homemade palm-oil-free buttery spread), or any low-fat spread and sprinkle with
1/4 c. sugar mixed with 1 1/2 tsp. cinnamon.
Starting at one long edge, roll it up like a jelly roll. Seal the edge well. With a sharp knife, cut the roll into 20 slices, each about 3/4" thick.
On a non-stick or lightly-oiled baking sheet, arrange the slices side by side in 4 rows-- 4 slices in the top row; 5 slices in the second; 6 in the third; and 5 in the bottom row. This forms the body of the lamb.
Use the reserved dough to make a round bun for the head, with a triangular-shaped nose, bits of dough rolled into little "snakes" for closed "eyes", two pointed ears, two hoofed feet, and a tail . Attach them, tucking under the "body".
Cover and let rise until doubled. Bake at 325 degrees F for 25 minutes, or until golden brown. Brush head, feet and tail with Sweet Bread Glaze (see recipe below) . Spread the "body" with your favorite icing (powdered) sugar glaze, or Sugar Glaze or White Maple Glaze (recipes below), made with orange or almond extract.
MY DOUGH RECIPE:
The following recipe and variations is from my book "The Almost No-Fat Holiday Cookbook":
NOTE: If you want a richer dough, use only 3/4 c. mashed potatoes and add 1/4 c. softened vegan margarine
(try my
homemade palm-oil-free buttery spread
)
.
BRYANNA'S FAT-FREE VEGAN SWEET YEAST BREAD DOUGH WITH VARIATIONS
Makes 2 loaves or 32 small rolls
This is a great basic dough for breads that usually call for eggs and butter-- it's light and moist and just slightly sweet. I'll give you a few variations , but please experiment by adapting your own favorite sweet breads to this dough.
2 c. warm non-dairy milk (I prefer soy milk)
1 pkg. or 2 1/2 tsp. regular baking yeast (dry active yeast)
(NOTE: If you use instant yeast, use less-- 1 1/2 to 2 tsp.)
1 c. leftover mashed potatoes (1/2 lb. peeled potatoes, cooked and mashed)
OR 1 c. instant mashed potato flakes mixed with 2/3 c. boiling water
1/2 c. wheat germ
1/4 c. maple syrup
1/4 c. organic unbleached sugar
1 T. lemon juice
2 tsp. salt
1/4 tsp. turmeric
5 c. unbleached white flour
In a large mixing bowl or the bowl of a heavy-duty mixer, combine the milk and yeast. When the yeast has dissolved, add the mashed potatoes, wheat germ, syrup, sugar, lemon juice, salt, and turmeric. Mix in the unbleached flour. Knead well for 5 to 10 minutes (using as little flour as possible if kneading by hand-- the dough should be soft and a bit sticky).
Place the dough in a greased bowl which will allow for doubling of the dough, turn it over to grease the top, and cover with plastic wrap, or place inside of a large plastic bag (to prevent the dough from drying out). Rise overnight or for 8-12 hours in the refrigerator (this dough handles best when cold).
Several hours before serving, shape the dough into two loaves, or 16 large loaves, or 32 small rolls, according to the variation recipe you are using. Cover and let rise in a warm place until doubled. Bake at 350 degrees F for 20-45 minutes, depending upon the size and shape of the loaves or rolls. (Solid round or pan loaves may take as long as 45 minutes; long, braided, or ring loaves about 30 minutes; small rolls 20 minutes.) Cool on racks and decorate as directed in the variation recipe.
BRYANNA'S WHITE MAPLE GLAZE Makes 1/2 c.
This can be used on sweet yeasted breads, tea breads, cupcakes, etc..
1/2 c. good-tasting
soy or rice
milk powder (do not use bulk soymilk powder)
4 T. Grade A light maple syrup
1/4 tsp. vanilla or other flavor extract
Mix the ingredients together thoroughly in a bowl. For a thin glaze, spread it on the hot bread or cake. For a firmer glaze, spread it on the cooled bread or cake.
BRYANNA'S SOY-SUGAR GLAZE Makes about 1/2 c.
For a sweeter glaze that gets a bit crusty, try this easy one. If you use unbleached sugar, it's more beige than white. It's good on baked doughnuts or muffins baked in miniature bundt pans .
1/2 c.
organic unbleached sugar
2 T. soy milk
2 T. isolated soy protein powder
1/4 tsp. vanilla or other flavor extract
Melt the sugar and soymilk together in a small saucepan over medium heat, stirring, or MICROWAVE in a microwave-safe small bowl for 1 minute. Beat in the soy protein powder and vanilla with a hand blender or electric mixer. Spread on hot cake, etc..
Happy Easter!

Posted by

Bryanna Clark Grogan
at 7:01 AM