Notes from the Vegan Feast Kitchen/ 21st Century Table: The kitchen journal of a vegan food writer...For the 21st century we need to learn to cook for ourselves again, and learning to cook vegan can be a bit intimidating. I'd like to help with that, from my kitchen to yours. (Photo by Scott Hurlbert) I'm now on Facebook and Twitter(see links in sidebar at right).
Saturday, April 15, 2006
BAKING LESSON

This year's Tsoureki
Today three of my grandaughters made Greek Easter bread with me. I made a big one, and they each made a small bread with 1/3 of the remaining dough to bring home. (They also made some amusing-looking "buns" out of leftover hot cross bun dough!)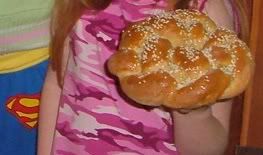 Have a wonderful Easter, everyone!
Posted by

Bryanna Clark Grogan
at 4:27 PM