Bryanna Clark Grogan's Vegan Feast Kitchen/ 21st Century Table: The kitchen journal of a vegan food writer.. I'm on Facebook and Twitter (see links in sidebar at right).
Saturday, May 30, 2009
BULGUR WHEAT, AN ANCIENT, HEALTHFUL FAST FOOD!

"Fruity Tabouli" from my book "World Vegan Feast".
This post was updated on May 31, 2018.
BULGUR WHEAT IS A LOW-GLYCEMIC WHOLE GRAIN:

Articles on the nutrition of bulgur wheat:
https://www.livestrong.com/article/256333-what-are-the-benefits-of-bulgur-wheat/
https://www.livestrong.com/article/500635-can-you-eat-bulgur-wheat-with-diabetes/
https://www.quora.com/Is-bulgur-wheat-a-good-carbohydrate
http://www.nutridesk.com.au/bulgur.phtml
WHEAT-FREE BULGUR; GLUTEN-FREE BULGUR AND COUSCOUS SUBSTITITES (see end of this post)
This time of the year almost always keep a grain salad on hand for snacking. Grain salads are hearty, filling, nutritious, and, the way I make them, low in fat. Tabouli (also spelled tabbouleh or tabbouli), the lemony Levantine bulgur wheat and parsley salad, is well-known to vegans and omnis alike. Sometimes it's the only thing we vegans can eat at a potluck! But I never get tired of it.
The other day I was craving some tabouli, but I didn't have any tomatoes. I've made other versions before-- I guess you can't really call them tabouli, but I do, anyway!-- but I decided to use chopped fresh orange and mango instead of tomatoes and green peppers, and add a few kalamata olives for a savory touch. The result was delicious and I was sorry when there was no more left!
"Also known as bulgar, bulgour, or burghul, this very versatile food, is believed to have been first eaten in the Euphrates Valley as far back as 5000 BC. Since then, it has been on the daily menu of the people of the Middle East," writes Canadian cookbook writer and historian Habeeb Salloum in his article "Bulgur, the noblest food achieved by wheat" in the

Vegetarian Journal

, Jan/Feb 2004. In this article he describes how his Syrian immigrant family made their own bulgur on the Saskatchewan prairie. He and his young siblings did not appreciate the hard work involved in making bulgur, but he now appreciates the value of bulgur to Middle Eastern cuisine, and even modern, Western cuisine. He writes, "Simple to prepare, this ancient food is an inexpensive, succulent, and versatile cereal. It is cooked in the same fashion as rice, which it commonly replaces, and takes about 20 minutes to prepare. It can be used in all types of dishes, and it can be employed in every course and every meal of the day."
Bulgur pilaf was one of the first dishes I learned to make as a child. I learned it from Rosie, a good friend of our family who was an Armenian refugee in California. Now I always have 3 types of bulgur in my kitchen-- coarse (#3), medium (#2), and fine (#1)-- ready to make a nourishing, quick meal at any time. (There is also an "extra-coarse" grade [#4], but I've never used that.)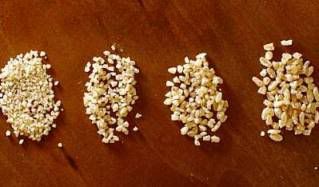 L to R: fine, medium, coarse, and extra-coarse bulgur (photo by Craig Lee, SF Chronicle)
What about the nutrition in bulgur

? Bulgur is made by pre-cooking whole wheat kernels, drying them, and then cracking them. That's why it cooks so quickly. According to this interesting article on bulgur, "Bulgur Wheat is a natural whole grain food in that no chemicals or additives are used in processing the product.

Many of the wheat's naturally occurring vitamins and minerals permeate the kernel during cooking thus maintaining more nutritive content than other forms of processed wheat products.

"
This is similar to what happens with "parboiled" or "converted" rice.
This article also reports:
"The Center for Science in the Public Interest (CSPI) published two posters in 1992 describing the nutritional characteristics of bulgur wheat. The first, titled 'Nutrition Scoreboard', listed bulgur wheat as the number one grain in terms of nutrition scoring. Bulgur (69 points) outpaced wheat germ (61 points), pearled barley (60 points), brown rice (45 points) and pasta (45 points). It beat oatmeal and the highly touted Wheaties cereal (both 38 points) by 31 points!

The second poster from CSPI, titled "Rough It Up", listed bulgur wheat as the third highest grain item in the Grains and Pasta category in terms of fiber content. In this category bulgur wheat beat out whole-wheat spaghetti, buckwheat pancakes, and had more than double the fiber of cous cous. The Food Research & Innovation Enterprises says "cereal foods like bulgur should be the cornerstone of our daily diet."
Cooking Ligh

t magazine published (June 2004) an excellent visual comparison between bulgur and brown rice, showing that a cup of bulgur has fewer calories, less fat, and more than twice the fiber of rice!" Here it is:
Click on photo for larger view
Here's an interesting food article on bulgur wheat.
And some follow-ups articles: http://healthyeating.sfgate.com/benefits-bulgur-wheat-6245.html and http://healthyeating.sfgate.com/bulgur-wheat-nutritional-information-1681.html
(PS: read more about Habeeb Salloum's prairie childhood and his mother's recipes in his fine book "Arab Cooking on a Saskatchewan Homestead: Recipes and Recollections". It was the Silver Winner of the 2006 Canadian Culinary Awards, Canadian Food Culture Category. It's not a vegetarian book, but there are many fine vegetarian recipes, and the cooking lore and history is fun to read. It's one of my favorite cookbooks.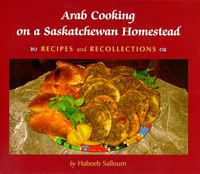 Habeeb is also the author of
"Classic Vegetarian Cooking From The Middle East And North Africa"
, a book that should be in every vegetarian kitchen, and is co-author of
From the Land of Figs and Olives
, another excellent cookbook. He's also written many articles for
The Vegetarian Journal
, and a variety of articles on Canadian, Arab and Latin- American history, travel and the culinary arts in various journals.)
For those of you with a wheat sensitivity

(not a gluten allergy or sensitivity, however), there is now a Kamut® bulgur on the market! Check it out here.

Kamut® bulgur could be used in place of couscous, as well.

From what I've read, it can be used just like wheat bulgur.
If you must eat gluten-free, you can substitute millet or quinoa for bulgur and couscous. This recipe from Whole Foods explains how to cook millet, especially for a salad. Here's how to cook quinoa.
There used to be a product called "Rice-Cous" (not sure if that was the spelling) on the market, but it's no longer available. However, you can make a kind of "bulgur rice" or "rice couscous" by pulsing uncooked white basmati rice, 1/2 cup at a time, in a good blender (make sure the interior of the blender is dry!) until the rice is broken into small pieces, like bulgur or couscous. Toast the rice, spread thinly on an ungreased baking sheet, at 350ºF for 20-30 minutes, stirring on and off, until it is lightly toasted. Let it cool thoroughly and store in a covered container, or zipper-lock bags. It's worth making several cups at a time.
You can't simply soak this "bulgur rice" in boiling water for salads, like you do with wheat bulgur-- you have to cook it as you would cook ordinary rice, but using 1 cup liquid (water or broth) for each 1/2 cup toasted rice, bringing to a boil, then turning to low heat, covering the pot, and cooking for about 1/2 an hour. Fluff it with a fork. Then serve as you would couscous or bulgur, or use in a salad recipe.
Cheers!
Posted by

Bryanna Clark Grogan
at 3:46 PM


Labels: bulgur, fruit, gluten-free, gluten-free tabouli, Habeeb Salloum, kamut bulgur, mango, mint, orange, parsley, rice couscous recipe, salad, tabbouleh, tabouli