Bryanna Clark Grogan's Vegan Feast Kitchen/ 21st Century Table: The kitchen journal of a vegan food writer.. I'm on Facebook and Twitter (see links in sidebar at right).
Friday, May 30, 2008
A PRACTICAL WAY TO USE OKARA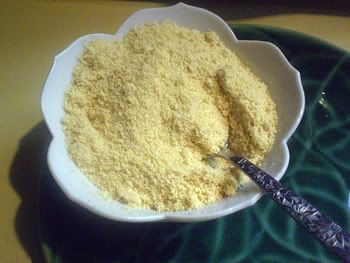 Okara "Parmesan"
What is okara?
It's the pulp, or residue, leftover from making soymilk (see
this blog post
and
this page
on my website). If you make soymilk frequently you will have lots of it! Many people make interesting recipes with it, but, I must confess, I usually simply compost it!
Does it have any nutrition left?
Yes, it does! It's full of fiber-- both soluble and non-soluble-- for one thing. It also contains some protein, calcium, iron and B vitamins. If you want to save it to use later, you can freeze it or dehydrate it (see the Tips in the recipe below).
The
justhungry blog
has some great ideas for using okara that I hadn't thought of (though not all vegetarian)! For instance, she mentions that you can rehydrate dried okara by simmering it in water or soymilk until soft, and then draining it. One great idea is to use fresh okara in polenta.
I never liked using fresh okara in breads, as it seems to sometimes "weigh them down". But
justhungry
suggest using
dried
okara in quick breads, etc., for a lighter texture-- sounds promising!
I just remembered that Dori from the
Bakehouse blog
(who has lots of okara recipes!)!) recommended using okara in my nut-based parmesan substitute recipe, but I never tried it. The other day I did, and it's good! Thanks, Dori! We can't get the Galaxy Foods Vegan Soy Parmesan up here anymore, so this is something I will definitely use often!
I'll post a few more okara recipes soon!
PS: for a new and improved version see this blog post!
BRYANNA'S OKARA PARMESAN SUBSTITUTE (Hat Tip to Dori from the Bakehouse blog!)
This is derived from my recipe for "Almonzano" (from my book "Nonna's Italian Kitchen"), but Dori from the bakehouse blog suggested using okara in it instead of almonds. The measurement for the okara is mine. This really looks like grated cheese and tastes "cheesey" (the miso adds a bit of fermented flavor). It shakes out easily, too. You can easily double, triple or quadruple the recipe and keep it refrigerated or frozen. IT'S ONLY 12 CALORIES A TABLESPOON!!
PS: By "squeezed", I mean okara that comes after squeezing and twisting the soymilk out of a cloth or cloth bag, or pressing through a fine filter. The okara left in the filter of a soymilk maker is much wetter and you would need to squeeze that further.
1 1/3 cups dried okara (2 cups fresh, squeezed)
(see Cooking Tips below for how to dry and store)
4 tablespoons nutritional yeast flakes
1/2 teaspoon salt
2 teaspoons light miso
Process the okara, yeast and salt in a DRY blender until as fine as possible. Add the miso in tiny bits. Process again so that there are no lumps. Place in a covered container or shaker and keep refrigerated. (Make sure that the container is tightly closed so that no moisture gets in while in the refrigerator.)
Yield: 1 1/2 cups
Nutrition Facts
Nutrition (per tablespoon):
12.7 calories; 18% calories from fat; 0.3g total fat; 0.0mg cholesterol; 58.3mg sodium; 49.3mg potassium; 1.8g carbohydrates; 0.4g fiber; 0.0g sugar; 1.5g net carbs; 1.0g protein; 0.2 points.
Cooking Tips
DRYING OKARA:
If you have a large amount of okara, you can use a food dehydrator, or spread it on cookie sheets and set it in the oven at its lowest temperature, with the oven door cracked open a little to let out moisture, until dry, stirring now and then.
To dry a small amount in a microwave oven:
Get a microwave-safe plate, or use the carousel in your microwave. Line it with two sheets of paper toweling (this will absorb the moisture), and top that with a piece of cooking parchment cut to fit (this will keep the okara from sticking as it dries). Spread the okara evenly on that, breaking up clumps as much as possible. Leave a space in the center empty (it burns easily in the center of the plate).
Here's my set-up for microwave-drying small amounts: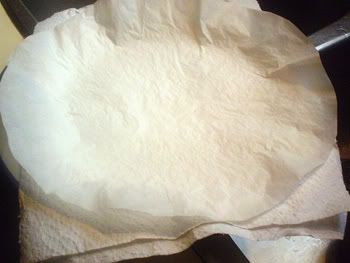 Microwave at half power (#5) in 5 minute increments, stirring after each one, until dried. I took away the paper toweling after the first 5 minutes because it was quite wet, and replaced it with new paper toweling.
Let it cool thoroughly before using or storing (in zip-lock bags).
Cheers!
Posted by

Bryanna Clark Grogan
at 12:16 PM