Bryanna Clark Grogan's Vegan Feast Kitchen/ 21st Century Table: The kitchen journal of a vegan food writer.. I'm on Facebook and Twitter (see links in sidebar at right).
Tuesday, May 27, 2008
NEW SOYMILK MAKER, NEW, CREAMIER SOYMILK RECIPE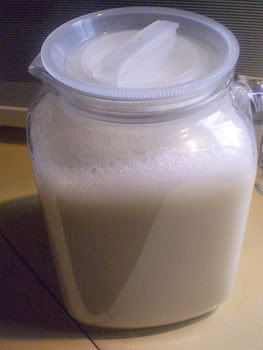 UPDATE:
See this post about straining the milk; and this one; and this thread on my forum about getting really silky, non-pulpy soymilk!
If you are looking for a soymilk maker, I would urge you to consider the new filterless Soyquick machine, the
SoyQuick Premier Milk Maker 930P
. This machine has no messy filter to clean and it can make a thicker soymilk, with more beans, with NO burning!
Here's my new machine at work: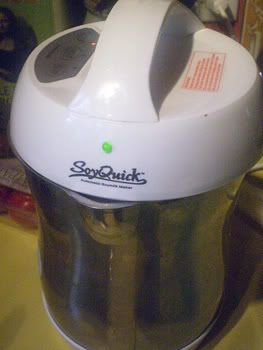 I have revised my recipe for soymilk using this machine.
Because you can use a larger amount of beans without burning the milk, you can make ultra-creamy soymilk with this new Soyquick machine! (And, no, I don't sell them, or get any commission for promoting them!)
Even with the extra beans (organic), it's still costs UNDER 50 cents a quart!
I developed a new soymilk recipe that makes non-beany soymilk (using ordinary soybeans) that is creamy and sillky and tastes great! DH, who previously did not really like homemade soymilk as a beverage, is now converted!
Use 2 of the little measuring cups (you get one with the machine) full of soybeans (this is actually 1 scant regular measuring cup, or 6 oz., or about 165 g of dried soybeans), soaked thoroughly and skins removed (see information below-- this is easy but important to the flavor of the finished product), PLUS 3 tablespoons of rolled oats.

DO NOT ATTEMPT TO MAKE THIS RECIPE WITH OTHER MACHINES, EVEN THE OLDER SOYQUICK, OR YOUR MILK MAY SCORCH!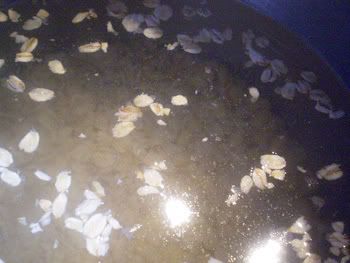 The soaked, skinned soybeans in the machine with water and rolled oats, ready to go!
To flavor each batch,
use 1/2 teaspoon salt and 2 tablespoons organic sugar or other sweetener. (More than my original recipe because the soymilk is stronger.)
(FOR MAKING TOFU, use the all-soybean version of the original recipe on the soymilk-making page of my website, WITHOUT any flavoring.

FOR MAKING SOY YOGURT, you can use the new recipe, but omit the oats. Use the salt and sweetener in soymilk used for making soy yogurt. This new soymilk is especially good for soy yogurt using ONLY homemade soymilk, with no added commercial oymilk, because it is richer and creamier.)
Soymilk is naturally very low in sodium and sugars, which is why they are added to commercial soymilk.
Dairy milk is naturally high in both—a taste most of us are used to, so most people prefer a little flavoring. Some people like to add vanilla, but I don't like the flavor of vanilla in my tea and cereal, etc..
NOTE: You don't have to follow the intructions in the following paragraph if you use Laura soybeans, which are supposed to have a less beany flavor. This is what I have been told-- haven't tried tem myslef because I can't get them in Canada. To order Laura Soybeans (USA) (non-GMO)-- they are a pretty good price.

BEFORE MAKING THE SOYMILK, most of the skins need to be rubbed off of the soybeans-- this is what gets rid of the beany taste. ( The skins contain some of the bitter flavours and also some inhibiting enzymes, so removing the skins can positively affect the taste, while some "gas forming" or "digestion inhibiting" compounds may be reduced or eliminated.) This procedure isn't as arduous as it sounds and only takes about 3 minutes.
Place the drained, soaked soybeans in a deep bowl in the sink. Cover with boiling water and let sit until it cools off to just warm. This helps loosen the skins. Remove the skins (or husks) by rubbing the soaked soybeans between your hands with a back and forth motion. Add lots of water from the tap. Stir the beans in a circular motion, then run off the water into the sink, leaving the beans behind. The skins float to the top and you can float them away while you drain off the water. You need to do this a few times until most of the skins have come off (leaving a few behind is okay). (PS: you can drain the soaking water into another bowl and reuse it if you are conserving water.)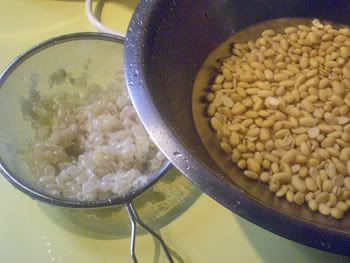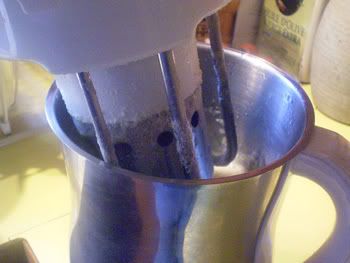 This photo shows the blade-protector, which is a cinch to clean-- no more filter clogging!
Finished soymilk ready for the refrigerator.
PS: Info about the storage jars pictured here
on this post
.
Cheers!

Posted by

Bryanna Clark Grogan
at 4:46 PM