Bryanna Clark Grogan's Vegan Feast Kitchen/ 21st Century Table: The kitchen journal of a vegan food writer.. I'm on Facebook and Twitter (see links in sidebar at right).
Saturday, June 19, 2010
GRADUATIONS, FAMILY EMERGENCIES, VISITORS, NEW SOYMILK STRAINER AND FATHERS' DAY BBQ SAUCES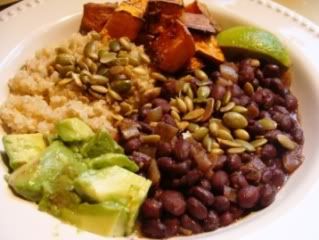 A simple dinner we had in a rushed week-- black beans seasoned with cumin and sherry, ripe avocado with lemon juice, roasted pumpkin seeds, quinoa and bulgur wheat mixture, and roasted sweet potatoes. Yum!
This is going to be a bit of a rushed blog, as I have my brother and sister-in-law here visiting from California, and we are heading off my little island every day to visit my mother. In addition to that, my poor daughter-in-law was sent in a helicopter to a hospital in Vancouver because of an embolism in her leg. My son has things in hand, the kids are being very brave, and we've helped out however we can. My DIL has her dad and brother and my youngest daughter over there to look after her needs and she is on the mend, I'm glad to say!
The day before that happened, I was off to Victoria with my oldest daughter and her husband to attend the convocation ceremonies at University of Victoria, where my middle daughter graduated (with distinction!) and received her Bachelor of Social Work degree. She has 3 children and works full time running the AIDS Vancouver Island office in our area, so this is quite an accomplishment! We are all very proud of her!!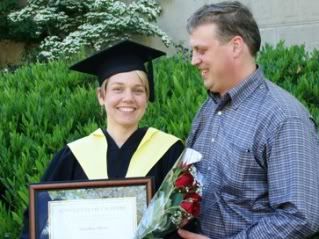 Sarah and her husband Ben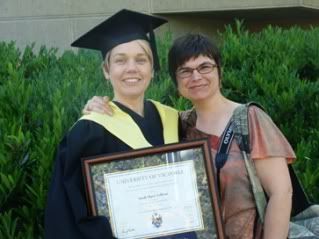 Sarah and her big sister Beth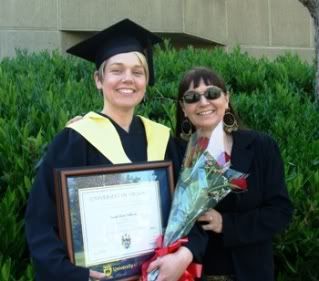 Sarah and proud Mum!
I have been waiting for my extra-fine mesh bouillon strainer
(or China cap, or Chinois) to make my life easier when straining soymilk! (See t
his blog post
.) It was so much cheaper in the States, so, when I knew my brother was coming up, I ordered it from
amazon.com
and they packed it up here for me! (Quizzical looks from the people checking luggage!) It works-- and fast! No mess, no fuss! I LOVE it! Thanks Pat Meadows for the idea and advice!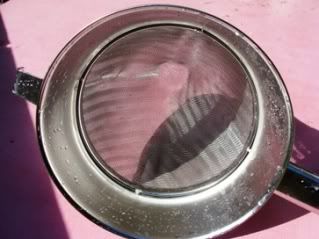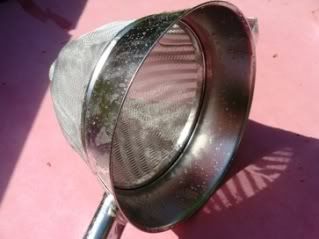 In the 3 photos above, the strainer is drying out in the sun after I blasted it with the hose full force, as I was advised to do! (UPDATE: Now I also run it through the dishwasher each time.)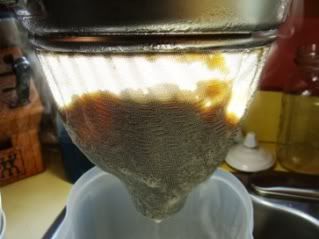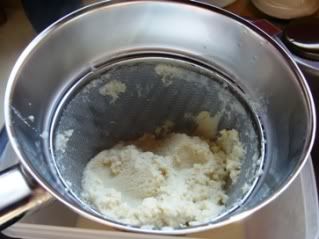 UPDATE A YEAR LATER:
Some changes I've made-- I let the soymilk settle in the machine for about 10 minutes before I pour it into the strainer. This way, the majority of the soymilk goes right through quickly and the pulp that's in the bottom of the container goes into the strainer last. Then it's very quick to press on that pulp with a flat implement or a wooden pestle to squeeze out a little more.
Here's a photo of my new set-up-- the strainer sits firmly on top of a 12-quart stainless steel stock pot (mine's an All Clad, about 10 inches high and 10 inches wide [a gift from my sister and BIL], but you can get a cheaper version without the 3-ply base if you're only going to use it for this purpose.)
I also do a second straining after adding the sugar and salt-- just to get out the fine pulp still left. I use an inexpensive gold coffee filter. It goes quickly and makes a nice, smooth soymilk.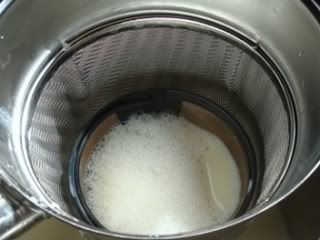 Here's the gold filter (see photo of it below) inside the strainer, but, actually, I just hold it (by the rim, not the handle) with my left hand, and pour and press with my left hand and a flat implement such as a small silicone spatula.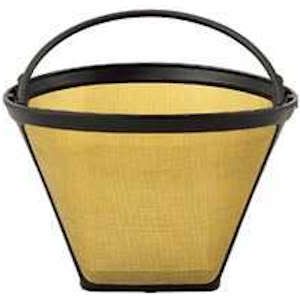 FURTHER UPDATE:
My
recipe
makes a very rich soymilk, so I actually dilute it with a bit more (boiled) water before bottling it (to make 3 whole litres, the result of 2 batches).
HAPPY FATHERS' DAY ALL YOU WONDERFUL DADS OUT THERE!
You can use these sauces on veggie burgers, grilled portobello mushrooms, grilled tofu and tempeh, seitan kebabs or cutlets, firm grilled vegetables, etc..
Printable Recipes
BRYANNA'S QUICK SMOKY CHIPOTLE BARBECUE SAUCE
Makes about 6 cups
1/28 oz. can good quality Italian crushed tomatoes
3/4 c. water
1/2 c. organic ketchup
1/2 c. brown sugar
1/2 c. blackstrap molasses
1/2 c. red wine vinegar
1/4 c. vegetarian worcestershire sauce (
see recipe below
)
2 T. pureed chipotle chiles in adobado sauce
1 T. salt
1 T. onion powder or granules
2 tsp. garlic granules
2 tsp. dry mustard powder
2 tsp. liquid smoke
Combine the ingredients in a large heavy saucepan and simmer for about 15 minutes. If you aren't using it right away, the sauce will keep in jars in the refrigerator for many weeks.
BRYANNA'S BOURBON BARBECUE SAUCE
Makes about 3 cups
Mix together in a pot and simmer for 15 minutes:
2 c. organic ketchup
1/2 c. molasses (
your favorite variety)
1/3 c. bourbon whiskey
1/4 c. Dijon mustard
2 T. vegetarian Worcestershire sauce (
see recipe below
)
1 T. Indonesian or Chinese or Thai chile sauce
2 T. cider vinegar
2 tsp. paprika
1 tsp. garlic granules
1 tsp. onion powder
1 tsp. liquid smoke
Place in a covered jar and refrigerate.
BRYANNA'S ISLAND BARBECUE SAUCE
Makes about 1 quart.
1 and 3/4 c. organic ketchup
19 oz. can of unsweetened crushed pineapple and juice
1/2 c. dry red wine
1/3 c. water
1/4 c. fancy molasses (
light molasses
)
1/4 c. lime juice
2 T. soy sauce
2 T. vegetarian "oyster sauce"
(also called "vegetarian stir-fry sauce", made by Lee Kum Kee)
1 T. dry mustard
1 T. pureed canned chile chipotle in adobado sauce
2 tsp. onion powder
2 bay leaves
1 and 1/2 tsp. powdered ginger
1 tsp. curry powder
1/2 tsp. garlic granules
Mix all of the ingredients in a heavy-bottomed medium pot, bring to a boil, then simmer on low, uncovered, for 1 hour.
BRYANNA'S VIETNAMESE-STYLE BARBECUE SAUCE
Just mix and use!
1/2 c. soy sauce
8 cloves garlic, crushed
1/4 c. dry or medium sherry
1/4 c. brown sugar
4 slices ginger, smashed
2 green onions, chopped fine
1-2 tsp. Vietnamese or Thai hot sauce
1 tsp. 5-spice powder
BRYANNA'S VEGAN WORCESTERSHIRE SAUCE
Makes about 2 cups
3 tablespoons lemon juice
1/2 tablespoon dry mustard powder
3/4 teaspoon ground ginger
1/2 teaspoon black pepper
1/4 teaspoon garlic powder
1/4 teaspoon cayenne pepper
1/4 teaspoon ground cinnamon
1/8 teaspoon ground cloves or allspice
1/8 teaspoon ground cardamom
Combine all of the ingredients in a blender. Pour the mixture into a medium saucepan and bring it to a boil. Remove from the heat and pour it into a sterilized pint jar with a tight lid. Store in the refrigerator.
Cheers!

Posted by

Bryanna Clark Grogan
at 3:20 PM